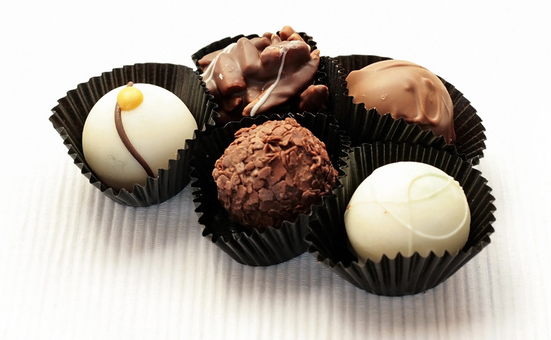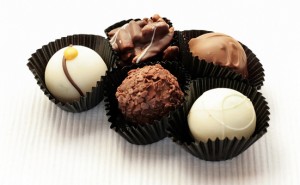 The act of  pairing wine with food can seem like a foreign rigmarole saved only for the world of haut cuisine, Iron Chefs and Master Sommeliers.  Nothing can be further from the truth.  There is something amazing about the synergy of a well-prepared dish that is balanced with the perfect wine that elevates the experience to another level you would have never achieved had you only enjoyed each component separately.  One of the most intriguing pairing challenges, where many experts disagree, is with chocolate. The Nibble offers a thorough Chocolate and Wine Matching chart.
Tips for pairing with chocolate:
Strong red wines such as Merlot pair with dark chocolate because of the similar flavor intensity.
Muscato and Port pairs well with milk chocolate for a milder experience.
Riesling and Champagne mingle to advantage with white chocolate.
Zinfandel lovers will enjoy mint chocolate with their varietal of choice.
Experimenting with wine and food pairings can be fun and educational too. You can rely on tried-and-true pairings, such as foie gras with Sauternes, off-dry Riesling or Gewurztraminer with spicy Thai/Indian food, or Champagne with oysters. Focus, determination and daring to continuously search for unique, off-beat pairings will often render surprising results.  Keep in mind, that taste and enjoyment are subjective and everyone is different; the only way to know what works for you is to try it for yourself. Wine and food pairings, like those with Chocolate, make great themes for wine tasting parties and are simply fun for your next family meal. Pairing is a natural leap for the serious wine lover.  Historically speaking, wine was initially made to accompany the everyday meal throughout the centuries in the Old World where local foods were paired with local wines, often those made right in the backyard.  Wine is meant for food and I think Chocolate should be it's own food group, don't you?