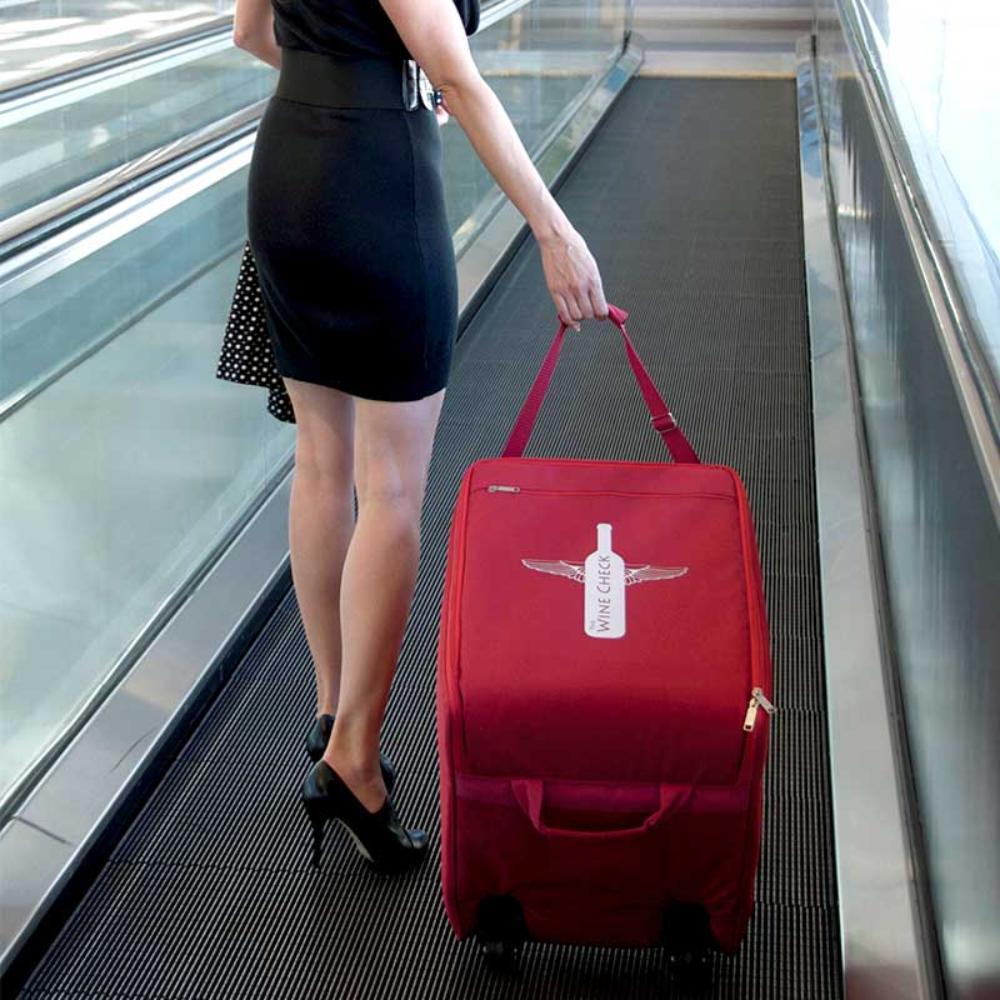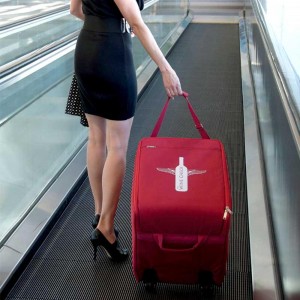 Taking the family on a trip to wine country for summer vacation?  Or are you a passionate wine lover who likes to share some of your personal collection when you travel abroad?  It's always a challenge when flying to decide how to get your wine there or back again.  You may opt for a pricey shipping service, changing your purchase habits, or avoid purchasing entirely while abroad.  That's no fun.
The Wine Check is a safe, convenient, and economical way to ship up to one case (12 bottles) of wine to and from where ever you travel, in an FAA-approved package that is easy to carry, available in black or red. Your wine is enclosed inside a secure padded case that is lightweight with attached wheels and strap that can roll behind you. When packed with 12 bottles, it stays under the 50 lb. airline weight limit for luggage and is collapsible and reusable, so you can store it again for later.
The wine shipper box that is included is the same type of package used by wine shipping services, so you know your wine will be protected.  This allows you to take the wine check collapsed without the shipper and stored in your suitcase. You can easily use a shipper from the winery or any packaging store for your return trip.  The baggage fee most airlines charge these days is often much less than the cost of shipping a case to your home from the winery or using a shipping service. In some areas, a wine case can be checked for free, such as from the Sonoma County Wine Country's Charles M. Schulz airport Wine Flies Free program.
Wines can become damaged by heat, or "cooked," when shipped in the hot summer months – why trust it to an unknown shipper?  Corks will often push and cause leakage leaving too much headspace in the bottle which speeds up ageing and oxidation.  Ultimately, the aromatics and flavor profile will be greatly affected in a negative way making your wine undrinkable and a waste of money.  With the wine check, you can safely and conveniently take wine with you. Don't let the weather, extra costs or inconvenience get in the way of your enjoyment of wine.