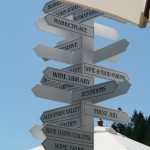 This weekend was the Sonoma Wine Country Weekend, which is 3 days chock full of winemaker dinners, winery events, a charitable auction and a wine & food event at MacMurray Ranch called the Taste of Sonoma.  The Sonoma Valley Wine Harvest Auction and the "Taste" are the marquee events for the weekend and is one of the most anticipated days of the year for many in the industry as well as wine country visitors.  Based in the heart of the Russian River Valley along Porter Creek, nestled amongst vineyards and tree-filled hills, the MacMurray Ranch, originally settled in the 1850s, becomes the center of the Sonoma wine and food universe where one can practically taste all there is to offer in the region in one place.
The grounds are separated into by the main regions, or AVAs,  of Sonoma county including Dry Creek Valley, Russian River Valley, Alexander Valley and Sonoma Valley where wineries making wine from each respective AVA are intermingled with food and industry booths.  There were other venues to enjoy as well including the Gloria Ferrer Bubble Lounge, Sommelier tasting tours and cooking demonstrations on the Viking stage among others.  The weather was simply fantastic with bright blue skies, plenty of sunshine and temperatures reaching the upper 80s.  International Wine Accessories was situated in the Dry Creek Valley tent and enjoyed meeting so many wine and food enthusiasts and generally enjoying the day amongst friends.  To see some photos of the event, check out the IWA Facebook Page here.
With more than 170 wineries and 60 chefs, this event becomes way more than just a mere "taste," though.  It's more like like watering mouthfuls while at an all-you-can-eat buffet always enticing you to go back for more.  It is practically impossible to see every business in attendance nor should you if you want to walk out of the event in a straight line

 Instead, it's perhaps wise to check a few out at each tent or focus on the regions or the wine styles you like the most.  It is a good idea to take some notes of wines you enjoyed the most or who were recommended by others as you can always go visit their wineries on another day.  Water stations were strategically located throughout the venue to assist in both managing the heat as well as the grape juice intake.
All in all, Taste of Sonoma was a well-planned and managed event with a lot to see and do providing value well beyond the ticket price.  If you were in attendance, we hope you enjoyed your experience and had a chance to sip some good wine, nibble on tasty local treats and an opportunity to visit our table to check out our accessories and wine gifts.  Please tell us about your experience below in the comments.  What was your favorite part of the event?