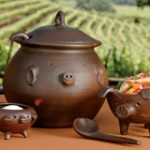 You may have thought the 3 Little Pigs was a great story, but then you haven't met these special pigs hand-made in Chile. This precious earthenware serving set is sure to bring a smile to all at your next dinner party.  The Pig Faced Pot with ladle will serve up your favorite soups and stews with its generous 8 quart size while the Pig-shaped Serving Dish is great for casseroles, baked appetizers or pasta salads. Both are oven, stove top and microwave safe making them versatile and easy to use.
The cute little Salt Pig cellar is always standing by to help you spice up any dish and if you take a closer look you'll notice ol' "Salty" only has three legs.  Legend has it that one day a local Chilean farmer caught one of his pigs rooting more vigorously than usual in the field.  This little pig was different than all the rest in that he only had 3 legs.  How he lost the leg was somehow lost over the many years the story was told and passed down to each generation, but that is not of any concern for this particular story.  Concerned that the pig would tear up some of his fields more than usual, the farmer approached the pig intending to drag him to his pen (and perhaps something about bacon danced in his head too).  However, once upon the muddied and huffing swine the farmer noticed something in the mud glittering in the sunlight.  "What could this be?" Thought the old man.  Bending down to take a closer look it appeared to be a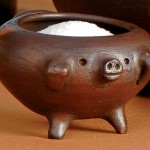 muddy rock with some sparkly gold flakes.  After picking it up and wiping away the mud with his rough hands, a smile forever bent skyward along his leathery, sun-tanned face.  It was gold!  And the three-legged pig was revered as a lucky charm for the family and surrounding community henceforth.  Maybe ol' Salty will bring you some good luck this holiday season?
Each lead-free pig is handmade, making each piece one-of-a-kind and should only be washed by hand.  Learn more about this wonderfully hand-crafted earthenware serving set HERE.
To get into the spirit of things, try this popular and traditional Chilean recipe and service in the casserole dish:
RECIPE: Pastel De Choclo– "Corn and Meat Pie"
Ingredients
6 ears of corn, grate the kernels
8 leaves of fresh basil, finely chopped
1/2 to 1 Cup milk
3 Tbsp. corn starch
1 Tsp. salt
2 Tbsp. butter
6 Tbsp. oil
2 large onions, chopped
1 Lb. finely ground lean beef – salt and pepper to taste
6 pieces of chicken
4 hard-boiled eggs, sliced
1 Tsp. ground cumin
1 Cup black olives, pitted
1 Cup raisins, seedless
2 Tbsp. Sugar
Directions
Heat the grated corn, chopped basil, salt and butter in a large pot.  Add the mille little by little stirring constantly.  Add the cornstarch until mixture is thickened.  Cook over low heat for 5 minutes.  Leave to one side while you prepare the meat filling.  Fry the onions in 3 Tbsp. oil until transparent.  Add the ground beef and stir to brown.  At the same time in another fry pan, brown the chicken with remaining oil with the salt, pepper and cumin until the juices are clear.  To prepare the pie, spread the ground beef-onion mixture as the bottom layer.  Arrange the hard-boiled eggs, olives and raisins on top of this and then the chicken pieces.  Cover the filling with the corn mixture.  Sprinkle the sugar over the top of the pie.  Bake at 400F for 30-35 minutes until the crust is golden brown.  Serve at once.  In Chile, more sugar is served to sprinkle over the pastel as it is eaten.