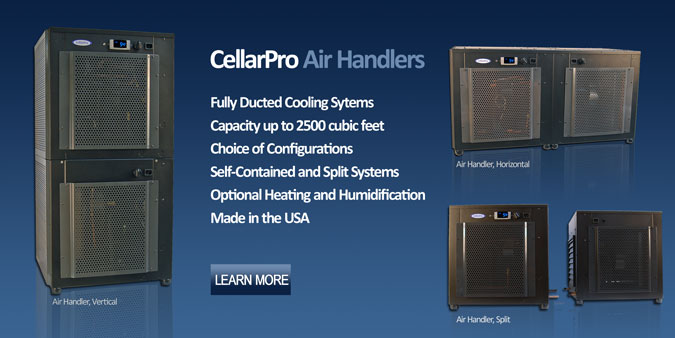 CellarPro is excited to announce the introduction of our all-new Air Handler cooling systems:
Air Handler AH6500 for wine cellars up to 1750 cubic feet – starting at $3,895
Air Handler AH8500 for wine cellars up to 2500 cubic feet – starting at $4,495
Both cooling systems can be ducted up to 100′ (50′ per duct) and are designed to handle extreme temperatures ranging from 110°F to -20°F.
CellarPro Air Handlers are offered in a choice of configurations – vertical, horizontal, split/indoor and split/outdoor – providing maximum versatility to accommodate any application. The vertical and horizontal configurations are fully-charged and ready to use out of the box.
All CellarPro Air Handler evaporators AND condensers use variable-speed centrifugal fans with multiple settings, including a "high" setting for maximum performance and a "low" setting for super-quiet operation.
CellarPro Air Handlers use two 110V / 60Hz plug-in power cords that are compatible with one 15-amp circuit breaker and one 20-amp circuit breaker.
An optional integrated humidification system is available for use in dry climates, and optional integrated heaters are available for use in unheated cellars.
Features

Fully-Ductable up to 100 Equivalent Feet (50 Feet per Duct)
Can be Configured to Operate in Extreme Conditions from -20°F to 110°F
Self-Contained and Split Systems
Choice of Vertical and Horizontal Configurations
Variable Speed Centrifugal Fans Offer a Choice Between High-Output and Super-Quiet Operation
Electronic Thermostat, Digital LED Display and Audible/Visual Alarms
Includes Bottle Probe with 10′ Cord
ETL Tested and Certified (UL Standards)
Optional Integrated Humidification
Optional 900W and 1800W Integrated Heaters

Specifications

 
AH6500
AH8500
Prices start at
$3,895
$4,495
Choice of
Configurations
Self Contained, HorizontalSelf Contained, VerticalSplit, Indoor

Split, Outdoor

Self Contained, HorizontalSelf Contained, VerticalSplit, Indoor

Split, Outdoor

Power
Plug-In, 110V/60Hz20-Amp and 15-Amp Circuit Breakers
Plug-In, 110V/60Hz20-Amp and 15-Amp Circuit Breakers
Max BTUH @ 55°F
5771 BTUH
7156 BTUH
Condenser Decibels(Ducted / Low Fan Speed)
52 dbA
54 dbA