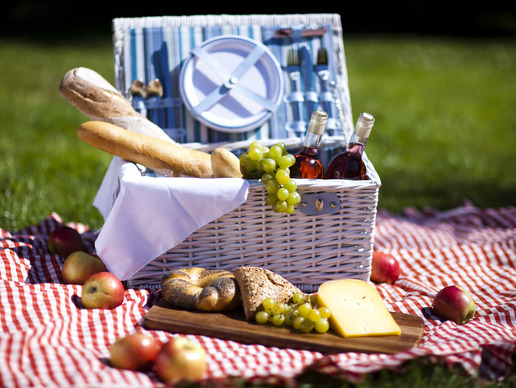 One of the best qualities of summer is the chance to dine alfresco, especially if it's a picnic.
Whether you're out in the country relaxing in an open field surrounded by wildflowers or in Central Park listening to a concert as the sun sets, there's no greater pleasure than nibbling on some cheese, biting into juicy strawberries and sipping wine in the open air.
But how do you transport your wares safely and easily? You have several great wine carriers to choose from for your picnic excursions.
Wine just for two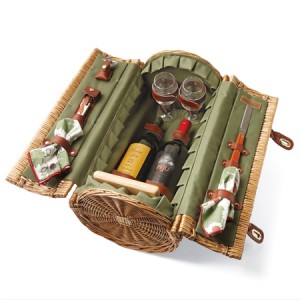 For a romantic picnic à deux, the charming wicker Wine and Cheese Basket contains two glasses, a wine stopper, a corkscrew (which we all forget sometimes!), a cutting board and a knife. It has plenty of space to safely and easily transport two wine bottles, and its ingenious double-lid barrel design lets you easily access all these items without rummaging around.
This carrier is lined with durable pine green polyethylene and handcrafted with willow construction; this piece was built to be sturdy so you can take it along to picnics summer after summer.
Picnicking with friends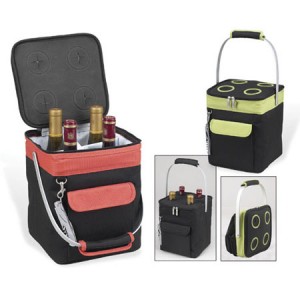 Are you meeting a group of friends? With the 4-Bottle Mahogany Tote, you can bring enough wine for everyone.At just over two pounds, this carrier is lightweight enough that it won't add extra heft to those already heavy bottles.
It's mahogany leatherette exterior has a classy look, with soft suede-lined interior. Easy to carry and folds flat when not in use.
On-the-go with wine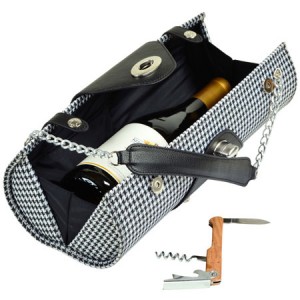 Or, are you planning to go to dinner after? The chic Houndstooth 1-Bottle Clutch safely and stylishly totes a bottle of wine to the picnic but doubles as an accessory for the post-picnic festivities.
The padded interior ensures the bottle will make it to the picnic safely, while the double-magnetic closure and center turn-lock keep all your other valuables inside, whether it's a set of keys or a favorite lipstick. It even has an interior pocket to hold a few other small essentials. As with the other carriers, a corkscrew is included.
There's just one important accessory not included with any of these wine carriers: the wine! Consider that a pro, because you can pick which bottles to bring along to personalize your picnic.
So, what's the perfect summer picnic wine?
Rosé is always a great bet and with a wide range of styles; there's a rosé for every palate. They range from light and crisp, with gentle strawberry top notes and slick minerality on the finish, but rosé wines can also be rich and fuller-bodied where the ripe berries take center stage.
Vinho Verde is another great summer sipper. Citrus fruits and a decent amount of minerality are met with a slight effervescence in this zesty and crisp white.
More in the mood for a red? A bottle of Pinot Noir works well in the muggy months with a light body. Or, look for traditional Rhone blends from the Languedoc-Roussillion region. Thanks to the warm climate in this southern France region, these wines are better suited for the weather.
About the author: Shana Sokol is a wine blogger, freelance writer and event planner living in New York City. Learn more at shanaspeakswine.com and follow her musings on Twitter and Instagram: @ShanaSpeaksWine.