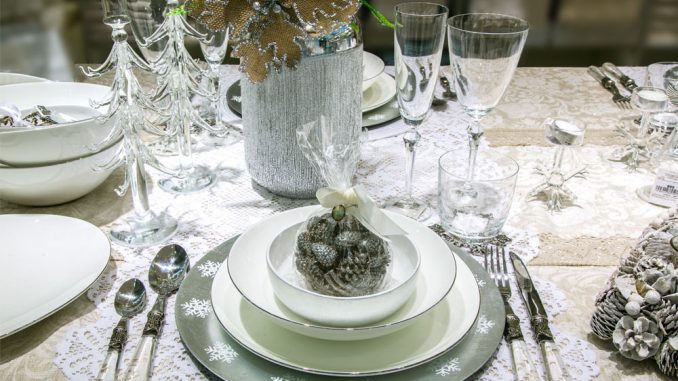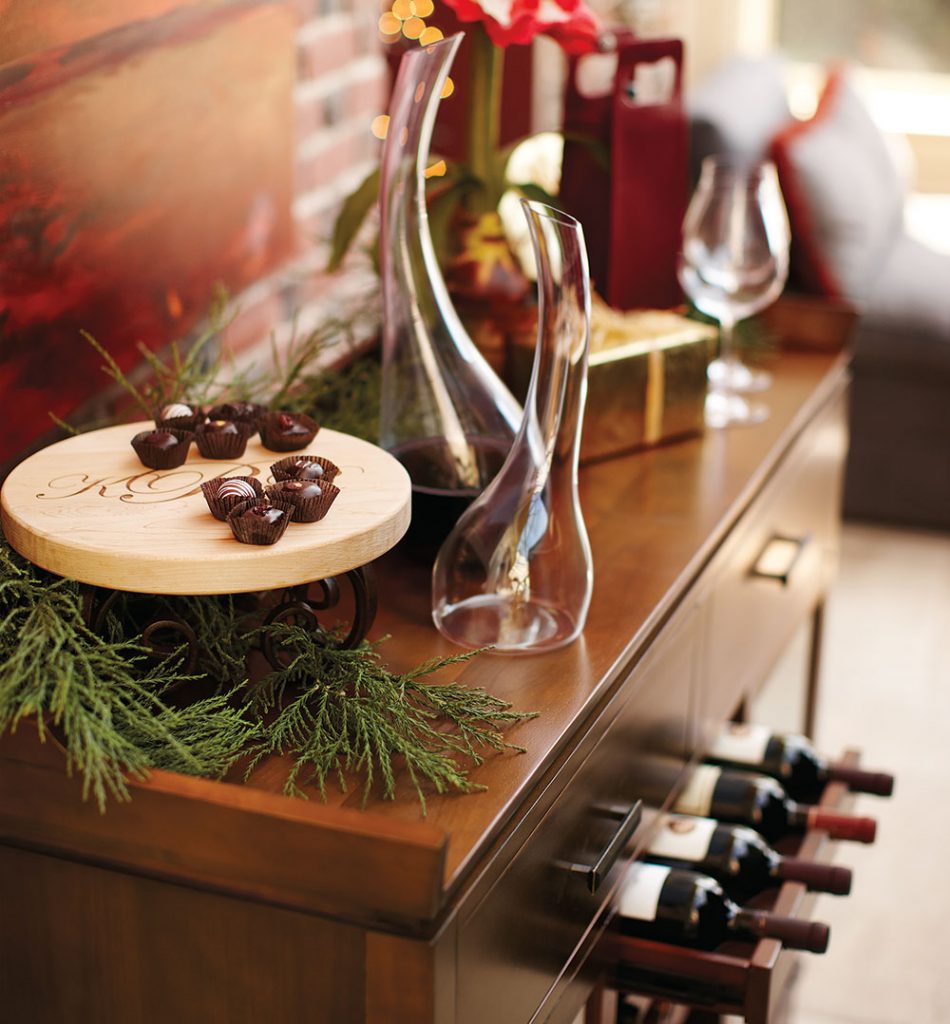 Tis' the season lovers of wine, and IWA is decking the halls with seven merry posts just ahead of prime party season featuring holiday entertaining tips sure to inspire and delight. Whether you're the host, (or simply showing your appreciation to one,) make us your go-to for unique, high-quality merchandise that will make every holiday celebration unforgettable. Cheers!

Holiday Wining & Dining Options
Entertaining during the holidays doesn't take 12 drummers drumming or four calling birds to make a Host crazy—every scenario has challenges. Let us take the worries of proper wine service off your Honey-Do list: our handy wining-while-dining tips will keep persnickety guests and snooty wine snobs in check!
DIY Buffet-Style
Accommodate large groups with ease: five feet of buffet is the recommended minimum for a full set-up, but five small tables with assigned functions work in a pinch:
TABLE 1 – All Tableware, Linens and Service items
TABLE 2 – Salads & starters; Bread; Salt & Pepper; Butter & Condiments
TABLE 3 – Main Courses and Sides
TABLE 4 – Everything Dessert, including service items
TABLE 5 – Wine service:
Display pre-opened, chilled wines in the Vino Gondola Wine Cooler
Pre-open and / or decant reds.
Pre-attach unique glass markers so guests can keep track of glasses. These Pewter Stemware Charms feature 14 international toasts. (Upgrade the wire loops with ribbons or twist-ties for a lovely presentation!)
Consider stemless glasses to cut down on 'oopsy-daisy' moments. (Our Riedel O Cab/Merlot are a steal – Buy 6/ Get 8!) Guests can customize theirs with these handy wine glass pens.
Place multiple coasters around every surface guests will congregate. Personalized marble coasters look refined and protect furniture finishes.
Pre-set Tables, Seated Guests
Table-setting 101: Wow your guests with a holiday table setting to impress including gorgeous premium tableware, stemware and glassware fresh out of Santa's workshop.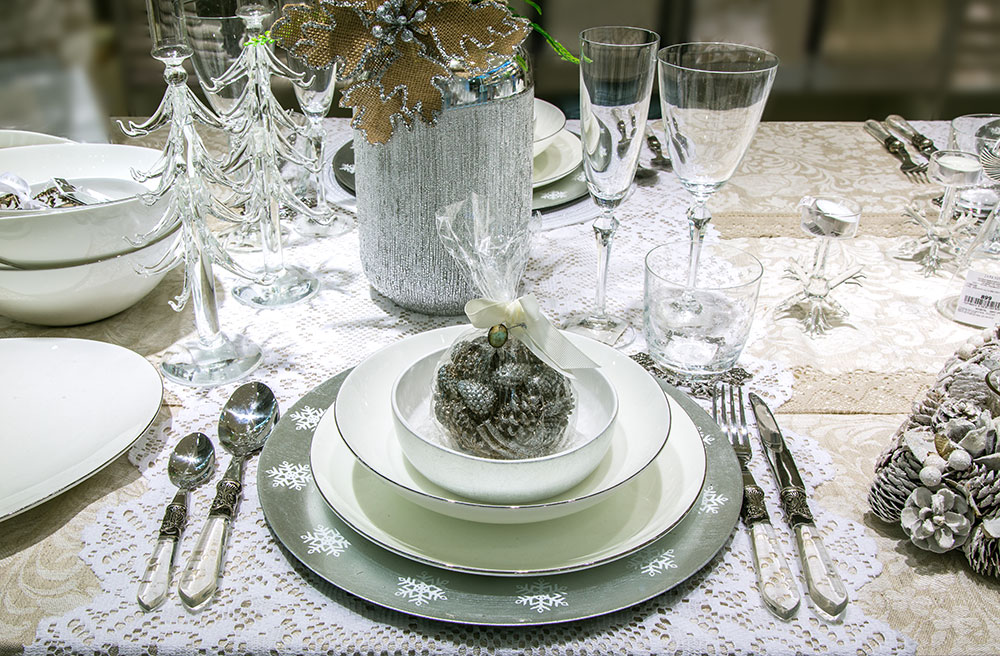 Forks actually go on the left, and spoons right, but formality aside, don't they look lovely? We recommend using Laguiole's ("lay-ole") stainless/ ivory flatware set.
Left of plate:
Napkin farthest left of all forks, ½" from table edge.
Entrée fork to immediate left of plate.
Between napkin & entrée fork: each subsequent fork ordered by courses out-to-in positioned ¼" lower than the top of, and to the left of each preceding fork.
Bread & butter plate above forks; butter knife placed atop plate edge, handle to the right.
Right of plate:
Next, try 2.5 Laguiole Steak Knives Knife blade faces in, aligned with fork top.
1.5 knife aligned with first knife handle bottom
Spoons next, handles even to knife-handle bottoms.
Water glass directly above tip of steak knife.
Champagne glass at 1 o'clock to water glass
Wine glasses at 5 o'clock to water glass, such as the elegant Veritas Riedel wine glasses
(each additional wine glass at the preceding glass's 5 o'clock position.)
Unless you've got professional help plating in the kitchen, American Family-Style Service is recommended: guests serve themselves from platters of food passed down the table and deposit remainders on this beautiful 21" Wine-Barrel Top lazy susan centerpiece (personalized for an extra-special touch!) Extend the wine theme on your holiday table with these charming Wine Glass & Bottle S&P Shakers.
Wine Service
6 Settings or less—Wine bottles are decanted or pre-opened in the kitchen and the host walks around the table filling glasses first, designating an additional "pourer" for seated refills.
7+ Settings—Place exquisite decanters such as this Riedel Horn Decanter and wine bottles on the table for guests to refill themselves. (Protect heirloom linens with pourers, drip rings, and bottle coasters).
POURING
While the glass remains on the table, bring the bottle to it (label facing guest) without making contact.
Use a napkin or drip-catcher around the neck, and hold the bottle in the palm of your hand.
Pour wine down along the glass inside (maintaining no contact).
Twist the bottle over the glass as you tilt up and pull away.
How Much Wine To Pour – Guests should always be able to gently swirl and release the bouquet:
White Wine & Rose – 3 ounces, or glass one-third full.
Red Wine – 4 ounces, or glass half-full.
Champagne & Sparkling Wine – 4 ounces, or glass three-quarters full.

Pour champagne soon after the bottle is opened.
Start with a small amount, let froth settle for a moment, then fill three-quarters full.
(Check out these fun and festive non-traditional flutes!)
The first dinner toast is normally offered at the meal beginning by the host as a 'welcome'.
'Prim & Proper' Tips:
Serve ladies before gentlemen; elders before young.
Beverages are served from guests' right, clockwise around table: (the opposite of food.)
Goblets and wine glasses remain on the table throughout the meal for guests to enjoy whatever beverages they choose, however, sherry glasses are removed at the end of an accompanying course.
New wines are not introduced during the salad course.
Dessert wine is poured following dessert arrival.
Formal toasts by guests start during the dessert course.
For Brandy service – Use appropriate snifter glasses

Pour only an ounce or two, to create a chamber for inhalation.
'First nose' – the brandy snifter is held still, just below the nose. Inhale bouquet.
'Second nose' – hold glass motionless again, but bring closer to the nose for inhalation.
From then on, swirl glass slowly to release full bouquet.
No holiday season is complete without lively holiday meals and parties—we hope we've added some spritz to your step and a sigh of relief by removing some of the detail guesswork. Keep coming back to IWA's blog for more lively holiday-survival suggestions and gifting ideas!
Lori Stevens is a writer based in Seattle, Washington. Her book Wine: A No-Snob Guide, Drink Outside the Box ©2015 from Rockridge Press, Berkeley, CA is available at your favorite online book retailer. Many of her international wine travel articles are available on this blog.