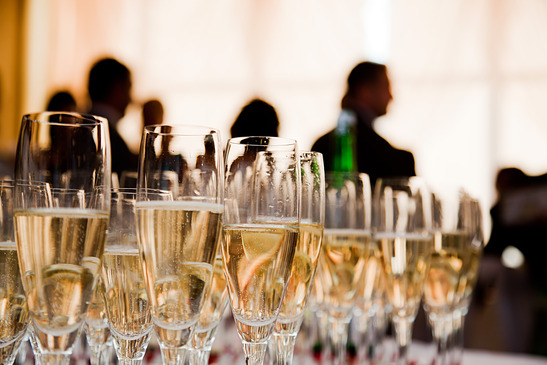 When planning a wedding or a big party where you'll need more than a few bottles of wine, it's not always easy to calculate exactly how much wine you'll need. Deciding on how many plates of food is easy (1 plate per guest), but wine is trickier to figure out, since each person has particular preferences.
Here is a step-by-step guide for incorporating wine at your next big event.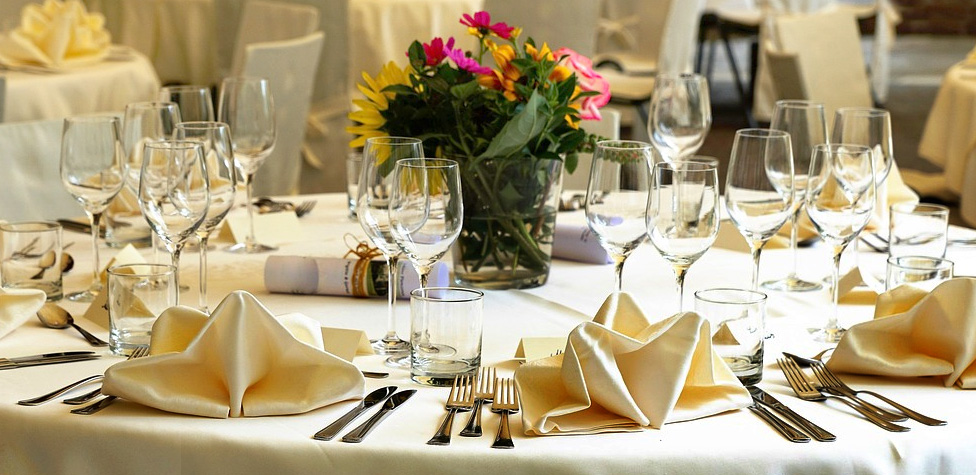 1. Decide how you'll serve the wine
If your event is relatively small and you want to project a feeling of homeyness (for example, a space where you can fit most of the guests around one or two large dining tables), the most elegant yet informal way to serve wine is in decanters placed on the table. So that guests know what they're drinking, leave an empty bottle on the table, too (perhaps displaying a wine candelabra). Guests will feel at home helping themselves, and the catering staff should simply replace empty decanters with full ones as the evening progresses.
An added benefit of serving wine in decanters is that the decanting process will soften the wine for your guests' enjoyment. If you're having an outdoor event, you might use decanter balls or wine veils to protect from flying insects. Don't let wine sit in the decanters too long, or it will lose its aroma and flavor.
If your evening includes a cocktail portion, consider a self-serve bar where wine is decanted and ready to pour either in a traditional decanter or in a wine dispenser. Or, the catering staff can pass glasses of wine on trays to guests.
When it comes to larger affairs such as weddings and outdoor events, pass white wine, red wine, Champagne and water during cocktail hour to alleviate stress on the bar since most people will start with these four drinks. When pouring and passing wine, the catering staff should replenish the white wine about every 15-20 minutes. This ensures guests are being served wine properly chilled and at the correct temperature, particularly on hot days.
The catering staff should pour both red and white wine intermittently throughout the dinner service so that people won't have to continually get up to top off their drinks. Wine should be poured as soon as each course is served, or every half hour for a buffet-style dinner. You'll need a 10:1 ratio of catering staff to guests to make all of these transitions seamless.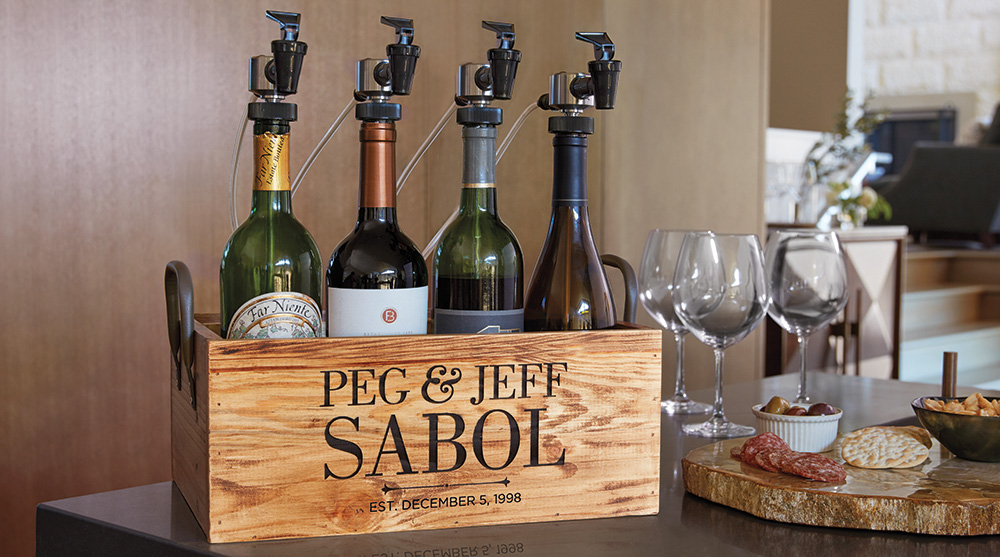 2. Order the right amount and type of wine for your guests
This is probably the trickiest part about planning an event. It will depend largely on the sort of event you're having as well as the other beverages you're serving.
As a general rule of thumb, guests will drink one glass per hour of the party, with the assumption that some will drink more and some will drink less. You know your crowd the best, and some events may require more. If it's a college graduation party, for example, add a case or two of wine.
Let's say you're hosting a 5-hour event, with one hour of cocktails and four hours of dinner and dancing. You have 100 people on the list. 100 people x 5 hours = 500 drinks total.
If you plan to serve only beer and wine, follow this ratio: 20 percent beer, 80 percent wine. That means you'll need 400 glasses of wine and 100 glasses of beer. Typically, one glass of beer is one bottle and one bottle of wine has five glasses. So you would need to order nine 12-packs of beer (100 / 12 = 8.333, round up to 9) and 80 bottles of wine (or roughly 7 cases).
Again, depending on the event, split those cases evenly between red and white (or red, white and Champagne). If it's a winter event, more people will drink red. If it's a summer event or a hot day, more people will drink white and Champagne. Consider your season and order accordingly.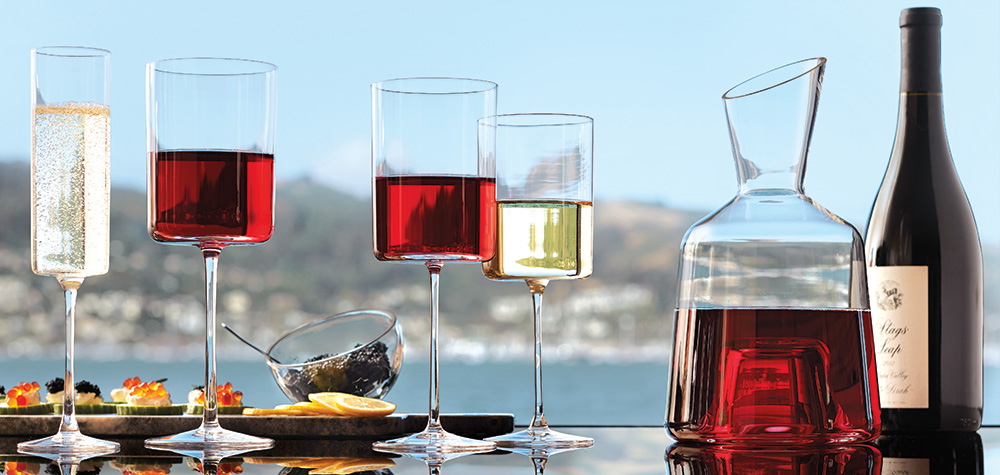 3. Select the right glassware
Another tricky element is having enough glassware for a large event. Perhaps you own a significant amount of glassware already, but you don't want to have mismatched glasses at an event.
Follow the same ratio for the wine: one glass per person per hour, split based on the sort of alcohol you serve. For the event noted above, you'd need 400 wine glasses split evenly among red, white and Champagne, and 100 highballs for beer (although most guests will drink their beer from the bottle.) This estimate also takes into account some inevitable breakage, which will balance out for people who reuse their glass each time they get a new drink.
When selecting glassware, picture your event. Is it a large, sit-down dinner? If so, stemless glassware is fine since guests will rest their drinks on the table, minimizing the effect of wine warming in their hands. If you're hosting a cocktail-style event, stemmed glassware is your best choice to maintain the integrity of the wine's temperature and flavor. What if your event has both a standing cocktail hour and a sit-down element? Go with stemmed glasses. It is the most versatile for that particular event as well as in the future if you plan on hosting other large gatherings.
For large groups, I always recommend choosing specific glassware for the appropriate drink (that is, separate red wine, white wine and Champagne flutes rather than dual-purpose glassware.) This streamlines the process if, say, you have a catered event where waitstaff pours wine for guests during the sit-down portion of the event. This way, caterers won't make the mistake of pouring red wine into a glass that previously held white wine, as might be the case if you choose a universal glass.
For smaller events where guests will self-serve, dual-purpose stemware works just as well.
About the author: Lauren Caselli is a professional event planner and freelance writer, specializing in articles about weddings and entertaining (basically, the best job ever). She's planned over 100 events from 10-person intimate dinner parties to 300-person industry conferences. Find out more about entertaining and wine at her website www.lenaandaggy.com.