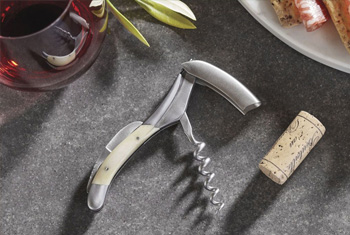 Building your wine collection certainly has a lot to do with knowing how to select bottles you enjoy. But as you become a more serious collector and more knowledgeable wine drinker, you'll need to get just as serious about selecting the best wine accessories. Tools like wine openers, decanters, chillers and other accessories serve an important purpose in the proper enjoyment of each and every bottle in your collection. Your wine will taste better when opened, poured and stored correctly.
Plus, you've likely invested a lot of time and money into a wine collection you're proud of. To best showcase your wine and maximize your enjoyment of every glass, you should add these five wine accessories to your bar.
1. Open each bottle more easily with the right corkscrew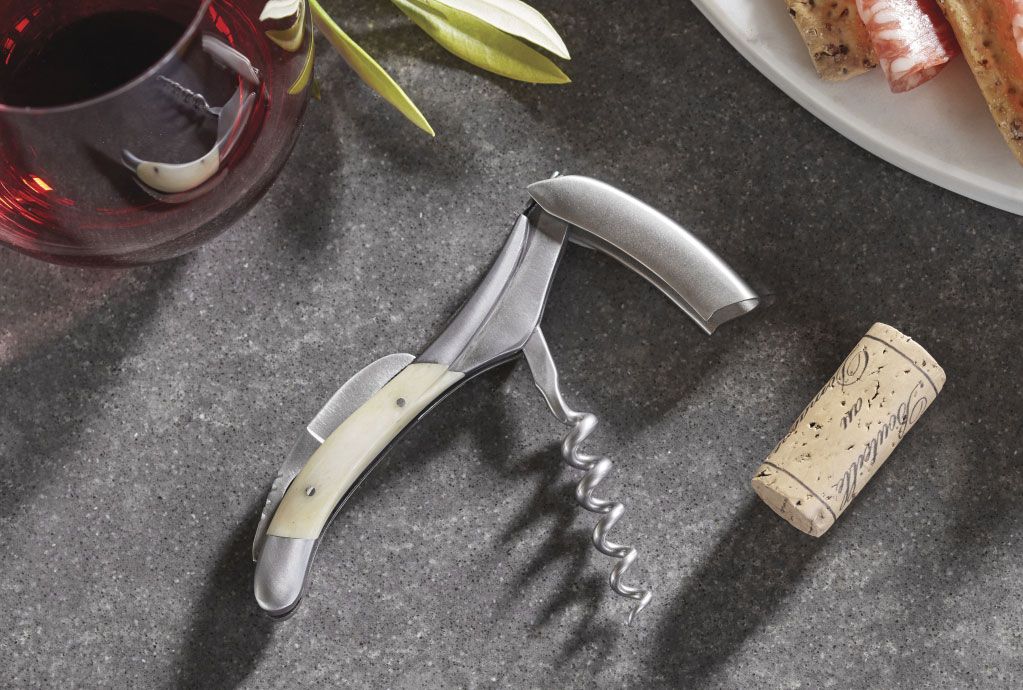 Although a waiter's corkscrew is the industry standard, not everyone finds them the easiest to maneuver. And, if faced with a tricky cork, you might find the traditional corkscrew a liability when attempting to open the bottle.
Instead, try a style that's designed to be nearly foolproof. Why risk ruining one of your treasures with an opener you're not comfortable handling? The Le Creuset Lever Corkscrew is seamlessly removes the cork from the bottle without any pulling or twisting. As a bonus, it includes a foil cutter for clean removal around the bottle neck. For a truly magnificent tool, invest in a French-made Laguiole en Aubrac corkscrew.
2. Earn presentation points with a decanter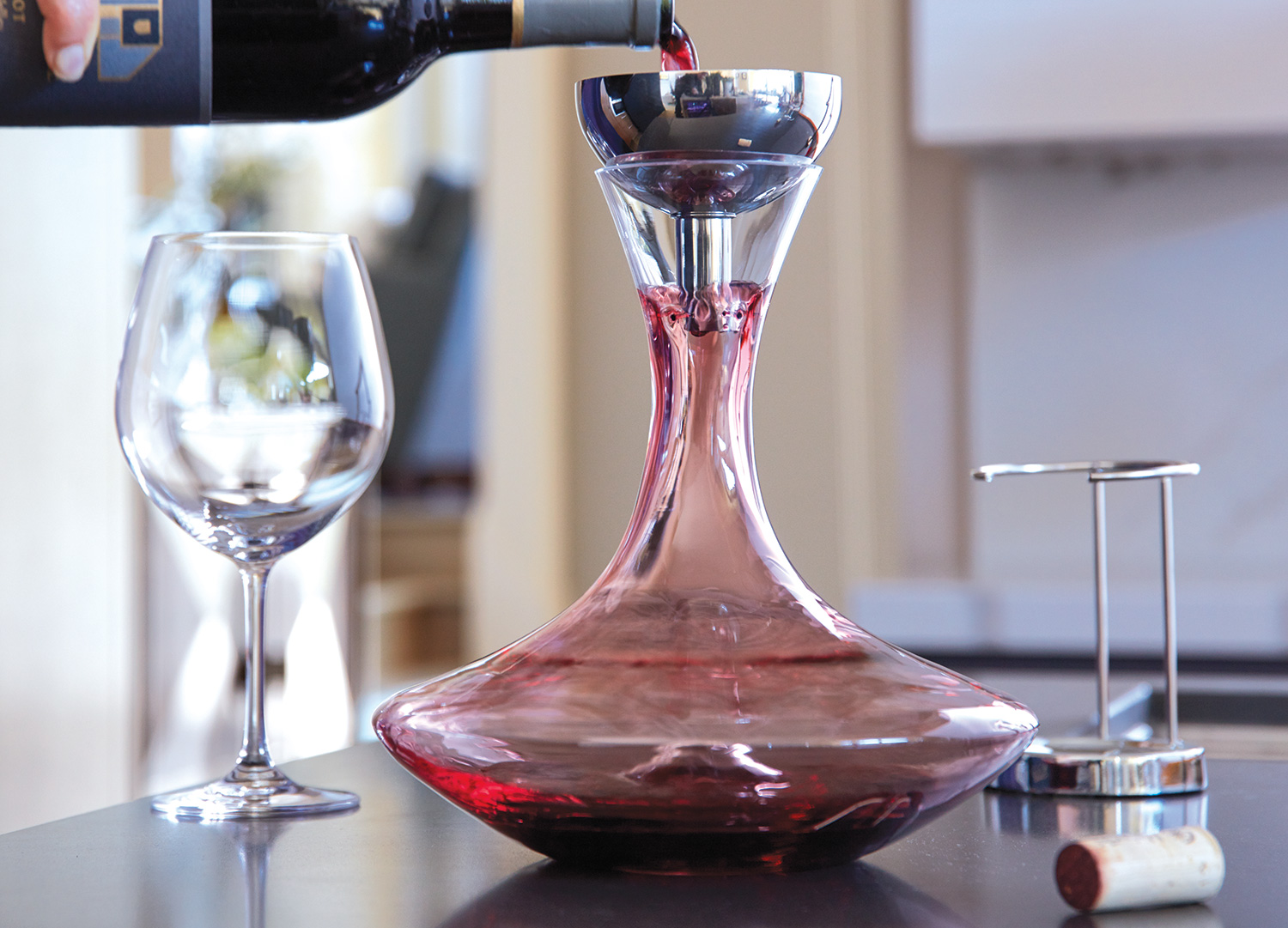 Aside from better presentation and removing sediments, the main purpose of decanting is to aerate your wine. Aerating wine helps balance the sugar, alcohol and acidity to soften the tannins and improve the flavor profile.
Those big reds will really shine once they've had a chance to open up, and the older wines you've been aging will show their true value once they've had some time exposed to air. The mouth-blown Reidel Horn Decanter has a unique shape and will ensure any wine, young or old, will taste its best.
3. Maintain proper temperature with a wine chiller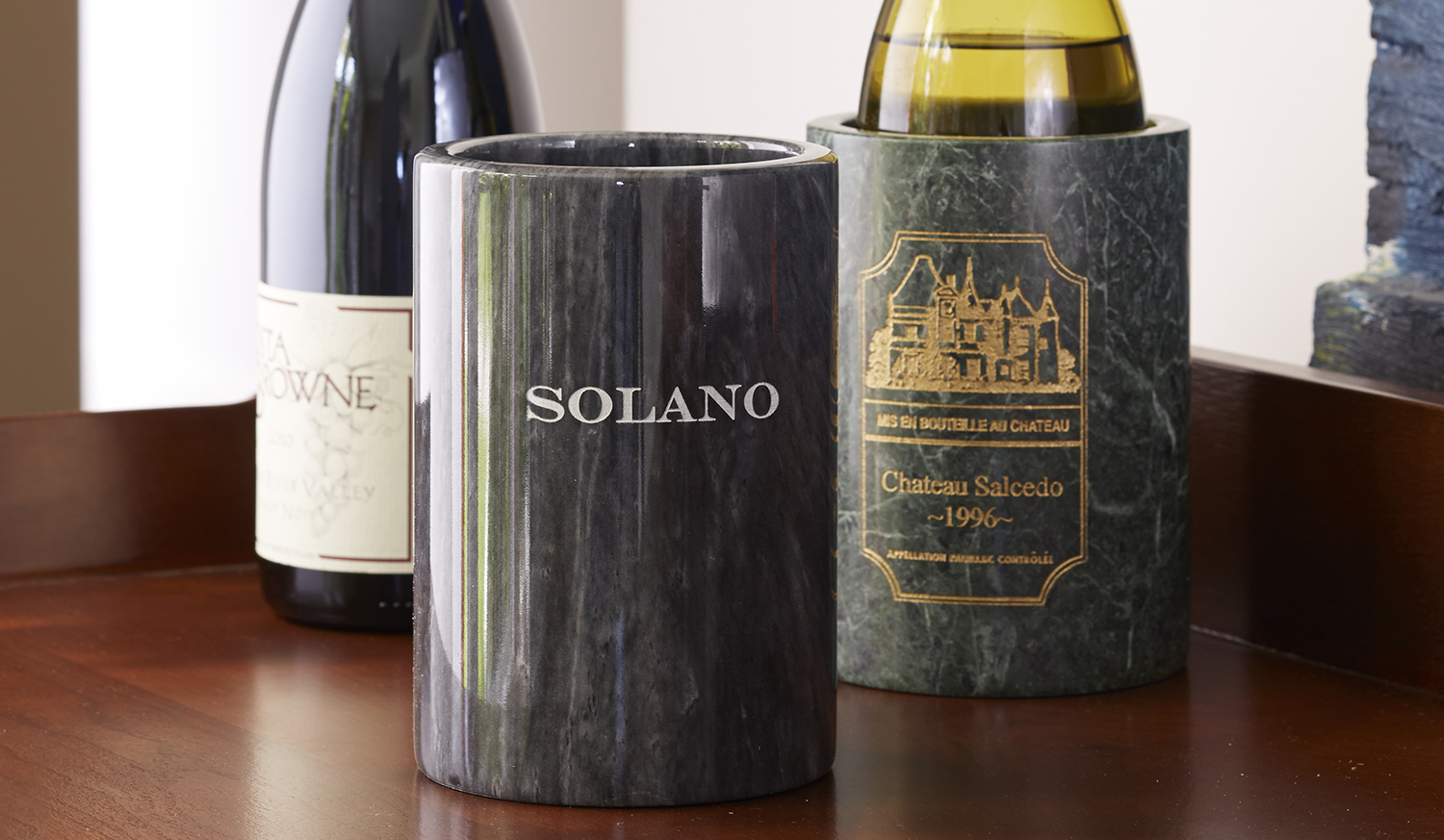 To enjoy your wine at its best, you need to maintain the proper serving temperature. A chilling bucket is another essential item to have in your wine bar to ensure your whites and sparklings stay cold the entire time you are consuming them. It also comes in handy if you need to bring down the temperature of a too-warm bottle of red to room temperature.
The Nambe Tilt Wine Chiller not only has a sleek, modern design, but also keeps your bottle at its ideal temperature. Buckets are individually crafted by hand so each has its own unique characteristics. The thick metal walls retain cold for extended periods of time; just put it in the freezer for a short while before use. No messy, melting ice to deal with.
Even more unique? Put it in the oven to heat it and you can enjoy hot beverages, such as sake.
4. Taste each glass to its fullest with proper glassware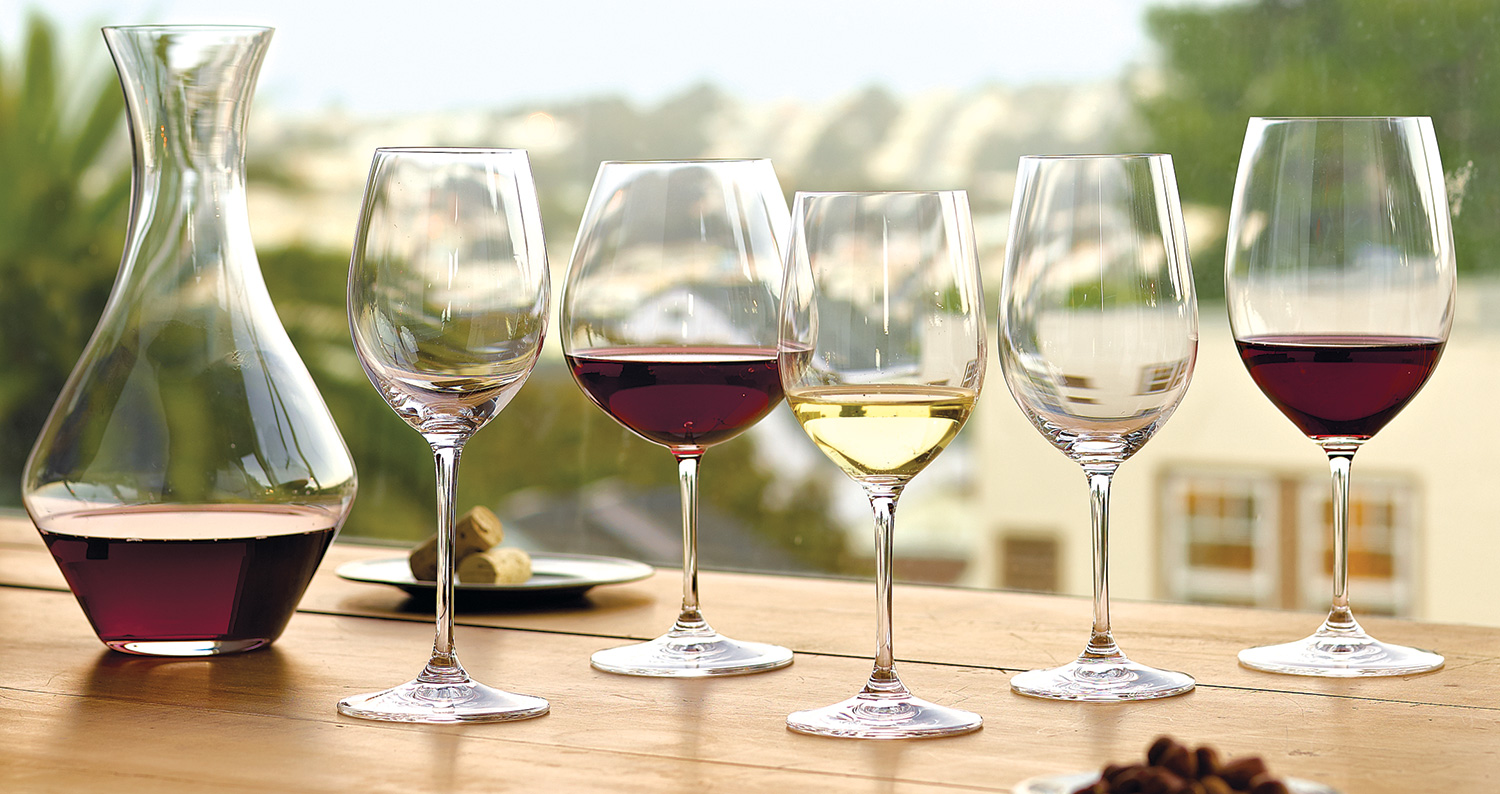 Don't overlook your selection of glasses. At the very least, you'll want a set for whites as well as for reds. White wine glasses are typically narrower and have a U shaped bowl, a shape which allows the wine to stay cooler longer. Red wine glasses have a wider bowl so the liquid can come into contact with more air, which lets the wine and its aromas open.
Stemware can be overwhelming as there are a wide spectrum of styles for different varietals, but a good place to start is with the Reidel Vinum Tasting Set. These sturdy, 24 percent lead crystal glasses are a reasonably priced option from renowned company Reidel and are a great base for your stemware collection. It includes four Chardonnay and four Bordeaux glasses, which are great shapes for many types of wines.
And, just for good measure, make sure to include some glasses for bubbly. Tall, fluted glasses allow the bubbles to flow freely and help the wine retain its effervescence.
5. Make leftover wine last with bottle stoppers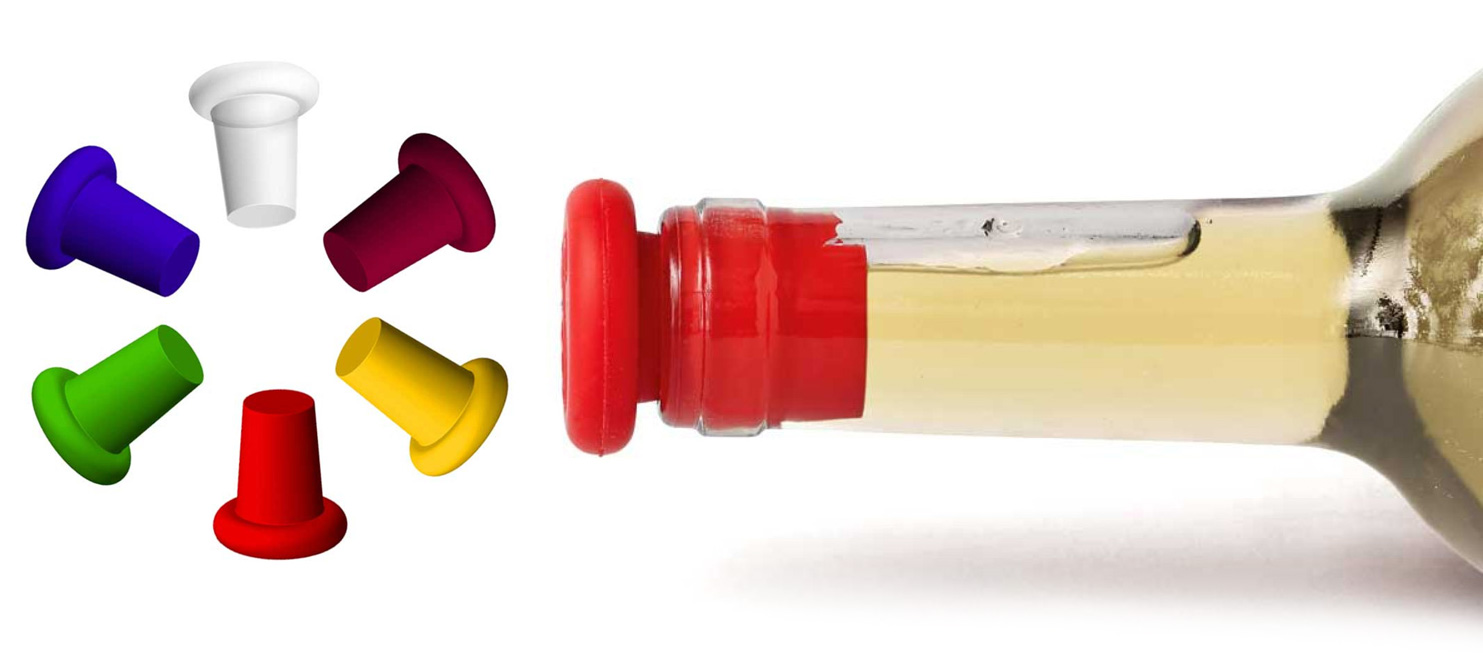 Bottle stoppers should be next on your shopping list. Prevent spills from an open bottle, or preserve any unconsumed wine with a stopper.
You may be tempted to simply put the cork in the bottle and get back to it later. But keep in mind the wine is a living food product. Just as an apple core or banana peel turns brown when exposed to air, the wine will suffer from oxidation.
Wine stoppers are a great tool to have in your arsenal as they are better at blocking oxygen than a re-inserted cork, not to mention a more secure fit.  Plus, if the cork happens to break when being removed from the corkscrew, you're left without a way to seal the bottle opening.  IWA Wine Bottle Stoppers come in a six-pack of cheery colors but more importantly, the silicone body slows the rate of oxygen entering the bottle so wine can last a couple of days past its opening.
Now that your cellar's stocked and the bar is outfitted with the proper tools, it's time to enjoy your wine!
What must-have wine accessories do you recommend?
About the author: Shana Sokol is a wine blogger, freelance writer and event planner living in New York City. Learn more at shanaspeakswine.com and follow her musings on Twitter and Instagram: @ShanaSpeaksWine.