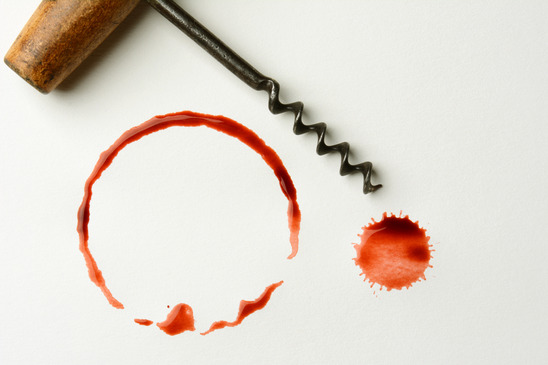 If you're a regular wine drinker, odds are you've spilled red wine at one time or another. A few drops here or there are no big deal, but sloshing half your glass can be more than a waste of good wine; it can ruin your host's white couch.
Below are a few quick-and-easy at-home remedies that can save you from catastrophe, no matter how large the spill.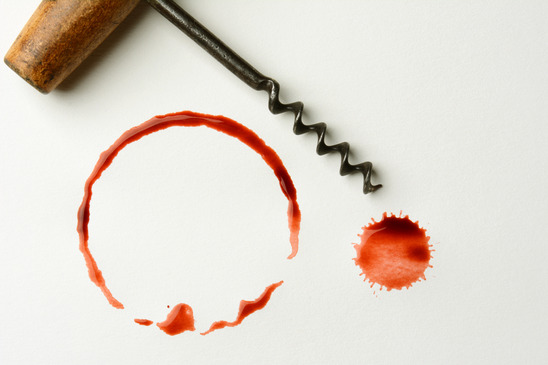 1. Baking soda
This is hands-down the best spill-saver you're likely to already own.
Before the stain dries (working with a fresh spill is always preferred,) liberally sprinkle the affected area with baking soda. Then, using a dish of clean cold water and a damp rag, turn the soda into a paste. Pat or dab — never rub. You should be able to see the stain turn blue and lift right out. Sop up as much as you are able.
This is somewhat trickier for carpets and furniture, but you can always vacuum the excess powder the next day. Treat items that can go in the laundry with the baking soda mixture, rinse in the sink, then wash in the cold cycle. For an extra kick, add an oxygen-based laundry detergent such as OxiClean.
Just in case, keep a small dish of baking soda underneath your bar or in your cellar to avoid a panicked rush to the pantry.
2. Wine Away
Wine Away is the answer to those tough red wine stains. This all-natural spray works wonders. Just spray the area to be cleaned, wait 30 seconds, then rub the stain out. As with baking soda, WineAway is most effective on fresh spills.
As an added bonus, Wine Away is also available in a small 2-ounce spray bottle, making it easy to store and use at home — you can even slip it in your purse or bag to carry on-the-go.
3. Hydrogen peroxide
Odds are you have hydrogen peroxide in your medicine cabinet for treating cuts and scrapes. In case of a spill, quickly douse the spot with peroxide.
This remedy works much better on linens, clothing and other fabrics that can be laundered, but if it's all you have available, you can also use hydrogen peroxide on furniture and carpet stains.
Once applied, rinse with cold water and wash with a gentle detergent. While hydrogen peroxide may not as effective as the first two remedies, with speedy application followed by regular laundering, the stain should lift right out.
4. Salt
Salt will do in a pinch. It's not as effective as some of the other remedies, but if you don't have baking soda available (like at a restaurant table) salt will be more effective than simply dabbing the spill with water.
Douse the spot liberally with salt and pat it into the wine. The salt should draw the liquid wine out of the affected fabric or carpet. Rinse with cold water as soon as you are able.
5. White wine or club soda
If you're in a truly desperate situation, both white wine and club soda are suitable treatments. Follow the same treatment process as with hydrogen peroxide. While neither works as well as any of the treatments listed above, they are preferable to letting the red wine dry and set.
These few additional tips will help you remove the stain:
Treat the stain as quickly as possible; Fresh stains are easier to work with than dry wine

Remember to rinse with cold water — never hot

Pat or dab — never rub

To avoid spills in your home, consider serving your guests wine in stemless glasses, which are more difficult to knock over than stemmed glasses
With these simple stain solutions on hand, you should be able to relax with a glass of red, no matter how precious your host's Persian rug.
Have you tried any of the above remedies with success?
About the author: Rebecca Cox is a Chicago-based actress, wine lover and wine shop-girl. Check out her blog Chicago Uncorked to follow her thoughts on wine tasting, enology, viticulture and wine in the Windy City.