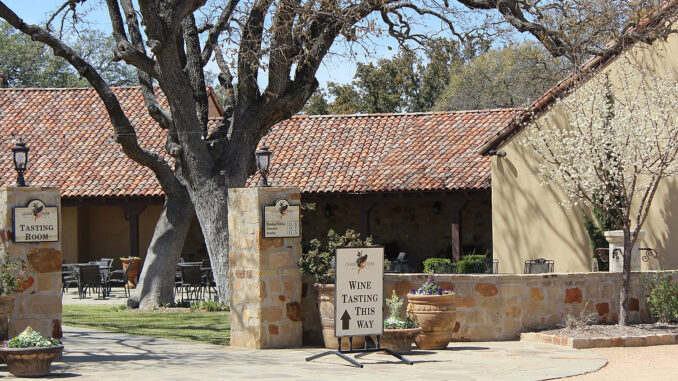 The Lone Star State is better known for margaritas and beer. But did you know the Texas is a popular destination for oenophiles?
In fact, Texas has produced wine since the 1650s, making it one of the oldest wine producing states in the country. With more than 200 vineyards across eight recognized American Viticultural Areas (AVAs), Texas offers a great variety of wine. Perhaps the most popular AVA, Texas Hill Country boasts scenic wineries and many of the state's most decorated wines.
Yet with 42 wineries spanning from Austin to Fredericksburg and Lampasas to New Braunfels, you won't have time to visit every Hill Country winery. Here are five Texas wineries where you're sure to find both impressive scenery and award-winning wines — and each offers their own unique take on Lone Star State charm and hospitality, too.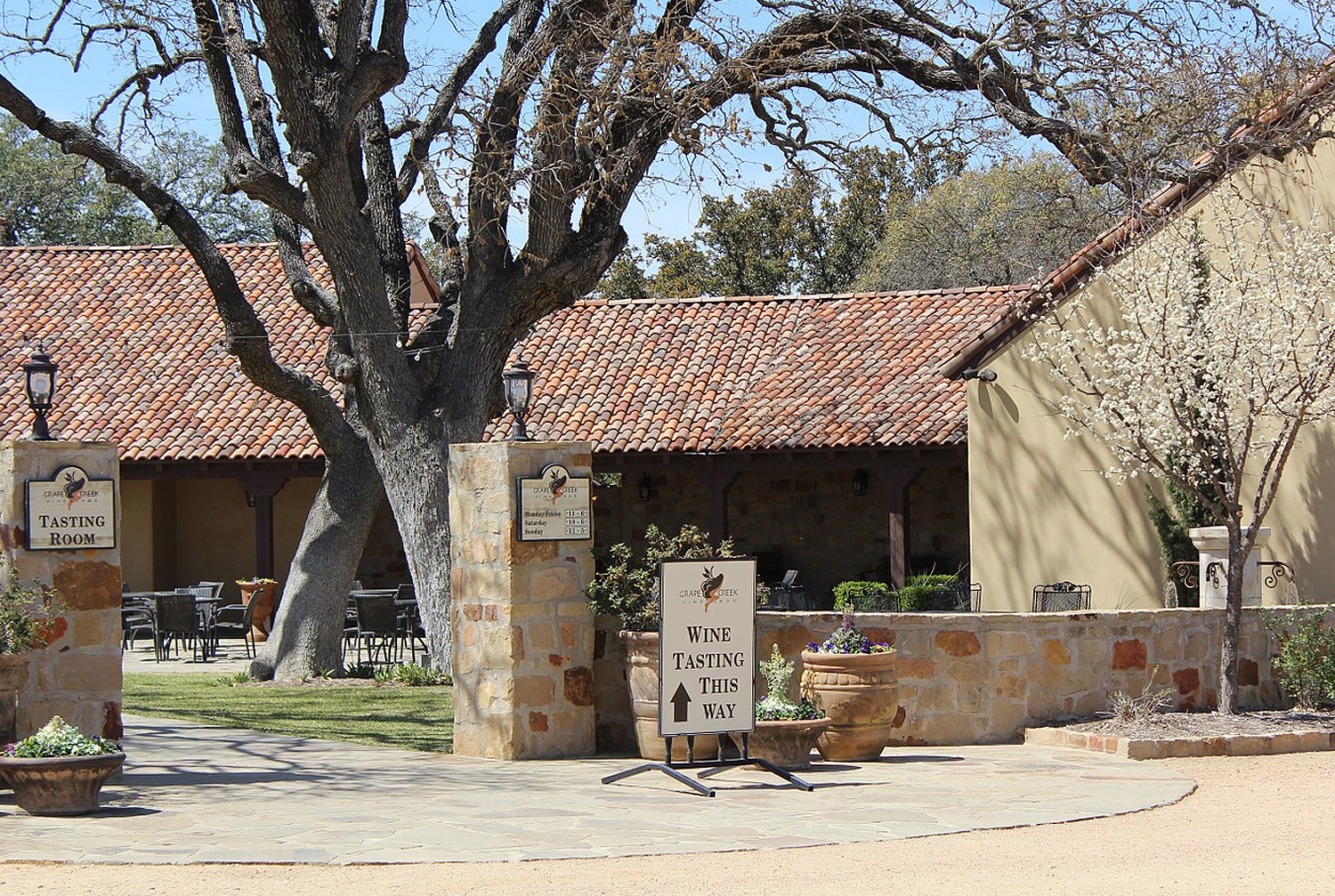 1. Grape Creek
Nestled in the rolling hills of Hill Country, Grape Creek Vineyard is arguably one of the region's most beautiful vineyards. Boasting the motto "Tuscany in Texas," Grape Creek's tasting room is located inside a sprawling Tuscan-style manor house. But this winery has much more to offer than beautiful facilities. All wines are entirely produced on-site, from harvesting to crushing to bottling.
Another reason to travel to Hill Country to sample Grape Creek's amazing selection: You won't be able to find their wines on your grocer's shelf because Grape Creek doesn't distribute. If you can't make it to Texas and want to snag one of their critically acclaimed wines, join their wine club. Be sure to check to see if yours is one of 13 states where they offer shipping.
Grape Creek wines to try: Grape Creek produces a variety of styles, ranging from light Rhône-style reds to full Bordeaux blends, beautiful dry whites and an array of sweet wines including a stunning 13-year Tawny Port.
Viognier is perhaps Grape Creek's most acclaimed wine, having won Double Gold at the San Francisco International Wine Competition in 2014. The estate-grown Bellissimo, their Tuscan blend akin to a Sangiovese, is also popular and received gold at the 2014 New World Wine Competition.
2. Bending Branch
Another gem in Texas' beautiful Hill Country, Bending Branch boasts sustainable and organic viticulture. The winery specializes in growing grapes that thrive in Texas' terroir, including Malbec, Petite Sirah, Sagrantino, Charbono and Aglianico varieties.
Their focus on sustainability includes minimizing their carbon footprint through recycling and composting and extends to every facet of their wine production. Rather than use harmful pesticides or herbicides, Bending Branch practices canopy-covering farming techniques. They've even introduced beneficial insects to preserve their vines.
In keeping with their sustainable practices, the picturesque estate was built using locally sourced materials. Perhaps their most important sustainable contribution is their use of drought-resistant vines and dedication to water conservation. Texas frequently experiences drought and water shortages, making water waste a serious matter. Bending Branch harvests up to 100,000 gallons of rainwater and condensation annually, which they use to water their vines during dry seasons.
According to winemaker Bob Young, what makes Bending Branch's wines one-of-a-kind is not only their beautiful location, elegant tannat and commitment to sustainability, but also their unique style of wine production, which blends Old and New World techniques. For example, Bending Branch uses cryomaceration — freezing grapes to boost extraction during red wine fermentation. "This process increases extraction of tannins and anthocyanins, which are key elements in making robust reds," says Young.
Bending Branch wines to try: Bending Branch was one of the first wineries to successfully grow tannat in the dry Texas climate, which produces wines with bold fruit palates and soft tannins. Due in large part to their success with growing tannat varietals, Bending Branch's 2011 Estate Tannat has become their most popular wine, taking home the Houston Rodeo International Wine Competition's Top Texas Wine Award earlier this year.
In addition to their award-winning reds, Bending Branch boasts a beautiful High Plains Rosé and the popular Picpoul Blanc, which is a bright, acidic white wine that pairs perfectly with the Texas summer heat.
3. Pedernales Cellars
Situated on 145 acres of beautiful Hill Country land studded with oak trees, Pedernales Cellars showcases both views and vines that will take your breath away.
The sprawling modern-style building is a little off the beaten path, but the stunning view of the Pedernales River Bed and a visit to one of the largest cellars in Texas is well worth the trek. Pedernales Cellars sustainably preserves their award-winning wines using limestone insulation and a state-of-the-art geothermal cooling system, ensuring the wine you taste is always served at the perfect temperature — even in the sweltering Texas heat.
Perhaps one of the most notable qualities of Pedernales winery is its dedication to supporting a Texas-based local economy, including agriculture and support for the arts. All Pedernales wines contain grapes exclusively from Texas vineyards. On Saturdays, the winery opens their grounds to local food trucks. Additionally, Pedernales supports a number of local museum exhibitions and programs through their partnership with The Contemporary Austin.
Pedernales Cellars wines to try: Perhaps the master of blends, Pedernales Cellars specializes in the production of Rhône and Spanish-style blends, as well as Tempranillos. Pedernales' Tempranillo Reserve won gold at the San Francisco International Wine Competition in 2013. Their 2010 High Plains Tempranillo won double gold at the 2013 Lone Star International Wine Competition.
Not to be outdone, the Pedernales Viognier Reserve has also received its fair share of accolades, including double gold at the 2013 Lyons International Wine Competition. For the dessert wine fans among us, the non-vintage Texas Ruby Port is a fun and delicious sweet wine with hints of chocolate that pairs nicely with a variety of sugary treats.
4. Singing Water Vineyards
Named for the sounds made as the Bruins Creeks flows through their beautiful on-property waterfall, the family-owned Singing Waters Vineyard was established in 1998. Similar to Pedernales Cellars, Singing Water also invites live musical acts and food trucks to their vineyard to help support local art and chefs.
Singing Water also has its own wine label, aptly named Freedom, which was created to support the troops. Since Texas has a large military community, many Singing Water guests are members of the military or have military family. A percentage of the proceeds from Freedom sales are donated to Fisher House Foundation, a charity dedicated to funding college scholarships for children of veterans or active duty military members.
Singing Water wines to try: Freedom is much more than a charitable label; it's also an award-winning wine. Freedom's 2011 vintage took silver at this year's San Francisco Chronicle International Wine Competition, joining other Singing Water wines such as the gold-level 2011 Vitner's Reserve and the silver-level 2011 Merlot.
If you're a fan of sweet wines, don't miss the popular Sweet Lupe. It was awarded silver in this year's Houston Livestock Show and Rodeo International Wine Competition.
5. Becker Vineyards
Becker Vineyards in another winery that uses only Texas-grown grapes for their prestigious wines. The idyllic Texan scenery, complete with a late 1800s log cabin, make this vineyard an ideal venue for weddings and private events.
The winery sits on 46 acres of picturesque land, studded with lavender fields and other wildflowers, and complete with an antique windmill. In the summer, their veranda offers stunning views highlighting the bucolic charm and wide open skies Texas is known for.
Becker Vineyards also fosters a sense of community involvement, hosting a variety of live local music and tasting events. You can even attend Becker Vineyard's annual grape stomping event to help make the wine.
Becker Vineyards wines to try: Becker Vineyards produces award-winning and beautiful wines. Their 2013 Provencal Rosé received the double gold medal and was named Best Rosé at the 2014 San Francisco International Wine Competition. Joining their off-dry Rosé was their 2012 Culinaria Red Blend (silver) and their 2012 Cabernet Reserve.
The Viognier is also well-decorated and wildly popular, taking top awards in the 2013 Lyon International Wine Competition.
With so many scenic vineyards and award-winning wines to choose from, you can't overlook Texas as a top wine-producing state. If you're planning a visit to Austin or San Antonio, be sure to leave a couple of days free to explore all the delicious wine Texas Hill Country has to offer.
Plan to bring travel wine totes with you, to easily bring home these fantastic wines.
About the author: Ariel Berchtold is a freelance writer with a passion for wine, food and travel. She is currently backpacking the world with her husband. Follow their adventures at scenicroutehome.com.