Known for silky aromatic Pinot Noir, the lush Willamette Valley in Northern Oregon is filled with farm-to-table restaurants, stunning scenery and family run wineries. Mostly undiscovered, its welcoming small-town appeal is a casual way to enjoy wine tasting without the expense and exhibition of Napa valley.
For a change in pace, there are a variety of distillery tasting rooms, such as Hard Times and Rogue Hopyard with unique flavor combinations—apple pie vodka, chipotle whiskey and pink spruce gin.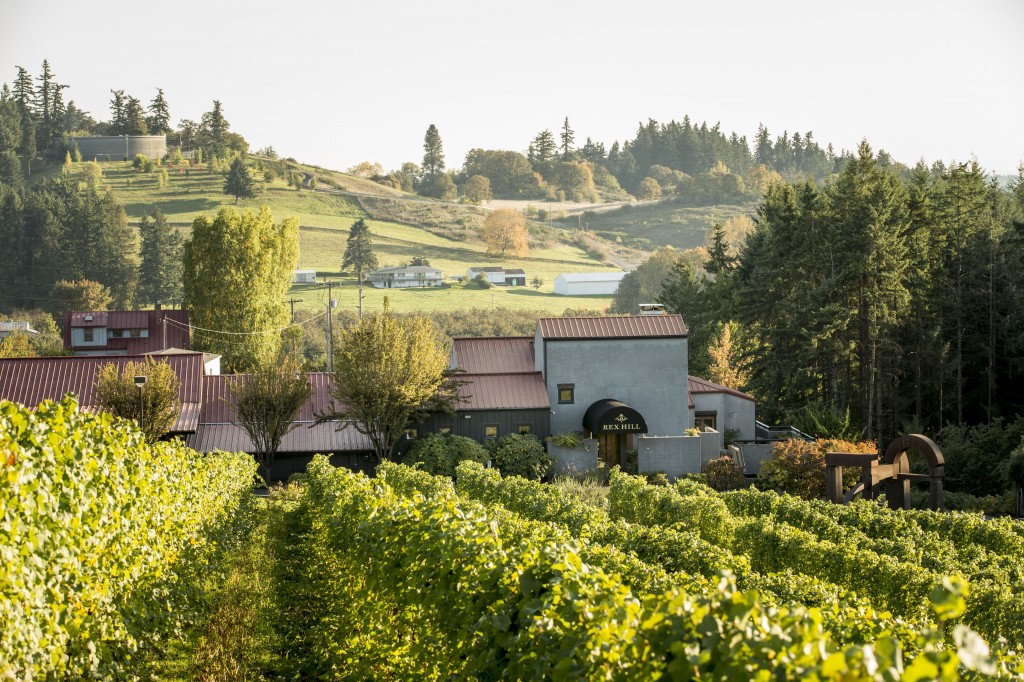 Repurposing a vintage fruit and nut drying facility, this family owned winery creates finely crafted Pinot Noir through biodynamic farming and carefully ripened fruit. Focusing on berry flavor, with cherries and strawberry notes, it opens up to an earthy cinnamon aroma. Other varietals are available, including a Pinot Gris, which was Editor's Choice in the April 2014 Wine Enthusiast, Chardonnay and sparkling wine. They are one of the first vineyards labeled for Low Input Viticulture and Enology sustainable principles.
Wine tasting is offered for casual drop-by visits or seated with wine club exclusive pours by appointment. Tour the winery to go behind the scenes on their environmental farming practices, visit the barrel cellar, and for an extra fee take the V.I.P. tour that includes wine pairing with artisan cheeses that is an educational and sensory experience.
Hours: Daily 10:00 a.m. – 5:00 p.m.
Location: 30835 North Highway 99W, Newberg
A traditional family run winery for over thirty years, Bethel Heights is one of the oldest Eola Hills wineries. Enjoy a drive through exquisite back country roads with rolling hills, dramatic vistas and ponds to a grove settled amid the vineyards stretching across a peaceful valley leading up to the tasting room. Their "Past, Present, and Futures" tasting shows the journey Pinot Noir makes from entering the barrel through to 30 years of aging. Paired with farm-to-table appetizers, it is a tactile introduction to winemaking that you will not soon forget.
Bethel Heights primarily offers Pinot Noir and Chardonnay varietals cooled with marine breezes from the coast; the February 2015 Wine Spectator calls their wine "soft and appealing, with gentle…flavors riding easily over polished tannins."
Hours: Tuesday – Sunday 11:00 a.m. – 5:00 p.m.
Location: 6060 Bethel Heights Road NW, Salem
One of the recent wineries, Penner-Ash is sustainable, innovative and dedicated to education and thriving in a competitive market. Flourishing with inviting lawns and wide vistas, their Oak Grove area is open to bringing outside picnics to enjoy on the estate, or reserve ahead for a private seated tasting, primarily of Pinot Noir.
With vineyards from multiple AVAs stretching as far north as Portland, Penner-Ash winemakers have a variety of grapes to choose from. Although primarily focused on Pinot Noir, they produce other wines such as Riesling, Rosé, Syrah and Viognier. They were recently purchased by California based Jackson family wines, which expanded access to vineyards without encroaching on the winery's practices.
Hours: Daily 11:00 a.m. – 5:00 p.m.
Location: 15771 NE Ribbon Ridge Road
Surrounded by picturesque countryside including the historic covered bridge for which it is named, the winery is known for aperitifs, liqueurs and dessert wines. The valley is rich in history, and its limited release wines are handcrafted, bottled and labelled with care. The property feels like a working farm, rather than promotional tasting room, with a barn atmosphere and friendly staff ready to discuss local news and history.
They have exciting community based events throughout the year—Picnics by the River, concerts, a Thanksgiving festival and Memorial Day BBQ. The winery's event area "The Hollow" is open to reserve for everything from birthday parties to wine country weddings. If you visit the Willamette Valley, do not miss Harris Bridge for a delightfully rustic wine tasting, especially if you are fond of sweet wines.
Hours: Weekends 12:00 p.m. – 5:00 p.m.
Location: 22937 Harris Road, Philomath
Article by Alexa Chipman