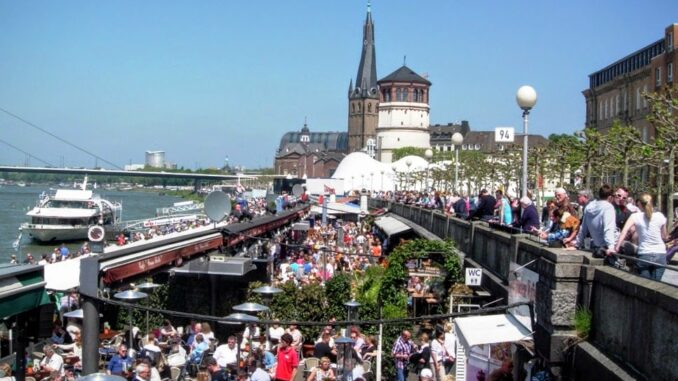 When someone says "Germany", wine isn't the first thing that comes to mind. But after three weeks sampling heavy beers in Belgium, 'legit' Rieslings sounded like a refreshing change of pace.
One problem: our car lease clearly stated we were free to drive anywhere except Germany. Apparently, Americans + Autobahn = Bad Juju. Strict German laws make it impossible to fudge, so onto Plan B: train in > see a couple towns > then catch a Rhine ferry into wine country.
Serendipity delivered a perfect one-two punch of consecutive weekends for a German-wine primer.
Turns out, the German fest-ing inspiration behind Oktoberfest has also created a myriad of wine festivals all over the country—each of which aggregates a slew of producers in one place. They start in Spring and run until Christmas markets begin.
Our arrival in Düsseldorf (Duesseldorfer), happened to coincide with Jazz Rally an annual festival that attracts hordes of world-class musicians, fans and partiers alike.  We lucked into lodging near the Kö (short for high-rent shopping Königsallee), a quick walk to Old Town's waterfront festivities.  
After two days' perpetual eating and drinking altbier (see Sidebar), it was time to dig into Rhine & wine research for post-Cologne. We hit terrific Düsseldorf wine bars for an impromptu *ahem* educational tour:
Galerie Am Karlplatz (on a main street),
Winelive (w/ brasserie, wine list breaks down best German regions and top wineries within them),
Vindega (contemporary space, featuring automated machine-pours plus a number of American & global selections.)
Another was inside a high-end mall. The Proprietor gave us first-class German wine tutelage. Unfortunately, name escapes us and I can't track it down. Pity: we learned the most.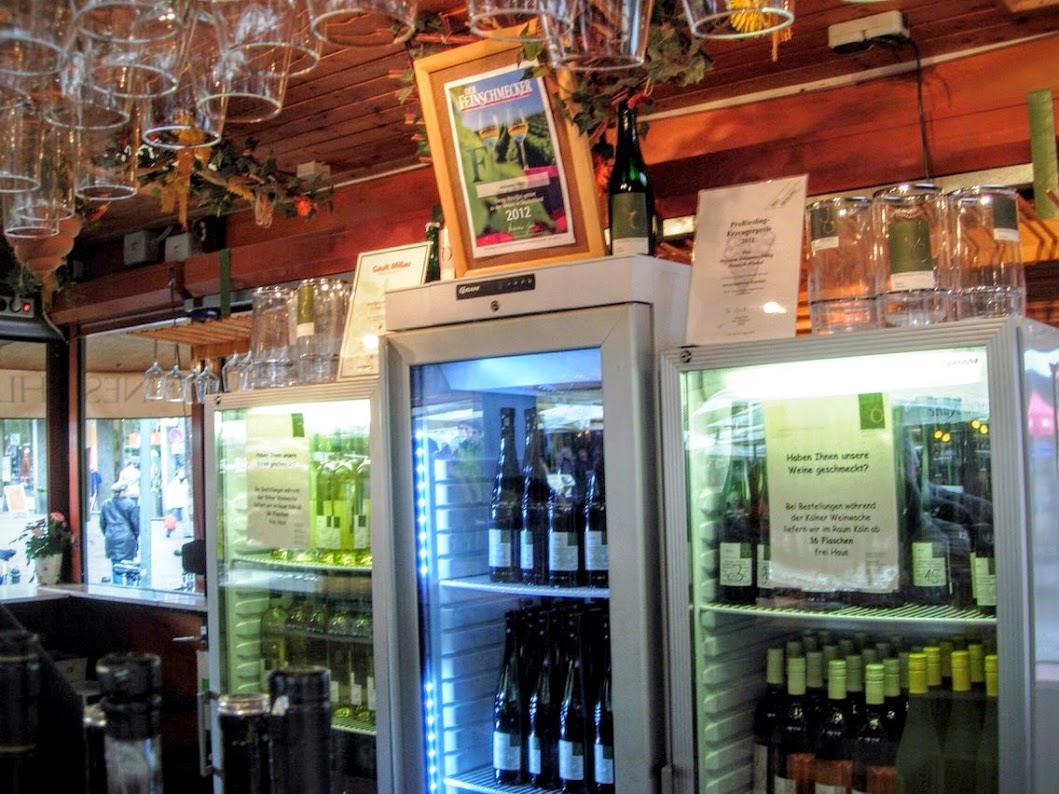 Onto Cologne (Köln/ Koeln):
Hiking through the impressive train station past the magnificent Gothic Cologne Cathedral to Old Town's main square, imagine our surprise (and delight) when we came upon Weinwoche Festival (Wine Week) set up immediately across from our hotel! Twenty-six wineries, and hundreds of German wines and wine industry folk at our disposal to sample, question (and annoy.) We even encountered a handful of family brewers sneaking in personal experiments to barter and share with friends.
Net-Net:
German labels' information can be dizzying. Here are brass tacks.
Skip Tafelwein, Landwein & QbA's.
QmP is the ideal starting point, divided into six (6) sub-categories based on the degree of grape ripeness when harvested. (In order):
Kabinett

– the lightest

Spätlese

– "late-picked"

Auslese

– specially selected grape

bunches

Beerenauslese

– individually selected

grapes

, frequently affected by noble rot

Trockenbeerenauslese

– selected individual grapes, shriveled on the vine from noble rot

Eiswein

– grapes frozen on the vines during winter and carefully extracted to make a rare, sweet wine.
Most accomplished varietals: Riesling, Gewurtztraminer, Spatburgunder (Pinot Noir)
Contrary to popular belief, German wines aren't all "sweet". Prefer dry? Make sure to spot one of these words on the label: trocken*, halbtrocken, 'Classic' or 'Selection'. (*#5 above, the exception)
Green factor: Embossed bottles featuring VDP's eagle logo on label—Indicates one of 200 German wineries with 3 different tiers classifying high-sustainability standards met.
Best regions/ what they're best at (our opinions):
'OMG'!:
Mosel-Saar-Ruwer (Esp. Bernkastel region) Austere Rieslings of significance.
Rheingau – More top Rieslings. Richer, fuller, rounder than Mosel's. Seek out "Charta" designates: sporting an embossed [double– or triple-arch] on the label.
Pfalz – Rieslings are creamier, more tropical. Excellent Spätburgunders (pinot noirs) & Scheurebes too.
Wurttemberg – Very unique, interesting Reds; plus great Riesling. (Unlikely to find these overseas.)
'YUM!':
Ahr – (Small.) Very light Spätburgunders (pinot noirs)
Hessiche-Bergstrasse – (Tiny.) Riesling, Eiswein, Spätburgunders
Nahe – Finest choices are all pretty much Rieslings.
Baden – (Faces French Alsatian-country) Very similar in style to the whites of Alsace.
A massive storm sabotaged our Rhine cruise plan on our departure date. Instead, we spent the afternoon at Lindt's chocolate museum and returned to Belgium early—armed with more than enough tasting and knowledge to pinpoint exactly which German wine destos we'll explore on a return.
By the way, toasting in German? Prost = beer; but for wine… Zum Wohl!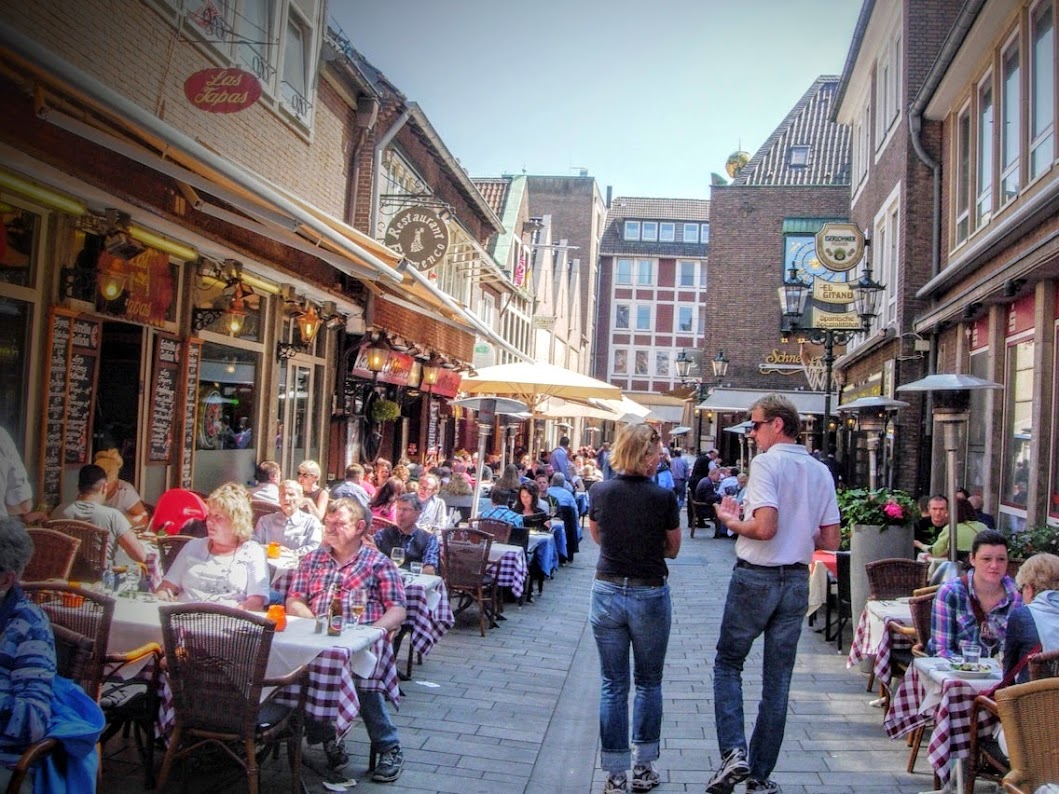 SIDEBAR: Dusseldorf & Cologne each make a specific top-fermented specialty beer with tenacious historical roots: in Dusseldorf, altbier; Cologne, kölsch. Don't mix up ordering the 'wrong' one in either city! Both are served the exact same: smaller, full glasses (stanges) are packed around a Kranz (crown)—a round tray, handle in middle, with a second top tray full of holes to hold stanges.  Servers continually rush about, promptly replacing empties and marking tallies on coasters to represent total consumed thus far. Anything with less than 1/4 inch remaining merits a replacement. Coaster on top of the glass is only prevention for a swap. 
TRAVEL TO GERMAN WINE FESTIVALS, BY MONTH: DE = EU country code for Germany
[City Festival Name(hotlinked)+ any additional info]
*Remember German calendars show dates DAY-MONTH-YEAR.*  
MARCH
Cologne Wein Salon Natürel  Natural, organic and 'green-friendly' wines.
[APRIL-SEPTEMBER]
Mosel Valley – Vineyards rise up from river banks where towns along the Mosel hold "Weinfests" (wine festivals) every weekend. Click the link to find schedules/ calendar.
ALSO: Look up Mosel cities, like Traben-Trarbach
[MAY-JUNE]
(Jazz Rally in Düsseldorf & Wine Week in Cologne – see article)
Würzburg  Weindorf   2016 will mark their 30th anniversary.
JUNE
'Assmannshausen in Rot' (Red) – famous for Pinot Noir.  One-day festival.
JULY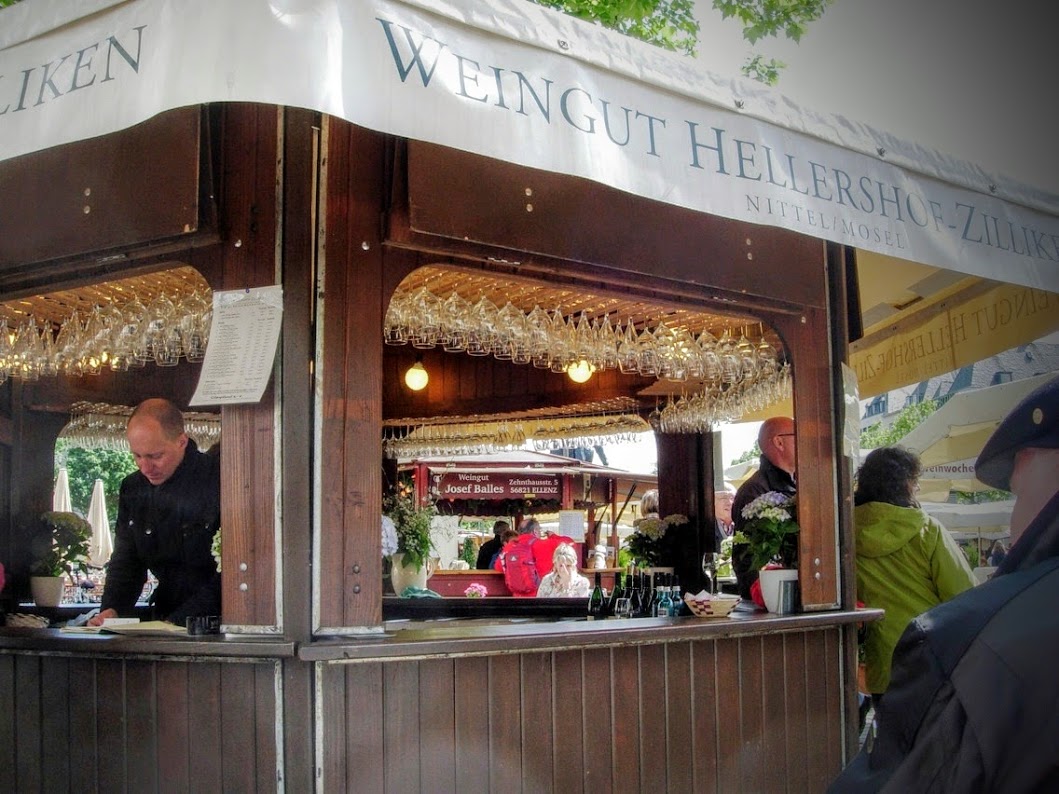 Düsseldorf  
Weinfest / Weinsommer

(Annual single-day event. Changing website.) On waterfront.
AUGUST
Bacharach Rotweinfest – Bacharach am Rhein / Rhine River Red Wine Festival one-day Middle Rhine festival
Rüdesheim Ruedesheimer-Weinfest / Rüdesheim Wine Festival Website:  
Aachen Aachen Wine Festival Famous for hot springs and 1000-year-old remains, with over 400 wines on offer from 20 or more wineries in Rhineland Palatine. Featured wines include Riesling, Mueller-Thurgau, Kerner, Dornfelder and Spaetburgunder.
Cochem Cochem WeinFest
AUGUST – SEPTEMBER
Stuttgart & Hamburg Stuttgarter Weindorf – Stuttgart Wine Festival 120 wineries offer up over 250 wines from the region, including Trollinger, Riesling, Kerner, Müller-Thurgau, Schwarzriesling, Ruländer, Schillerwein, Lemberger and Weißherbst.
Mainz Mainzer Weinmarkt / Mainz Wine Market Over half a million visitors enjoy wandering through the parks and rose gardens tasting wines, eating local fare, and arts & crafts stalls. Music.
SEPTEMBER
Frankfurt Rheingauer Weinmarkt / Rheingau Wine Festival vintners from the Rheingau offer 600+ wines in Fressgasse, one of Frankfurt's charming restaurant and fine food areas. Rieslings are specialty wines here.
OCTOBER
Federweisser (Rüdesheim)  Federweisser wine festival
Lori Stevens, former wine magazine food editor has worked for wineries and traveled extensively through most of the world's wine, craft beer, cider, and scotch-producing regions. Author of Wine: A No Snob Guide: Drink Outside the Box, Berkeley: Rockridge Press, 2015; she currently lives in Seattle.