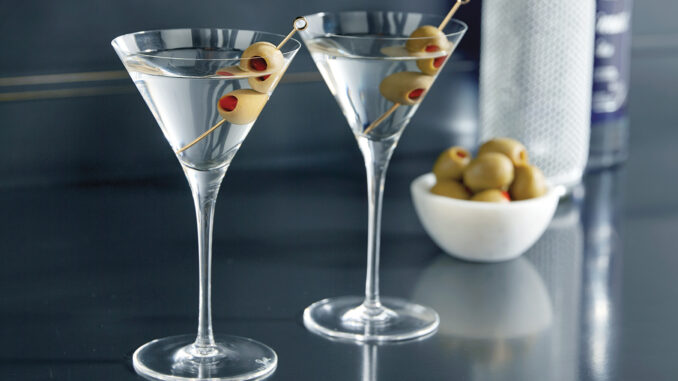 Looking to muddy-up the bon vivant "posh" of a Gatsby fête with racier elements? Invite Hemingway to join your Fitzgerald! After all, they were 'besties' back on the Seine-scene!
Of course, nothing conjures the 'Raucous Twenties' like a snazzy soundtrack of vintage jazz and old-school blues behind images of flappers and bearcats drinking 'giggle-water' in Blind Pigs* shouting "butt me!" to nearby bimbos**. Start your rager right with a dramatic and impressive display of French tradition: sabrage.
20s slang: *Blind Pig = 'speakeasy', **Bimbos = "tough guys". Click here for more great terms to liven up your party. 
We've got just the tool to slice open those icy-cold bottles of champers: the Laguiole Buffalo Horn Champagne Saber Sound scary? It's actually quite simple:
Fridge entire bottles overnight, to minimum 38˚.
Remove foil + wire.
Grasp bottle by its base. Point away from people and breakables. Hold at 45˚, away from your body.
Position the saber fairly flat against the bottle, sharp edge facing you, blunt side facing the lip.
Slide the saber along the bottle's seam toward your body just briefly, then quickly and firmly thrust and slide back up the seam toward the bottle's tip, holding the saber at a very slight angle, striking the crook sharply and Following through.
A number of online videos allows one to watch performances before attempting.
Fill all bubbly glasses and then roll up the Victoria Station bar cart for the rest! Outfitted with booze, a mixing station, and an array of customized drinking vessels, your traveling bar offers guests custom-enjoyment, such as our hammered copper Moscow mule mug, Soapstone Tequila Shooters for authentic Mezcale sippers, and the quintessential "Bond-James-Bond" Riedel Sommeliers Martini glasses for shaken-OR-stirred concoctions.
Bar Glassware 101:
Sparkling clean glassware is a must, and most folks don't realize pros prefer soap-free steam-cleaning of whisky and wine glasses—rubbing-out stains and smudges by hand with lint-free cloths before use.
'Chilled' glassware means refrigerating one hour in advance.
'Frosted' glassware means dipping in water and freezing for 30+ minutes (may slightly dilute drinks.)
Always serve with cocktail napkins to absorb moisture, or coasters to avoid condensation rings on furnishings.
Barware 101:
Maximize space by outfitting cocktail-blending stations with the Crafthouse Bar Tools & Shaker Set complete with shaker, muddler, jigger and strainer. Add the Quench All-In-One bar tool to consolidate a toolbox of bar accessories.  
Mixology Tips
Measure shots and pours to achieve proper taste balances.
Stir gently with non-reactive stirrers or cocktail spoons.
'Blend' means aggressively shaking in a shaker and straining into a glass.
Straw etiquette: No ice = no straw. Minimal ice = one straw. Hot or ice-cold temps = two straws.
Leave a few handy drink recipes at each mixing station so guests can properly blend DIY concoctions.
Open with a toast from Twain, a literary ingénue who departed before the Jazz Age but was revered by Papa for both his craft and fondness for fine cigars:
"Too much of anything is bad, but too much good whisky is barely enough!"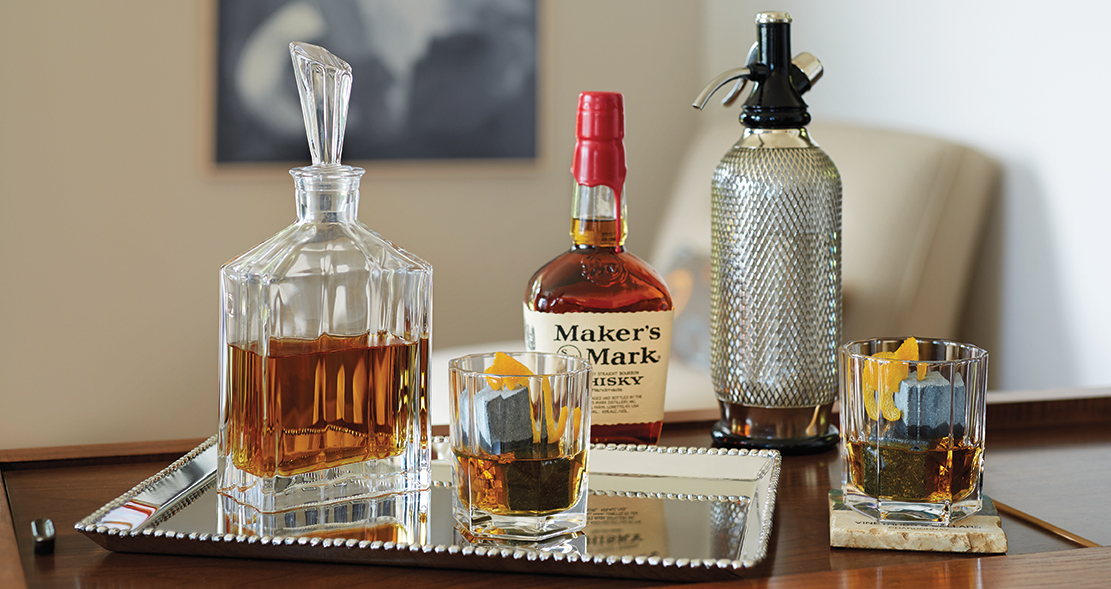 WHISKY VS. WHISKEY
Americans & Canadians adopted the 'ey' version, but both spellings are legitimate: [Scottish-'y' vs. Irish-'ey'.]
Regardless of spelling, cigars go with whisky like spaghetti goes with meatballs—and stogies won't be the only thing smoking when you let guests infuse their libations with the totally one-of-a-kind Crafthouse Cocktail Smoking Box. Papa himself would approve of this smoking ritual—especially if it included the Schott Zwiesel Hommage Carat Whisky Set featuring the gorgeous hand-blown and etched glasses from the Charles Schumann 1872 collection, complete with stunning companion decanter. Offer guests a second favorite whiskey in the beautiful mouth-blown Orsay decanter, personalized with your initials—a subtle reminder of who is the Host with the Most at this fine affair. (In the rare occurrences of leftovers, both decanters will keep hooch safe from oxidation with custom-fit stoppers.)
Of course, guests who prefer their bevys to match the mercury outdoors will love kicking it up a notch with the dramatic Corkcicle Whisky Wedge glass—a presentation they will find as pleasing as the contents.
We hope you'll share more ideas (and photos) from all of your holiday soirees using hashtag #IWAwine, especially when our products helped you pull off an affair for all to remember! Happy holidays!
Drink Recipes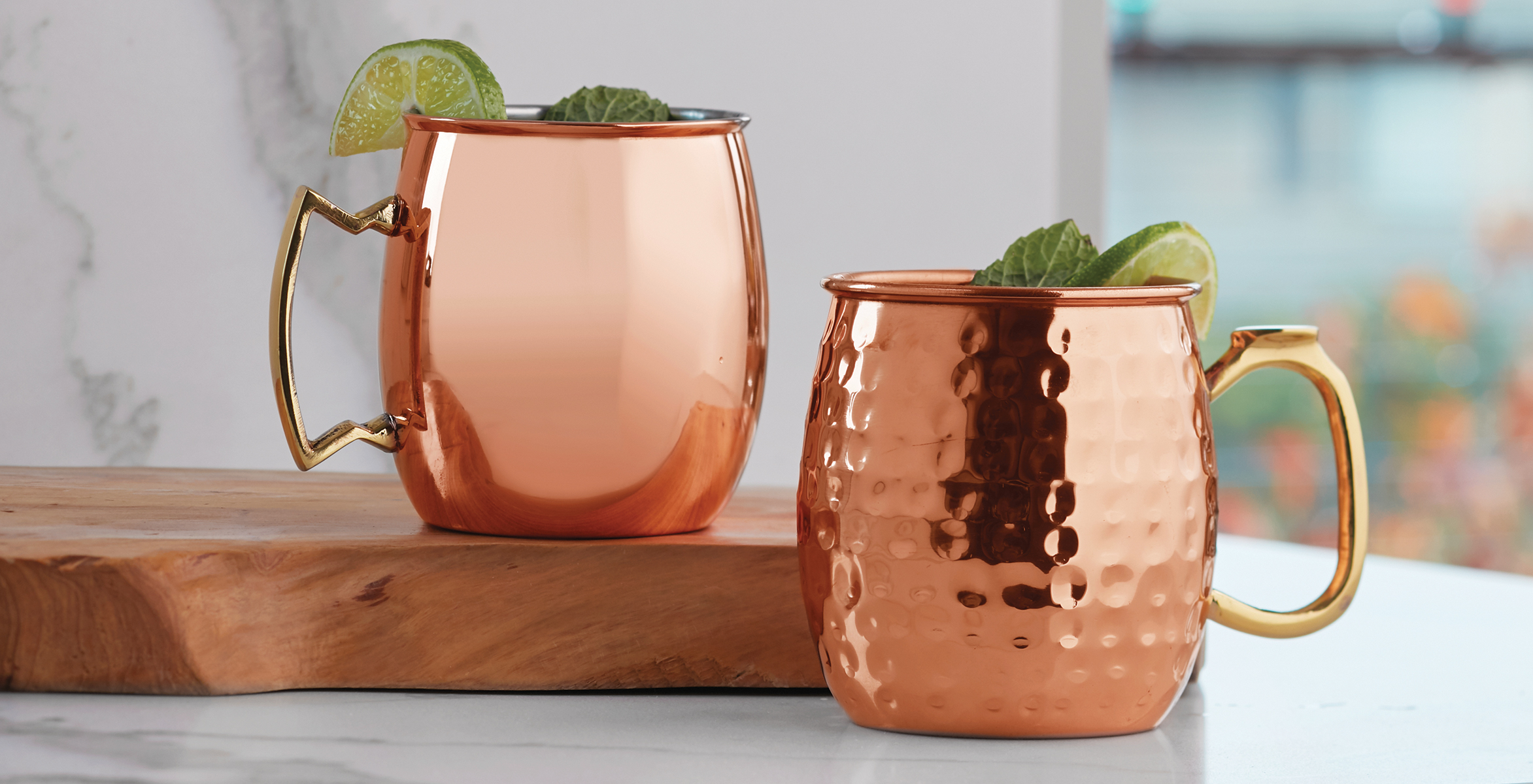 E-Z MOSCOW MULE
2 oz ice-cold vodka
1 oz freshly squeezed ice-cold lime juice
4 oz ice-cold ginger beer
Stir vodka and juice together well in chilled, copper Moscow Mule tumbler (or Collins glass). Add fresh-cracked ice and a swizzle stick. Top with ginger beer. Garnish with a lime squeeze or fresh mint.
What's the deal with the copper mugs, anyway? Copper keeps drinks colder and truer to traditional tastes than what is possible in glass. However, copper must also be hand-washed, dried immediately, and stored in a ventilated space (no dishwasher shortcuts!)—so the 'high-maintenance' factor should be considered.
MARTINI(S)
"On the rocks": Pour liquor directly into a rocks glass with guest's preferred level of ice.
or
"Straight-up": Thoroughly pre-chill a stemmed glass in fridge or freezer; or "ice it" by filling it to the brim with ice and let it stand while mixing drink. Empty all ice prior to adding alcohol.
The Classic:
1/8 oz. dry vermouth (Always pour the vermouth in first no matter what style!)
1 ¾ oz Gin or Vodka
Garnish: Olive (or Lemon Twist, which means a thin, pith-free strip of lemon rind, twisted to release oils.)
More Martini Options:
"Dry Martini": Swirl the vermouth to coat the glass and dump the rest. Or use 3-4 drops.
"Extra-Dry": Eliminate the vermouth entirely.
"Gibson": Garnish with Pearl Onion instead of Olive
"Dirty": Add ½ oz olive juice. (Should be cloudy.)
"Smoky" or "Dusty": Splash 4-7 drops Scotch whisky on top. Garnish with lemon twist, not olive.
"Black":  1.5 oz Vodka + ¾ oz Chambord + Garnish: lemon twist and cherry.
"Chocolate": 1.5 oz Vodka + ¾ oz (white or dark) Godiva (or Crème de Cacao) + Garnish: Cherry
CLOVER CLUB
(a popular NYC speakeasy in the 20s)
Ice
2 ounces gin
1 egg white
1/2 ounce raspberry syrup
1/2 ounce freshly squeezed lemon juice
Twist of lemon
In an ice-filled shaker: combine the gin, egg white, raspberry syrup, and lemon juice. Shake vigorously and strain into a chilled cocktail glass. Garnish with a twist of lemon.
Lori Stevens is a writer based in Seattle, Washington. Her book Wine: A No-Snob Guide, Drink Outside the Box ©2015 from Rockridge Press, Berkeley, CA is available at your favorite online book retailer. Many of her international wine travel articles are available on this blog.