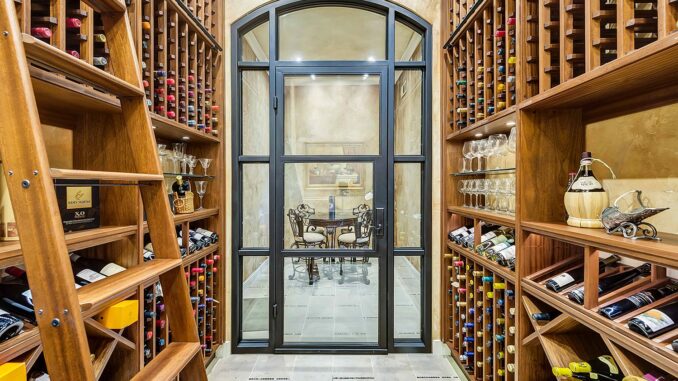 Choosing a Style
Building a custom wine cellar in your home, either as a storage space or a showcase for entertaining, certainly adds value to your home. Whether converting closet space or adding a 1,000 bottle cellar, start by answering the following questions:
What is the purpose of the room? ie storage only, or storage plus entertaining?
What style appeals to you? eg traditional, modern, wood, metal, label-forward.
How many bottles should it store? Make sure to consider the current size of your wine collection, as well as its future growth.
What types of bottles do you have in your collection? Consider skinny Bordeaux bottles vs. fatter Burgundy and Champagne bottles.
What is your budget?
Would you like a relaxing retreat with a tasting table and personalized decor? Or, do you prefer a dramatic presentation with LED lights illuminating prized bottles? Or, a traditional wine cave with dark wood racks and lots of bin storage for maximum space efficiency? Check websites such as Houzz or our IWA Wine Cellar Gallery for inspiration on the wide range of custom cellar styles that are available.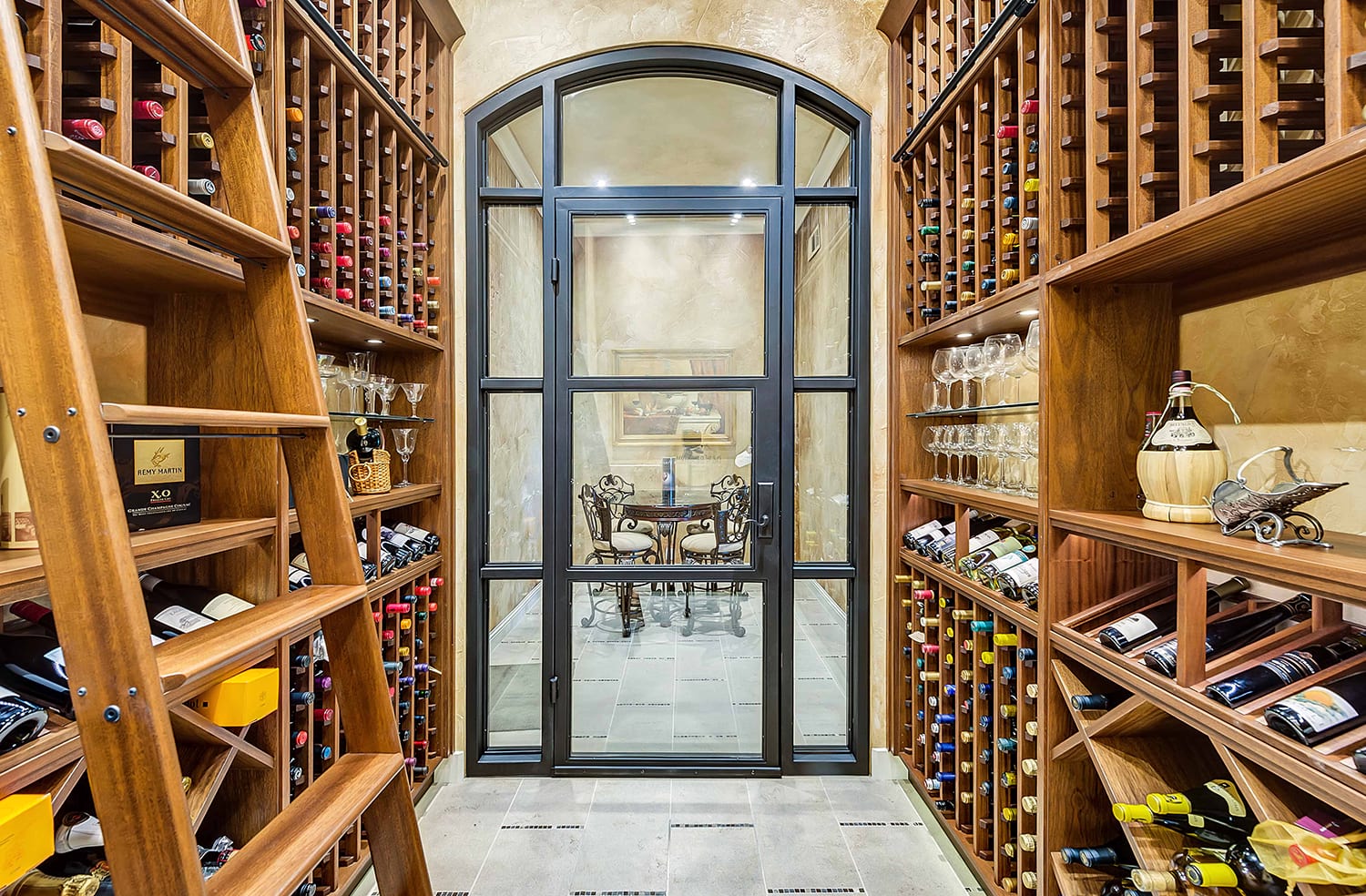 Construction Tips
Wine cellars pose unique construction requirements to ensure longevity and a proper environment for storing your collection. Three crucial elements to include are:
a minimum of R12 insulation. With insulation, the higher the better,
a moisture / vapor barrier, which is usually polyethylene sheeting and must be wrapped outside the insulation,
an airtight seal, making special note of an exterior-grade door which is fully sealed when closed.
Taking the time to correctly prepare the room is imperative to a quality wine cellar. Glass poses additional concerns for cooling; click here to read more about preparing for a glass cellar. If you have questions about the process, please make use of our expertise by calling (800) 527-4072 x1.
Cooling Units
Purchasing and properly installing a correctly-sized cooling unit for your cellar will save costs in the long run, preventing break downs in performance that endanger your wine collection. There are different types of installations, including:
easy-to-install through-the-wall units
split cooling systems, which allow the noise and heat from the cooling unit to be removed from living spaces, and
ducted cooling units, which remove the entire cooling system from the cellar.
IWA provides a thermal load calculation form to help you get started, since there are many factors that need to be evaluated when narrowing down what type of unit you need. Read the top five mistakes when choosing a cooling unit from respected manufacturer CellarPro for more tips about chilling your cellar.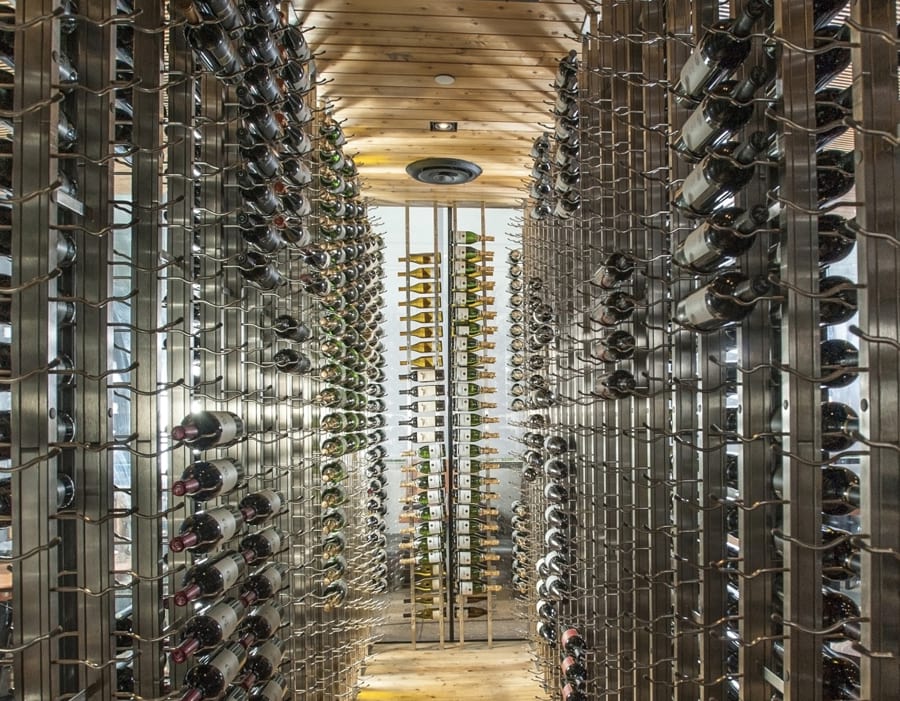 Budgeting
Construction: This is not an area to cut costs—having an improperly constructed cellar will cost money in the future, and cause recurring problems with moisture, cooling and energy usage.
Floor: Before adding racking, consider what type of flooring would work best with your design. Reclaimed barrel wood can be a luxurious addition to a wood cellar, concrete for a basic storage room and tile is faster to clean in areas where wine bottles will be opened and decanted. Remember that the harder the surface, the more likely the chance that the bottle will break if inadvertently dropped.
Cooling: Depending on the cellar, this can cost between $1,000 – $10,000. It is better to err on the side of extra cooling power, since an undersized unit will run more frequently, causing noise issues and shorter lifetime of the cooling unit.
Wine Racks: Choose from semi-custom kits in all shapes, sizes and qualities, to a fully custom design that is perfectly tailored to your cellar. More elaborate elements like arches, islands and LED lighting will add cost as compared to basic bin storage. Different wood species, finishes and quality also will affect the cost of the racks. Remember that richer woods may not require staining, so get the racks quoted in different woods, stains and finishes.
Decor: Homeowners often choose to add shelves or display arches to present dramatic accessories like the Riedel Horn Decanter, or add personal touches with art pieces, display barrels, stemware storage racks, decorative molding, ladders, wall units and other exciting accessories can be added that will give your wine cellar that finishing touch.
Questions about the cellar building process? Interested in a free design or assistance choosing the right cooling unit for your space? Don't hesitate to call us at (800) 527-4072 x1 or use the Live Chat feature at IWA Wine Accessories.