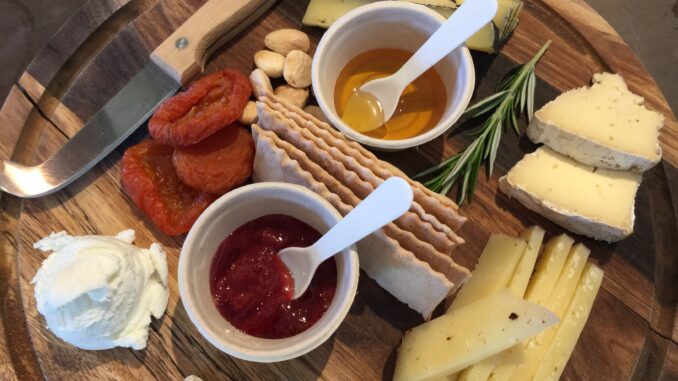 Pairing cheese and wine enhances a tasting experience while showcasing Sonoma County's rich farm-to-table heritage. Whether softening a tannic cabernet or accentuating pepper notes in a zinfandel, tasting with fromage can be a rewarding experience.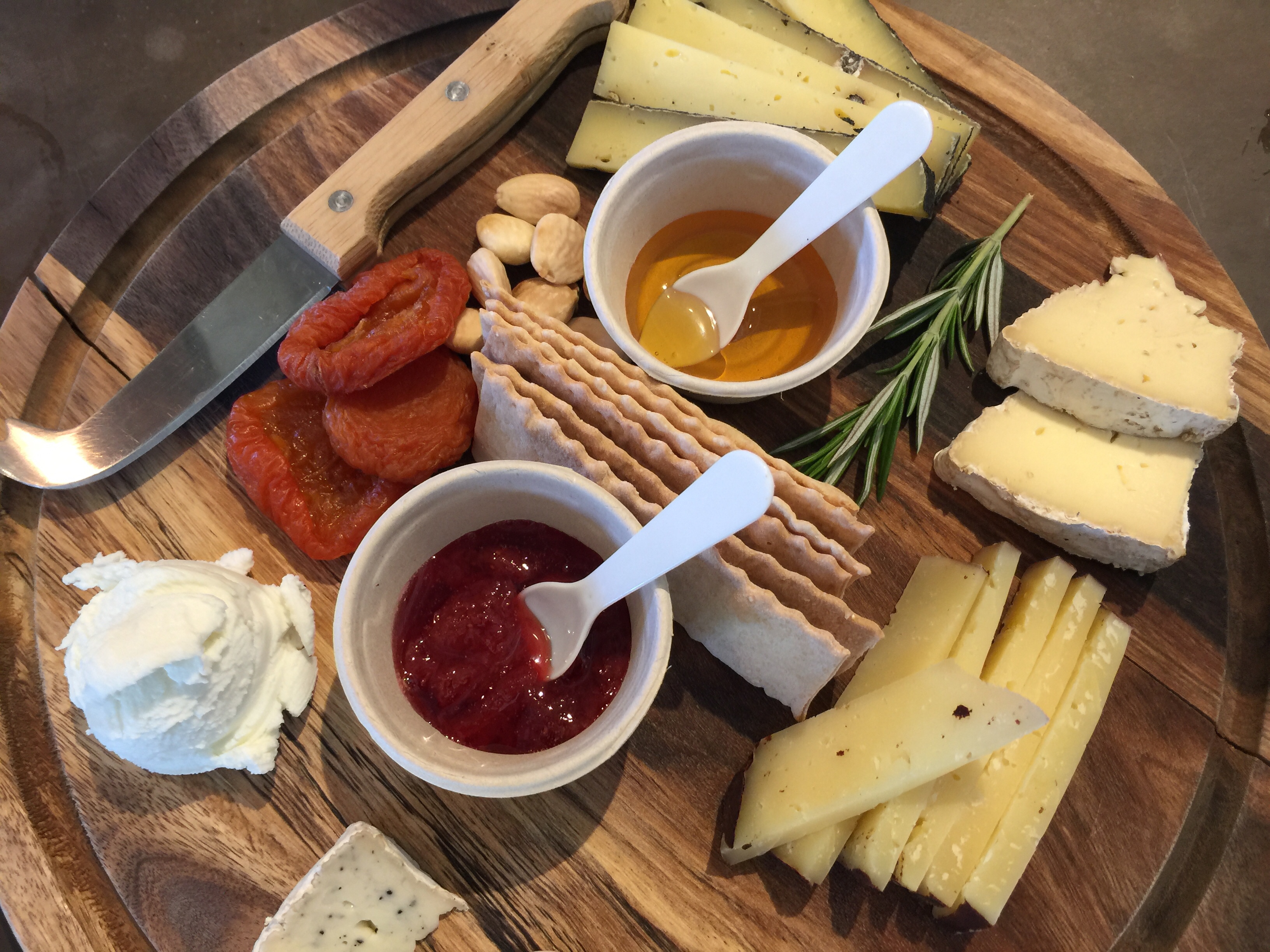 Valley of the Moon Winery at Madrone Estate
http://www.valleyofthemoonwinery.com
Open Daily: 10:00am – 5:00pm
777 Madrone Road, Glen Ellen, CA
This decadent cheese platter includes a selection of hard, spicy cheese, soft goat cheese and other local favorites, served with nuts and seasonal compotes for an unforgettable wine flight. Known for zinfandel, their grapes come from either a block of old vines planted in 1863 growing in gravel soil or the newer vines in primarily clay that create two distinctive wines. Other favorites include their sangiovese, pinot blanc / viognier blend and cabernet sauvignon. There is no need to reserve ahead, simply drop by their tasting room and ask to include a cheese platter with your tasting. For heartier fare, try the rustic charcuterie board of prosciutto, coppa, salami, marrow, olives, delightful grilled vegetables, crostini and garlic or reserve in advance for a boxed lunch.
Russian River Vineyards
http://www.russianrivervineyards.com
Open Daily: 12:00pm – 8:00pm
5700 Highway 116 North, Forestville, CA
With a full restaurant on site, their cheese and charcuterie boards are impressive, and can be enjoyed in an 1890s farmhouse tasting room, the pleasant outdoor grove tables or in the garden patio overlooking rows of estate vines. Influenced by the cool, crisp weather, their wines have a fresh sharp edge to them, and they are known for cabernet sauvignon, pinot noir, zinfandel and a refreshing gewürztraminer. Advanced reservations are not required.
Trattore Farms
https://www.trattorefarms.com
Open Daily: 11:00am – 5:00pm
7878 Dry Creek Road, Geyserville, CA
Located on a wine country farm that also produces olive oil from an orchard on the property, they understand the importance of pairing food and wine. Choose from their cheese flight, mouth watering panini pairing or their combined cheese and charcuterie board with delicious local selections that includes their olive oil. Trattore wines include a petite sirah, grenache, viognier, blends and zinfandel.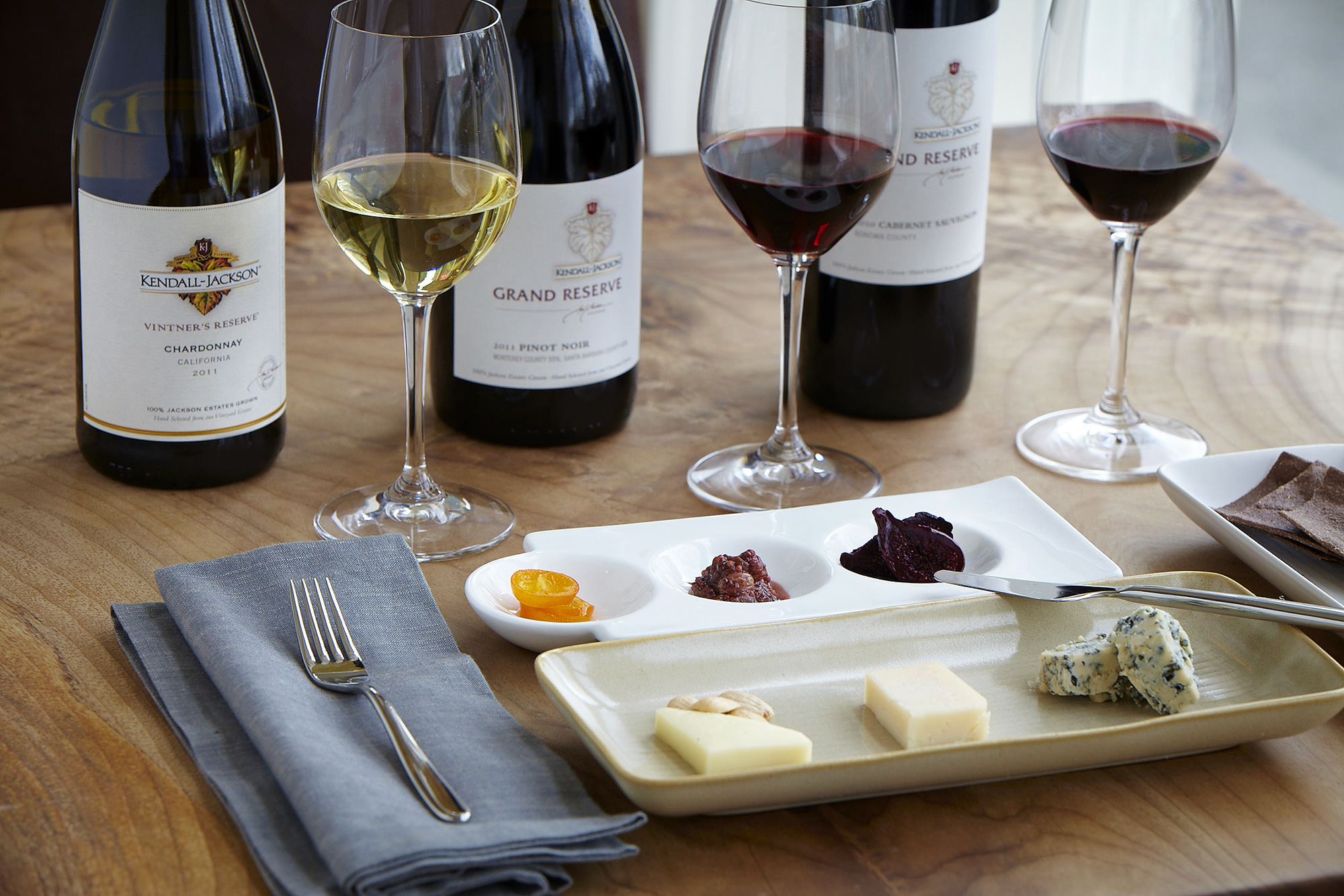 Kendall-Jackson
http://www.kj.com
Open Daily: 10:00am – 5:00pm
5007 Fulton Road, Fulton, CA
Whether you are looking for enticing culinary bites such as mushrooms, seared scallops and olive oil cake or a traditional cheese board to go along with light wines finishing with a sweet port, they have a tasting flight that you will enjoy. Call ahead or book online to enjoy this luscious treat. Mostly known for cabernet sauvignon and chardonnay, Kendall-Jackson has beautiful gardens to explore during your visit.