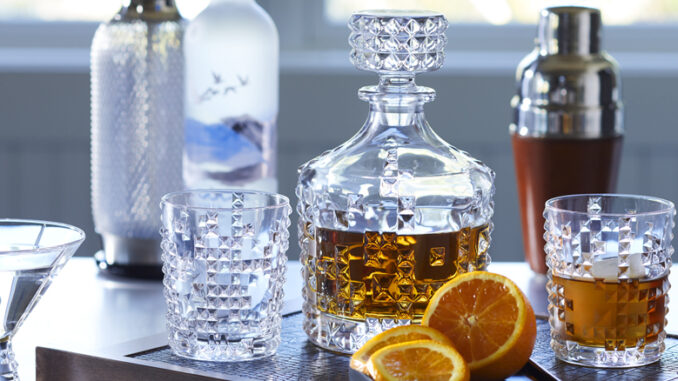 While Jack Frost nips at your nose, you can take the edge off with a little 'nip' of your own! IWA offers an extensive selection of classic and beautifying bar essentials and accessories, most of which can be personalized: see catalog for pricing and options. Order by date guarantees delivery by December 24.

  Denotes an IWA Exclusive!
Lift Holiday Spirits
…figuratively and literally whenever you use one of IWA's absolutely stunning, to-die-for whisky and spirits decanters made of the highest-quality materials by the world's most recognized and respected brands: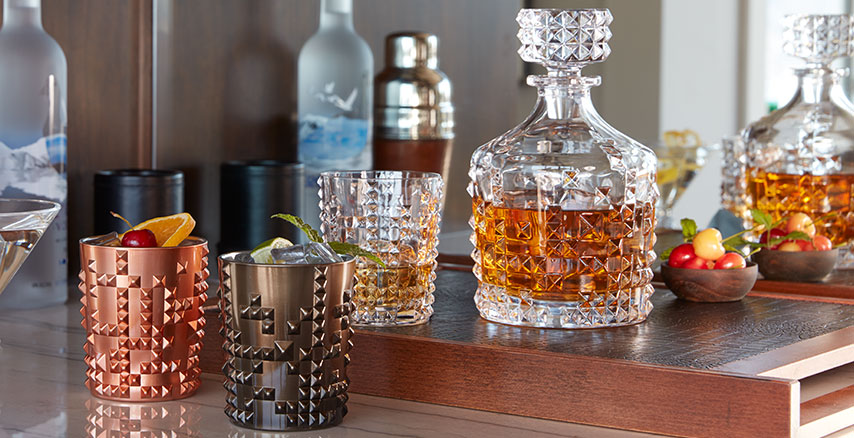 Schott Zwiesel Hommage Carafe – If plaid can be an elegant texture, they surely succeeded with this line made from mouth-blown, lead-free titanium crystal.
Eisch Circo Decanter – Who needs five golden rings when you've got the mother of all Rings? Serve guests from a true work of art made of mouth-blown, lead-free crystal. Includes crystal stopper.
Nachtmann Punk Decanter Set – Thank Central Saint Martin's Art & Design college in London for these textured asymmetrical patterns bursting with attitude. (Includes matching stopper and 2 tumblers, mouth-blown in Europe from lead-free crystal.)
Glass it Up! IWA's known for wine glasses galore, but we've also got beer, cocktail, and spirits covered to fit any price point—far too many to list, so the elves have highlighted this year's favorite martini and whiskey designs here: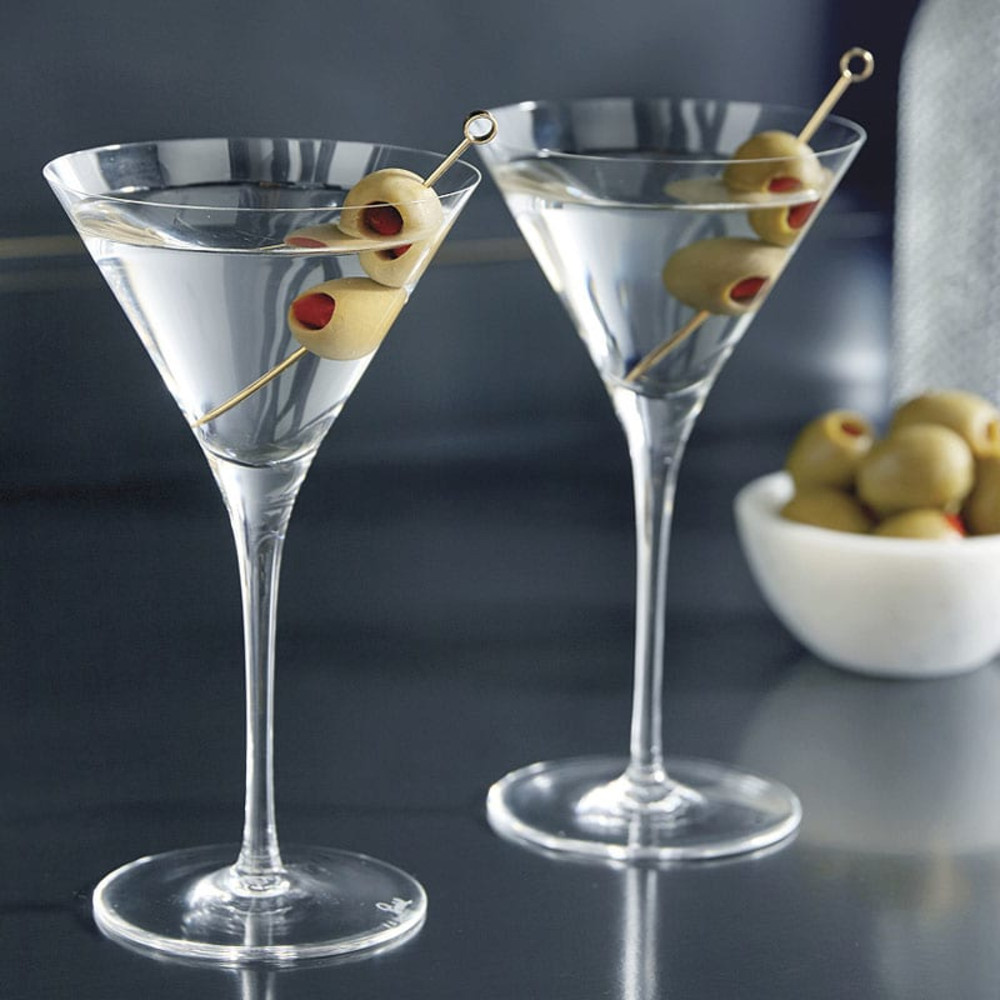 Martini
Of course, no holiday gathering is complete without the old standby. Elevate yours to hoity-toity with the Riedel Sommeliers Martini Glass made of mouth-blown, lead-free crystal which features a thinner rim to showcase each tasty sip… Or forego the classic shape and funk it up with the fantastic Nachtmann Punk Martini Glasses for some rip-roaring holiday rebellion instead!
If you rather fancy yourself a fan of delicate, refined sophistication, perhaps you'll prefer Lucca Stemware: made in Europe of lead-free crystal, each beer, martini, and whiskey glass is encircled with a delicately pantographic-etched scroll design. (Hand wash recommended.)
Whisky / Whiskey
Fans of single malts and aged whisky blends will recognize the celebrated shape of dishwasher-safe, lead-free crystal Glencairn Whisky Glasses or the premium feel of Riedel O Whisky Glasses made of lead-free glass.
Intimate gatherings are one thing, but if your crowd leans raucous and rowdy, then you'll require more practical options. Try the Govino Shatterproof Glasses – sure, everyone knows they're great for wine, but did you know they have whisky options too? BPA-free PETG: abuse, re-use, eventually recycle. Personalized Govino Glasses: order by 12/9.
Raise the Bar
…with fun, unique, and unusual ideas to entertain or gift favorite people: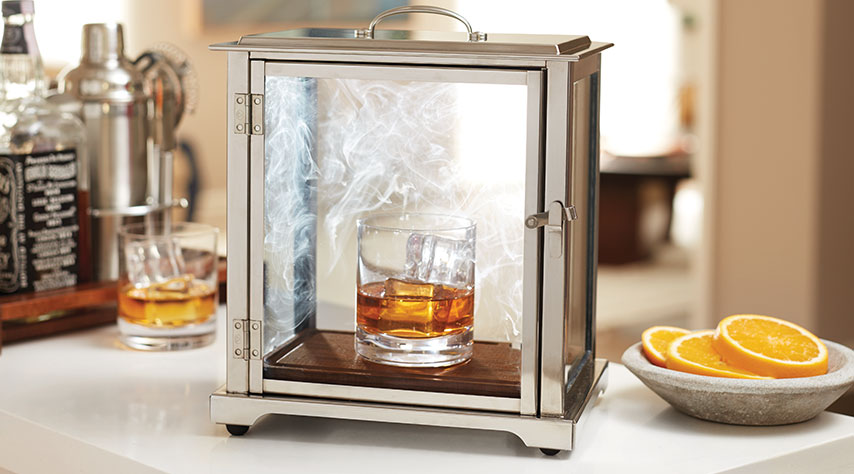 For starters, every bar needs a comprehensive Bartender's Bible mixing guide. Then ditch the mismatched, hand-me-down tools for our gorgeous Prohibition-inspired Crafthouse Bar Tool Set. Designed by world-renowned mixologist Charles Joly in collaboration with Fortessa, these barware tools are built for professionals and include a stainless steel jigger, hawthorne strainer with Boston shaker, and solid walnut muddler.
Kick it up another notch by adding three

 leather bar tools you'll want to unwrap: a stainless steel Cocktail Shaker, double-walled champagne-friendly Wine Chiller, and stainless steel Hip Flask, all enrobed in gorgeous, genuine leather.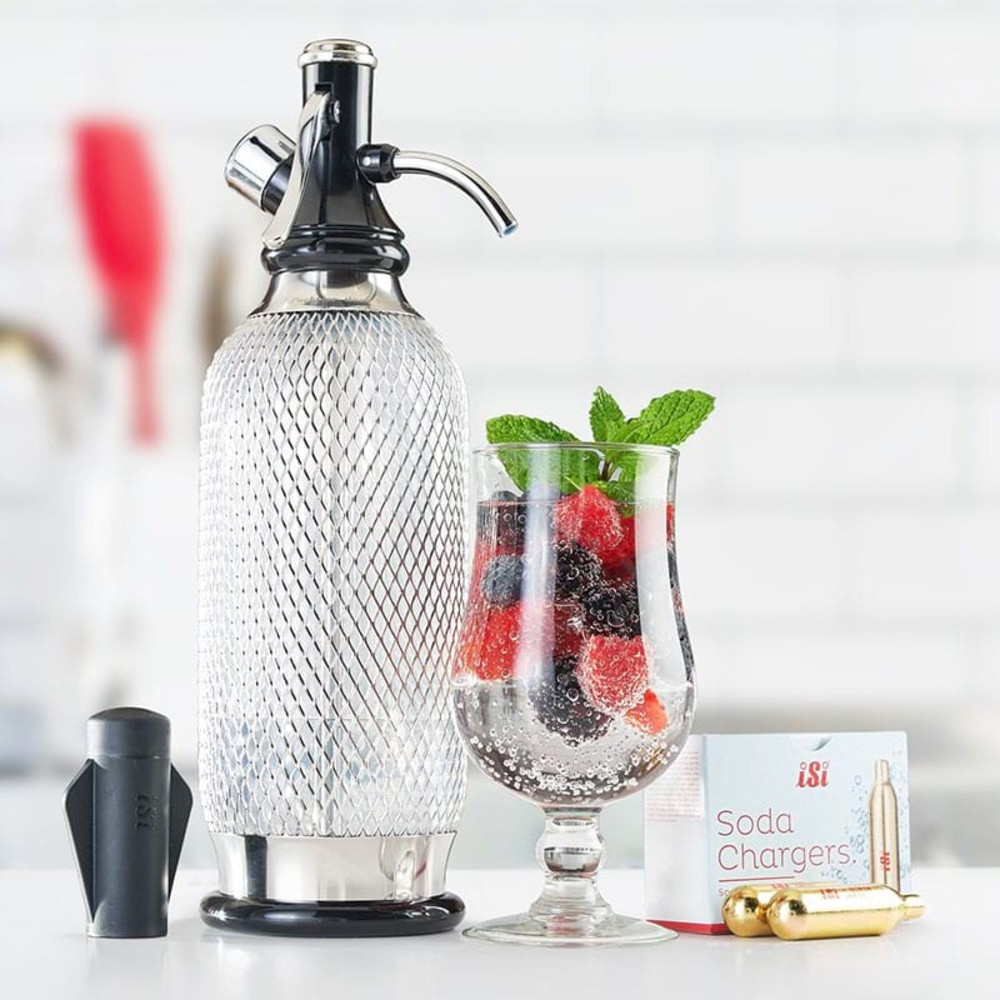 Why stop there? Create fizzy handcrafted cocktails and spritzers using the retro-cool Classic Sodamaker Kit made from unbreakable BPA-free acrylic and stainless steel mesh.
And for that 'special Scrooge' who is impossible-to-buy-for, our dynamic duo of sophisticated flavor-infusers just may jingle their bells after all:
Hands-off:

 Personalized Oak Barrels gracefully age wine and whisky. Experiment with 3 flavor essences: Kentucky Bourbon, Tennessee Whisky, and Highland Malt Scotch. Order by 12/11.
Hands-on: Charles Joly, (mixologist and superfan of rich, peaty spirits,) is at it again with last year's best-selling Crafthouse Smoking Box. Try your own hand at smoking ice, glasses, individual ingredients—even entire cocktails! The appealing and intriguing box includes a smoking gun with both Hickory and Apple wood for maximum experimentation.
Save Frosty! Don't forget to throw in a few cost-effective boxes of freezable Whisky Stones to chill all those fancy drinks without diluting them!
About the Author: Lori Stevens is a former wine magazine food editor who has worked in multiple wineries and traveled throughout many of the world's wine-producing regions. She currently lives in Seattle. Bottoms up!