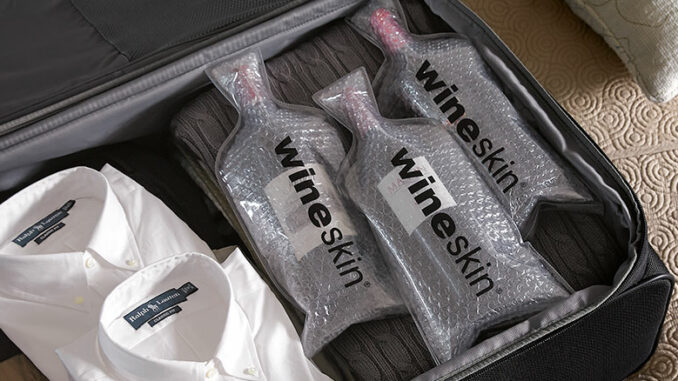 Once stores break out the firewood and chestnut displays, you know holiday season has arrived, and holidays mean travel. So this year, whether you're going across town or cross-country, let IWA help your liquid assets arrive in-tact and drama-free with friendly solutions for plane, train, and automobile—even that one-horse open sleigh ride to Grandma's!

  Denotes an IWA Exclusive!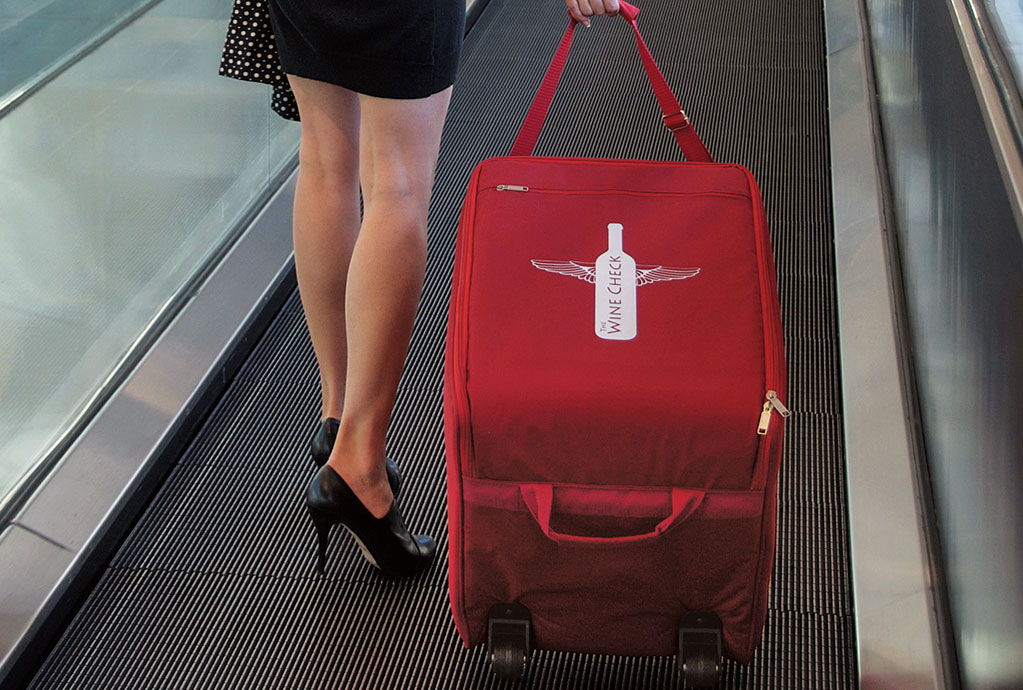 Roving the Party Circuit
Transporting a handful of bottles short distances? Our elves have assembled a number of 'handy' options that prevent bottles from rolling around your vehicle and make them a snap to carry: our handmade

 Leather Wine Bags, luxuriously supple with interior padded dividers that hold one to four bottles; or try the handsome, sturdy, drop-panel Mahogany Totes. Our stylish, durable 2-bottle Leather Wine Tote looks great and holds your wine, or bump up your BYO with our range of wine bags and totes.
Really want to show your appreciation? Make it personal! We promise no one will be offended when you deliver them bottles in our

 Personalized Gift Boxes, laser-etched with your choice of design or custom message. (Of course, any of our carriers may be gifted with your quaffable goods—just don't be surprised when your hosts bust out the mistletoe!)
The Long Haul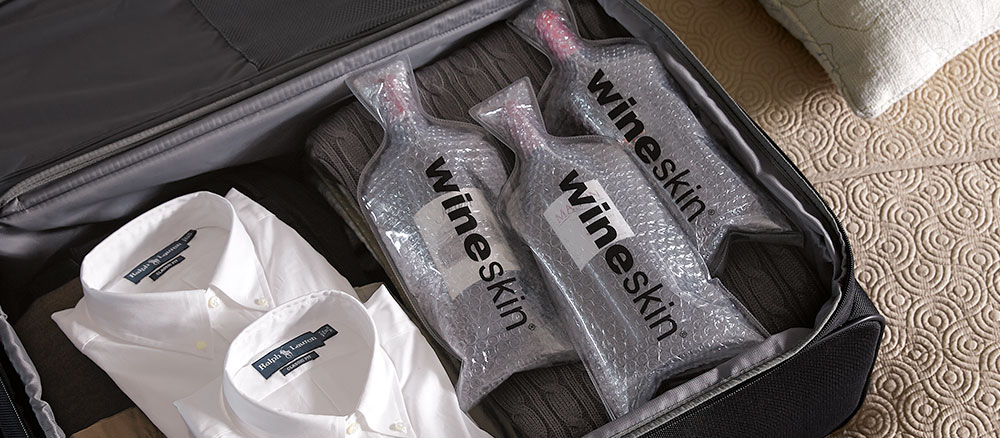 Trekking long-distances? IWA's snow patrol is pleased to provide a slew of terrific wine packers. Never has it been easier to bring your hard-to-find favorites from home (or bring new ones back with you.)
WineSkin leak-proof single-bottle carriers make sneaking a couple 750s into any standard luggage Nice instead of Naughty. They're affordable, easy to use and secure!
If long drives or train rides are in your future, the cool, sleek-strapped Built NY Cooler Travel Bag of puncture-resistant, leak-proof fabric will keep up to 6 wine bottles chilled for days. The BPA-free, food-safe construction means you can even throw in some snacks for Hanukkah Harry or Santa!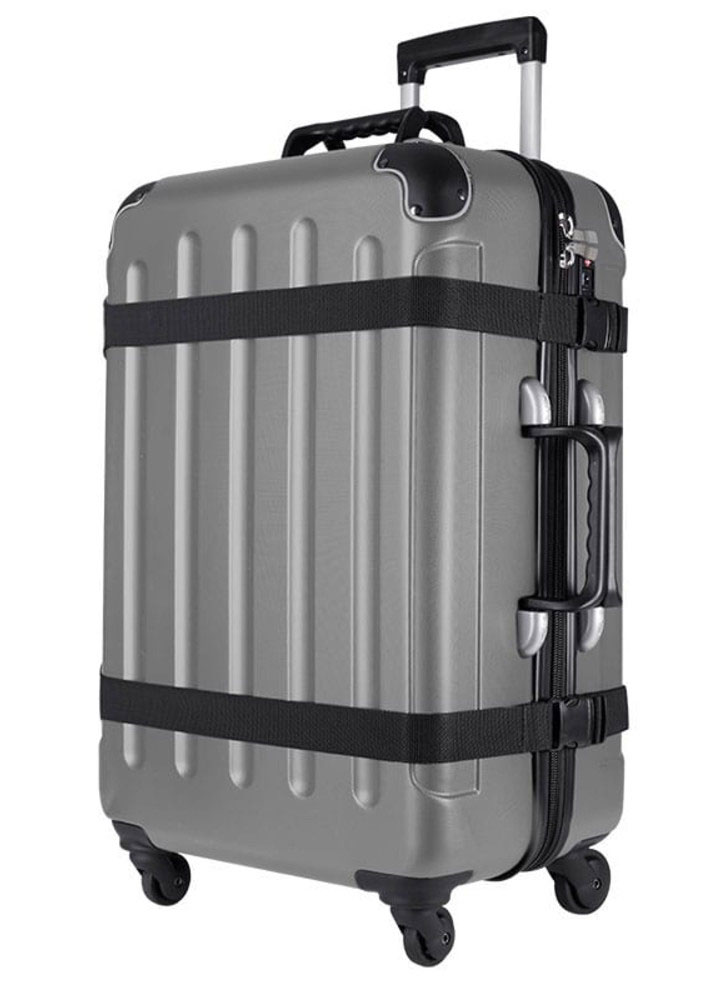 And thankfully, the days when flying offered painfully few vino-friendly options are long gone. Now IWA's solutions treat your bottles to personal space, temperature consistency, and low-maintenance transport, (more than we can promise you—but at least you'll be spared excess baggage fees, back strain, and disapproving looks from the FAA):
The Wine Check is an FAA-approved bag on easy-roll wheels with a Styro shipper/carton/ cold pack-combo that stays under the 50-pound checked baggage weight limit, even fully-packed with 12 bottles.
The lightweight-yet-strong, WineKaddy is made of 1/8″-thick aluminum with styrene inserts, a removable telescoping handle, and sturdy roller wheels. (Available in two sizes.)
Connoisseurs and divas alike are drooling over the primo-deluxe VinGardeValise which sports a hard-shell outer case over a high-density foam interior and features corner protectors, safety straps, 360-spinning wheels, a telescoping handle and FAA-approved locks.
Travel Conveniences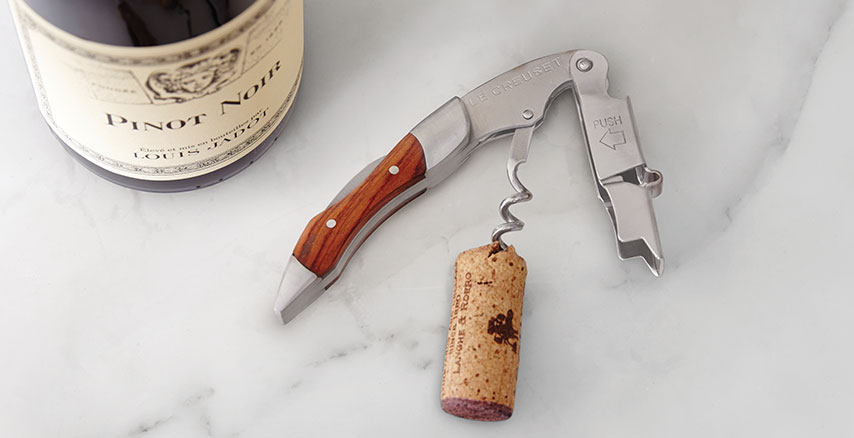 Has this ever happened to you: You roll into your cozy cabin-in-the-woods, light a fire, and break out a couple favorite bottles to go with your cheese and charcuterie board only to discover there's no wine opener. Now you'll never need to push-in or pry-out another pesky cork with a rickety screwdriver or butter knife handle again!
Toss the Le Creuset Waiter's Corkscrew with its no-nonsense patented 2-step system for smoother, easier cork removal into your bag and keep it there for good!
Don't forget to save a tiny space in your luggage for our Vacuum Bottle Stoppers! They won't sneak those partially-drunk bottles of the good stuff back to your room, but they'll certainly preserve it once it's there.
And speaking of luggage-friendly convenience, our Wine Bottle Bags & Gift Tags are a quick and quirky way to dress up last-minute Thank You gifts for hosts or surprise Secret Santas. Keep a pack in your bag—everyone will appreciate your stylish thoughtfulness.
Last but not least, sentimental folks who love holiday visitors have a knack for breaking out special bottles. IWA makes it extra-easy for you to take the best kinds of trips down Memory Lane with LabelOff Wine Label Removers which remove and laminate labels you can store back home in your very own Tri Fold Leatherette Wine Journal. (Or save the cork instead and stash it in one of our Cork Cage Ornaments to create an enduring whimsical holiday keepsake.)
Remember, traveling with wine doesn't have to be stressful and utilitarian; IWA makes it a fashionable no-brainer!
Holiday Sign-off Pairing Tip:
Chestnuts, (especially fire-roasted ones) pair well with New World wines, noticeably-oaked wines (or aged in fired-barrels), and varietals that use the descriptor 'smoky' in flavor profiles and tasting notes.
About the Author: Lori Stevens is a former wine magazine food editor who has worked in multiple wineries and traveled throughout many of the world's wine-producing regions. She currently lives in Seattle. Cheers!