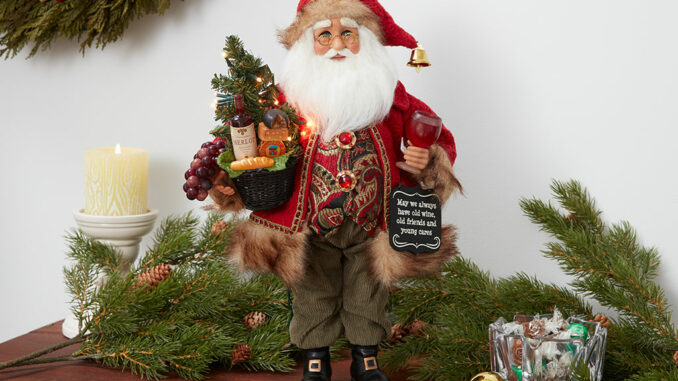 There's something about holiday decorations that bring out the inner child in everyone, like when a home looks like Santa crash-landed his sleigh sending bits and bobs cascading like New Year's fireworks onto every surface. You'll be the most Instagram-worthy home in your neighborhood!
Do you love the holidays as much as us? Then imagine the joy that will fill your candy hearts once you lay eyes on IWA's latest seasonal selection—enough to turn any apartment, home, or business into a mini North Pole—without setting you back too many gold-covered chocolate coins!
Deck the halls, nestle seasonal doo-dads and décor in every nook and cranny, and then IWA can help you distribute good spirits, literally and figuratively, as you Ring in the Jolly with a slew of great gifts guaranteed to fill loved ones with holiday cheer.
Deck the Halls
What are holidays without a wreath? Our metal Cork Cage Wreath is never out of place!
Our Santa collectibles aren't for little ones: proving once and for all the wine-loving man in the red suit is just like us! Choose from premium hand-crafted poses.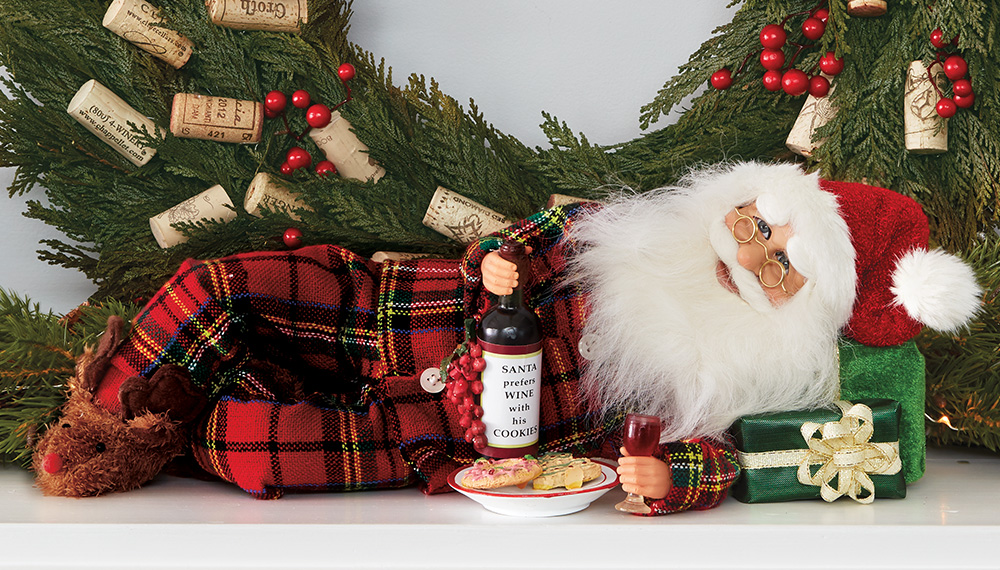 Next, top off those holiday tables with a bright & shiny Reindeer Trivet of sturdy metal with rubber feet. Also in Snowflake design. Either way, they won't be lonely with a table full of Reindeer Placecard Holder buddies who will keep them company while reining-in guests.
For wine-lovers, make everyone's glasses absolutely "charming" with magnetic glass charms, and keep Sleigh Stopper bottle-toppers nearby.
For cocktails, make sure glasses and garnishes are twinkling with holiday themed Cocktail Picks.
For the bar area, add one of our special holiday-edition cork cages—cork collecting has never been so attractive and convenient! Available as old fashioned Sleigh, in silver or patina; Holiday Boot; or Wreath.
And introducing (cue the twelve drummers drumming…)
Miniature Versions! Our wonderful, whimsical cork cages are now available as Ornaments! We have a jaw-dropping 20 styles—enough to decorate a whole tree! They're way too cute to keep all to yourself; so buy two sets, maybe three!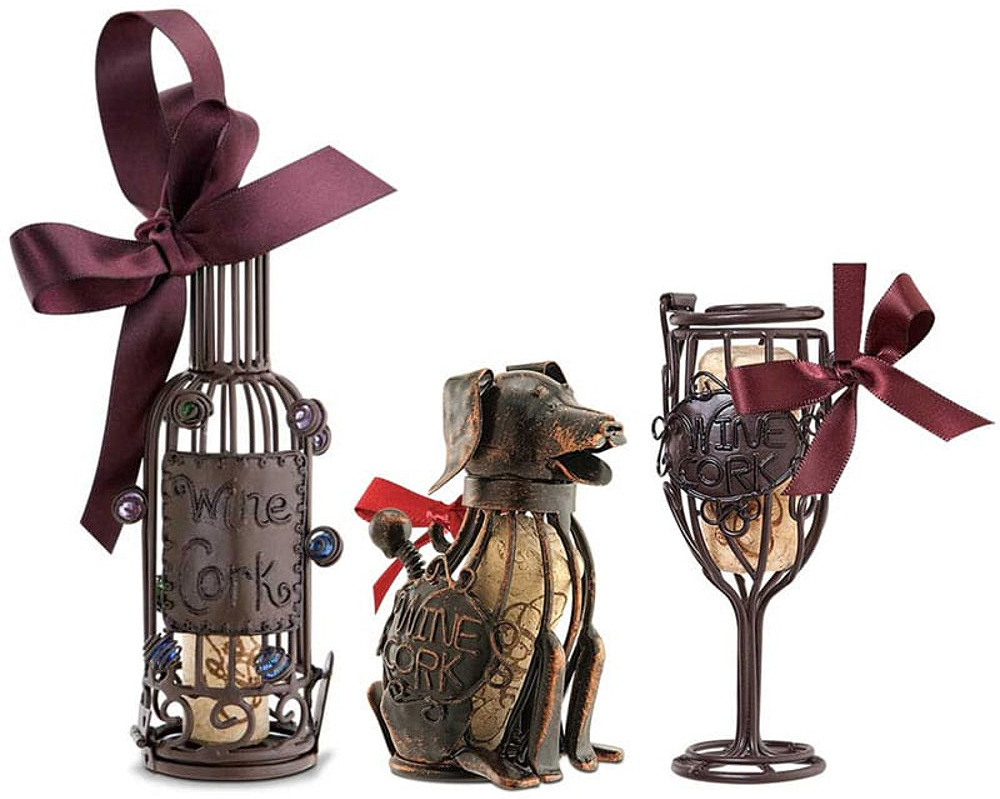 Appropriate for year-round décor, match the ornaments to guests' personalities to stuff stockings, adorn gifts—or be the gift, (even better around the neck of a special bottle to swap corks with, later.) Great for Host & Thank You Gifts, too.
Our eye-popping selection includes: Wine Glass, Eiffel Tower, Handbag, Ladies' Boot, Hot Air Balloon, Teapot, Watering Can, Bird's Nest, Guitar, Cowboy Boot, Pineapple, Sleigh, Snowman and Reindeer.
So go ahead: tell guests to find their name attached to a Cork Cage Ornament on your tree to take home with them and remember your magical night forever.
Now Spread the Jolly!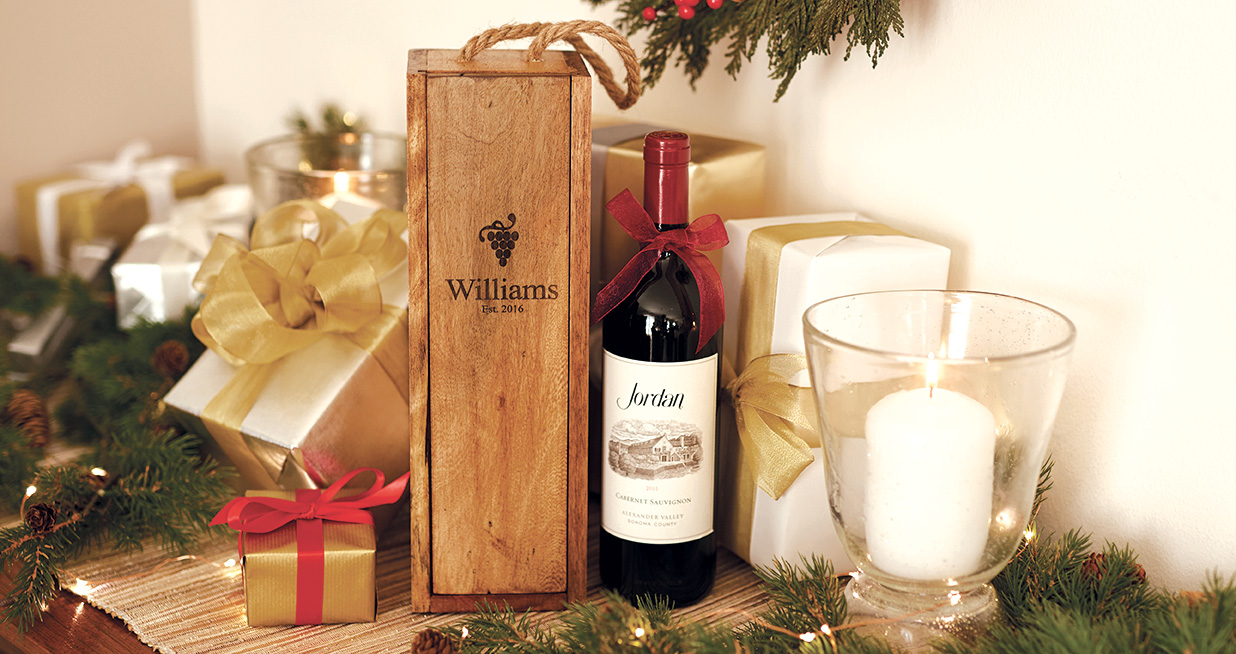 Halls decked – check! Next on list? Spread good cheer. And how else but with Gifts! All the makings for holly-jolly holidays are just one-click-away.
Have loved ones been extra-good this year? Great! Because our elves have hand-picked a spectacular lineup of presents and even sorted them by category and price for you to boot.
KEY:
$ = Under $25     $$ = $25-50     $$$ = $51-100     $$$$ = Over $100
IWA's GIFT BUNDLES FOR THE…
…HOST!
$$      Black Leather Wine Tote
$$      Le Creuset Foilcutter, Black Nickel
$        Wine Soaps
$        Eco Candle in Wine Bottle
$        Beaded Snowflake Coasters
…WINE-LOVER!
$$      Vino Gondola 3-bottle Champagne bucket
$        Marble Arabesque Coasters
$        Wine Charms: Glasses & Icons sets
$        Wine Bottle Thermometer
$        Fine Stemware Polishing Cloths
…FOODIE!
$$     Wine Lovers Chocolate Collection
$$     French Chocolate Fondue
$       Beautiful Boards Book (Hardcover)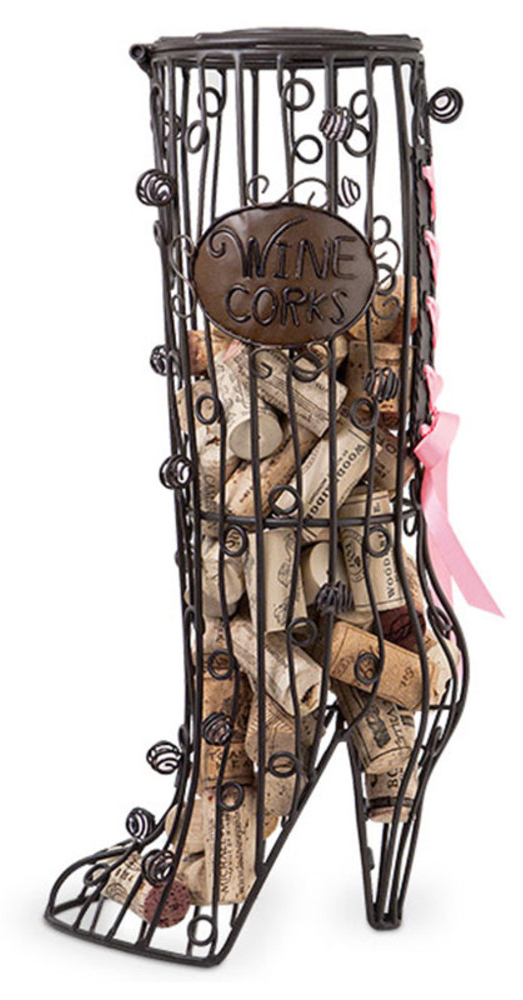 …FASHIONISTA/ SHOE FAN!
$$     Ladies Boot Cork Cage (Ornament size, too.)
$       Couture Shoe Wine Bottle Stopper
$       Love Shoes & Wine Coasters
…SPORTS ENTHUSIAST!
$$     Beer Cap Keeper
$       Golf Bag Wine Holder
$       Graf Lantz Coasters
…PET-LOVER!
$$     Cat Cork Cage Cat or Dog (Ornaments, too!)
$       Pet Party Coasters
…MEMORY-KEEPER!
$$     Wine Album
$$     Photo Frame Cork Cage
$       Selfie Magnetic Glass Charms
…CRAFTER!
$$     CORKS Sign Cork Cage
$$     Cork Bulletin Board Kit
$$     Cork Trivet Kit
$       Recycled Corks Set of 50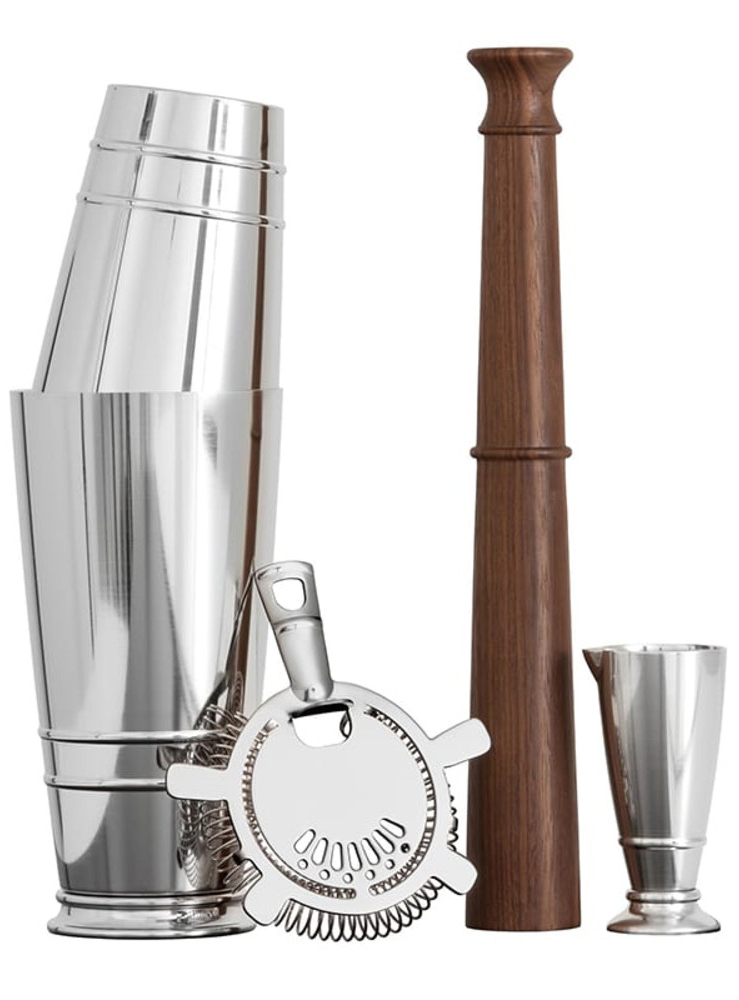 …MIXOLOGIST
$$$$ Crafthouse Cocktail Smoking Box & Smoke Gun
$       Islay Whisky Tumblers Set
$       Wine Barrel Wood Chips
Premium Bar Tools:
$$$ – Crafthouse Set 
$$   – Bitters
$     – Cherries
… THE PREMIERE CONNOISSEUR: ($$$$)
Laguiole Buffalo Horn Champagne Saber
Schott Zwiesel Tritan Pure Burgundy Set
Cascade Pewter Funnel
Final Touches…
Don't forget to check out our personalization and gift messaging options for each item; plus totes and boxes to deliver the goods!
Throw a couple sets of these stylish, fun wine-themed wine bottle gift tags in your cart for good measure. Two styles: white on black or holiday red on white.
Don't delay—the merch is flying off our shelves faster than we can shout "tis the season!" Order soon or risk the dreaded "Backorder" spoiling your yuletide cheer and perfect gift.
All that's left is cozying up with your favorite people for warm, festive revelry knowing IWA was the best Santa's lil' Helper this side of the North Pole.
As they say in Hollywood "that's a wrap!" We can package your gifts in festive wrapping paper with a custom message and send it directly to your loved ones! Our $6.95 gift wrap service is available on "In Stock" smaller products. Take the hassle out of holiday gifting!
As they say in Santa's workshop:
HAPPY HOLIDAYS TO ALL & TO ALL A GREAT NIGHT!
About the Author: Seattle-based writer Lori Stevens shops IWA for her holiday needs and hopes you will, too! Have a safe and wonderful season. Thanks for being an IWA customer and supporter. Happy 2021!