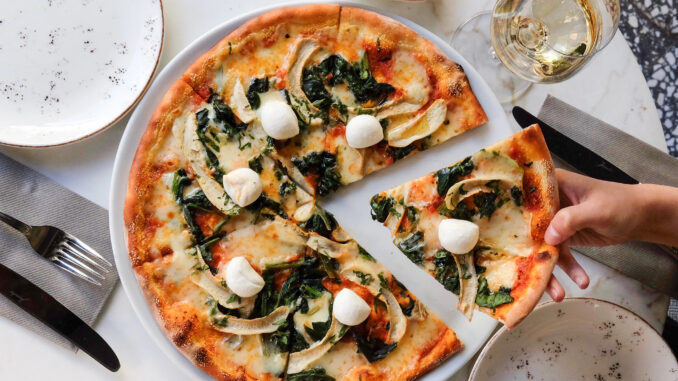 Pizza is a staple comfort food all over the world, and there's nothing like a little wine to add some flair to a cozy movie night. This truly classic pairing is perfect for all wine lovers to experiment with. There are a few things to keep in mind when choosing the best accompanying wine.
Most pizzas have three key components which define the earthy, delicious taste: a crispy dough base, rich tomato sauce and melted cheese. Taking this flavor profile into consideration, along with the fact that it is a rather heavy meal, we are generally looking for a red wine. Tomatoes are high in acidity, so pick a complementary acidic wine with silky, gentle tannins (to avoid an unpleasant metallic taste in your mouth), like a GSM (Grenache, Syrah and Mourvèdre) blend. This works well with the toppings on your pizza as well, complimenting them with fruity flavors and adding structure to each sip.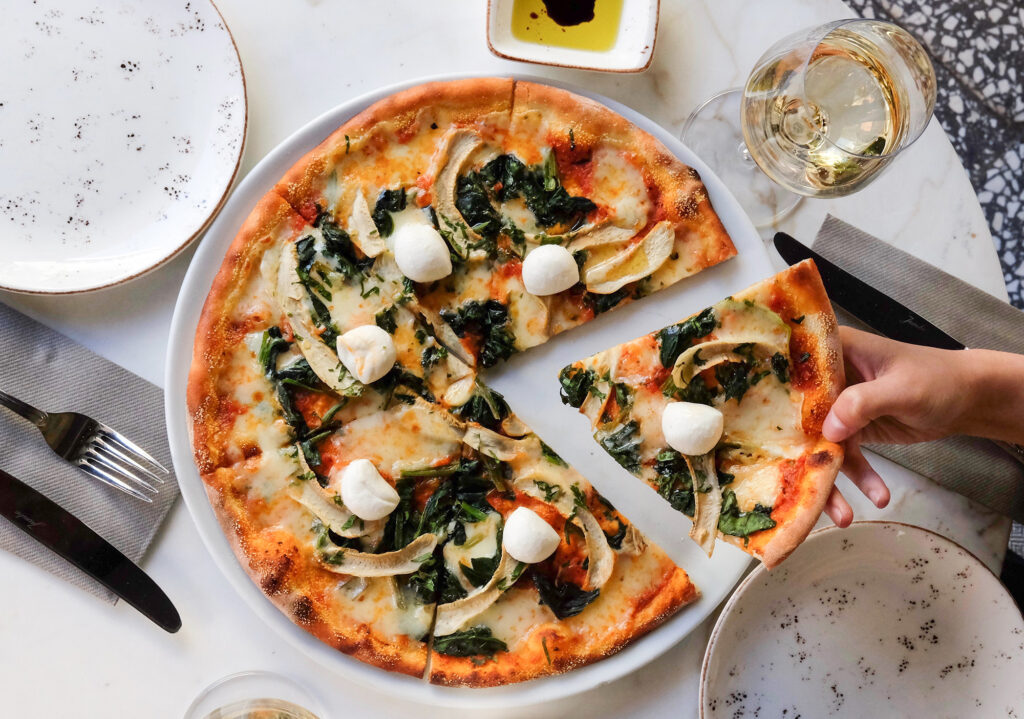 Another important factor to consider is where the wine comes from. I have a general rule when it comes to wine pairing, which is that wines often pair well with foods from their motherland, and I'm sure it comes as no surprise that Italian wines go perfectly with pizza. Italian reds in particular are fruit-forward, moderate in their tannins and recognized for their acidity. You could also opt for a fuller-bodied white or sparkling wine; they would do well with the right pizza.
I invite you to explore and find the perfect pizza/wine combination for your palette, keeping these simple rules in mind, but for those who want an easy reference guide, here are some of my personal favorites.
Margherita Pizza
This quintessential slice of pizza is perfect with medium-bodied wines like a Sangiovese or a zesty Pinot Grigio to bring out the acidity in the tomato sauce without overpowering the flavor of the dish itself. I've found that a dry Rosé does the trick as well; light enough to support the basil on the pizza, but lending a little more grip than a white in terms of acidity, not to mention bringing out some wonderful notes of strawberry, melon, rose petals, citrus and even honeydew to enhance the simplicity of your slice.
Pepperoni Pizza
To enhance the robust, spicy meat on this pizza, opt for a wine with plenty of character and flavor to cut through the fat and richness of your bite, like a Sangiovese, Syrah, medium-bodied Cabernet Sauvignon or an Italian Chianti. I also quite like an earthy, fragrant Norton with my pepperoni pizza.
Meat Lovers Pizza
We need to turn the volume up for this pairing, with a bold wine that has a high tannin profile to stand up to the meat, so I would opt for a strong red like a Merlot, Syrah, Zinfandel or full-bodied Napa Cabernet to treat your slice just right.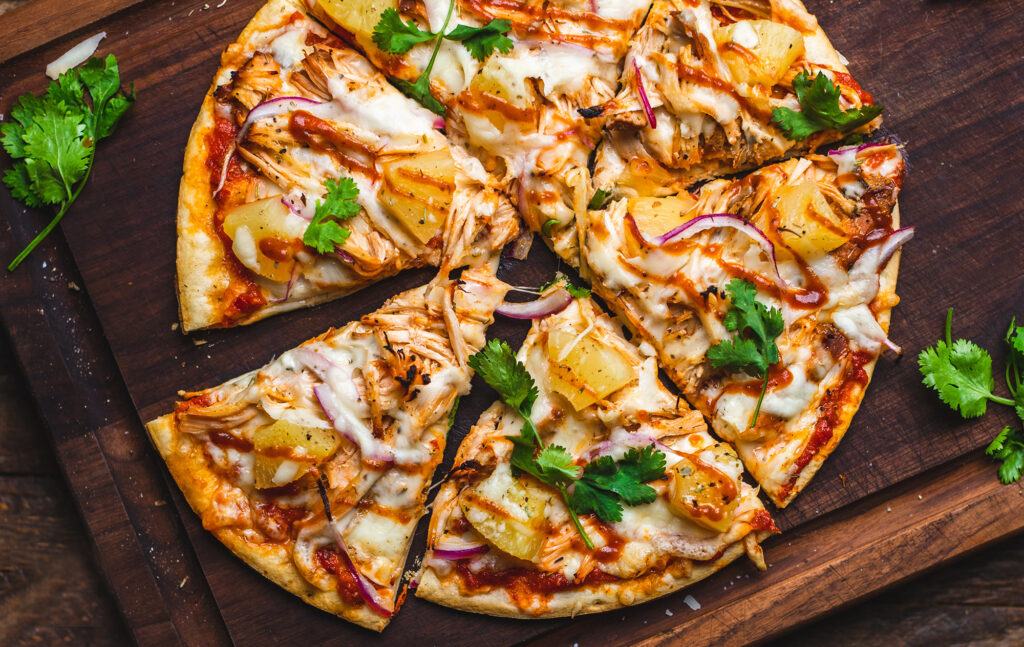 Barbeque Chicken Pizza
This is a rather complex flavour to work with, but finding something to pair with this delectable smoky, sweet pizza is achievable. I would recommend a simple Pinot Noir, with its fine tannins and fruit-forward light body bringing out the best in your bite without overpowering the chicken. A Malbec or a Merlot would blend well with this flavour profile too; their sweetness is a perfect balance for the barbeque sauce. If you're looking for a white, I'd recommend a Chardonnay.
Hawaiian Pizza
This controversial pizza is one whose sweet and salty vibrancy I can appreciate. I found that a sweeter white like a Riesling nicely balances the sweetness of the pineapple toppings and also has enough acidity to alleviate some of the richness. A Vignoles or semi-dry Vouvray also pairs quite well with this inventive slice of tropical goodness, as do a number of fruity reds like a Primitivo or a Lambrusco.
Vegetarian Pizza
For this dish, you can rely on a cool crisp Sauvignon Blanc to take care of the acidity of the many vegetables like the onions, tomatoes, olives, peppers and mushrooms you'll find on your plate. I love an unoaked Chardonnay with my veggies pizzas as well, working with the herbs and the vegetables of the pizza with its own hints of herbs and zesty citrus. If you'd prefer red, a savory Chianti would be fantastic. If your pizza is loaded with veggies/ vegan meats and sausages with flavors of fennel, oregano and anise, consider a fuller-bodied wine like a Syrah to compliment its earthiness as well as incorporate its own plum and berry flavors.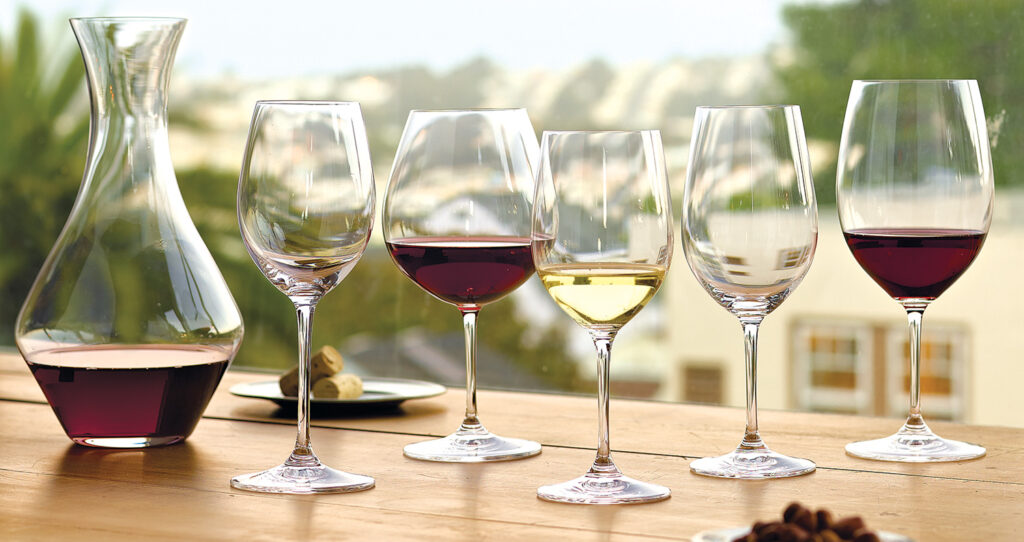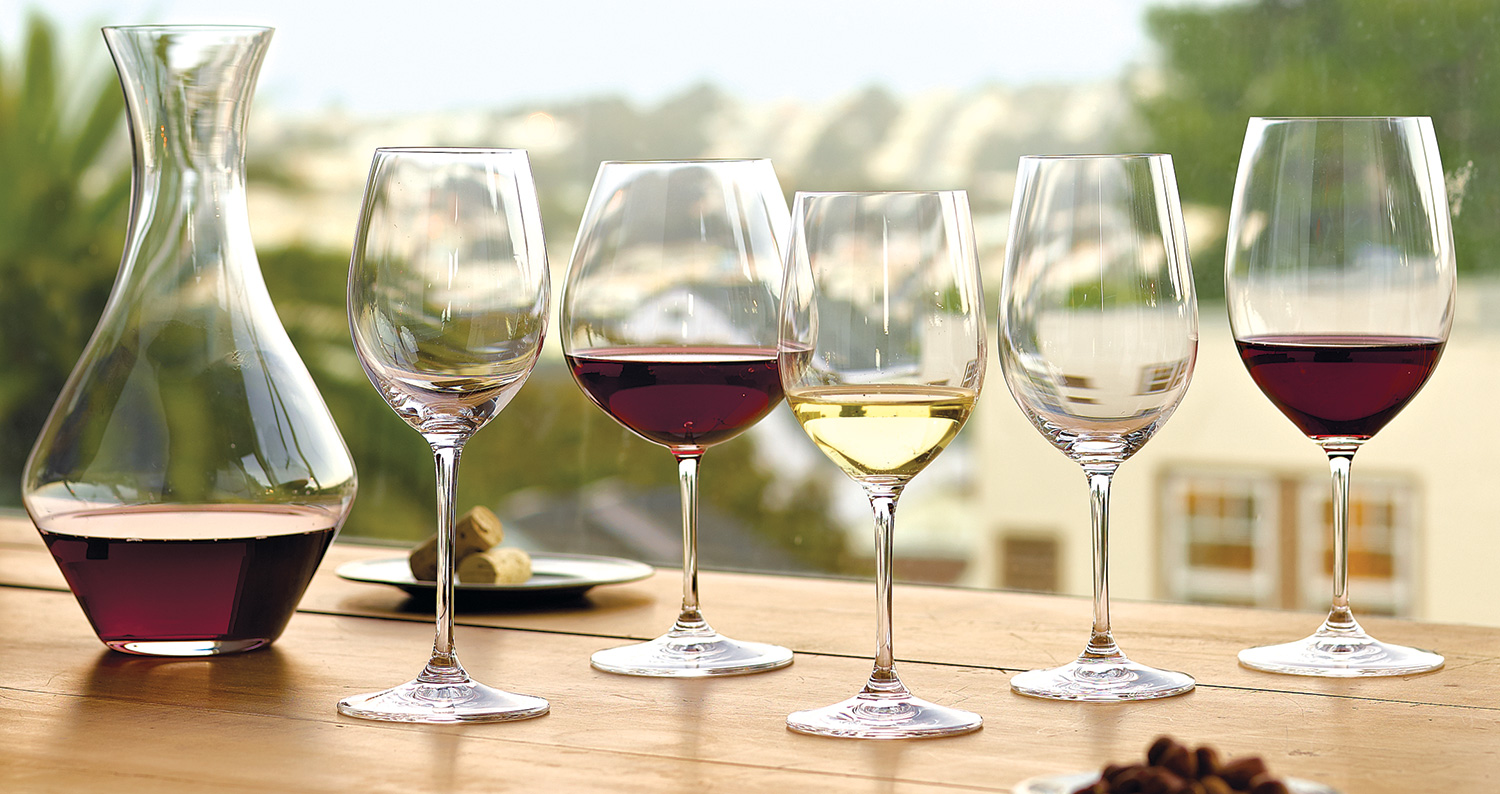 White Sauce Pizza
Due to the absence of the traditional tomato sauce in this peculiar pizza, our wine options open up quite dramatically, as it requires a less acidic varietal. I'd recommend a lighter, white wine for this unusual slice, something like a Pinot Grigio or a creamy Chardonnay which will support the density of the pizza well, give it structure, and elevate the richness of the white sauce as well as add its own fruity charms. A wine with an effervescent element like Champagne or Prosecco also works well, taking away some of the heaviness of the dish.
Salad Pizza
I believe this new delicious trend certainly deserves its due; a crisp thin doughy base covered with fresh leaves of spinach and arugula, topped off with a tart vinaigrette. To break it down, you'll need a wine that will be able to bring its own level of acidity to leave a refreshing taste in your mouth, as well as one that can hold up to the herbaceous and vegetal flavours on the pizza. Here, I like to use whites like a Sauvignon Blanc, Chardonnay or a delicious Spanish Verdejo.
Pizza holds a special place in my heart, and there is one out there for every person and every age; it brings us together. I hope this article helps you find the perfect wine to set the mood for your relaxing evening. Enjoy!
About the Author: Thalia Bell has always had a passion for writing. She recently took a trip to France and visited Bordeaux, where she fell in love with wine, and has been a fan of cheese from a young age; when she put the two together, she felt a sense of satisfaction, and since then, has attended many wine and cheese tastings.