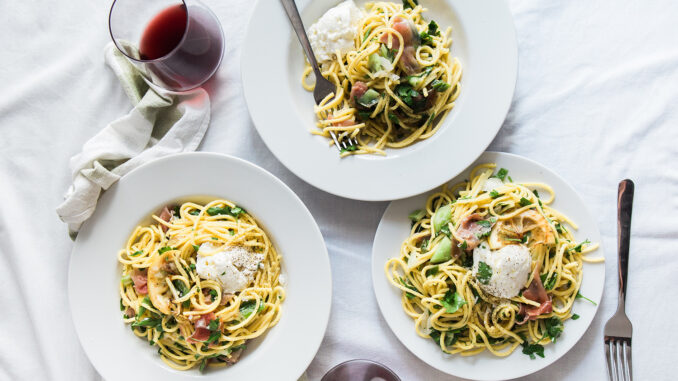 Pasta is a universal comfort food, whether for a quiet night in or large family gathering. It is imperative to pair this beautiful, tasty dish with the perfect wine. Elevating your dish begins with considering the sauce flavor, cheese and other incorporated ingredients. Choose a wine that is higher in acidity than the sauce, to avoid a bland experience. If your dish is crafted with creamy sauce, a full-bodied, unoaked, dry white will cut through the richness.
In most cases, pasta will match well with Italian wines, such as a vibrant, fruit-forward Sangiovese or classic like Pinot Grigio. There is plenty to explore beyond Italy for the best pairing of food with wine.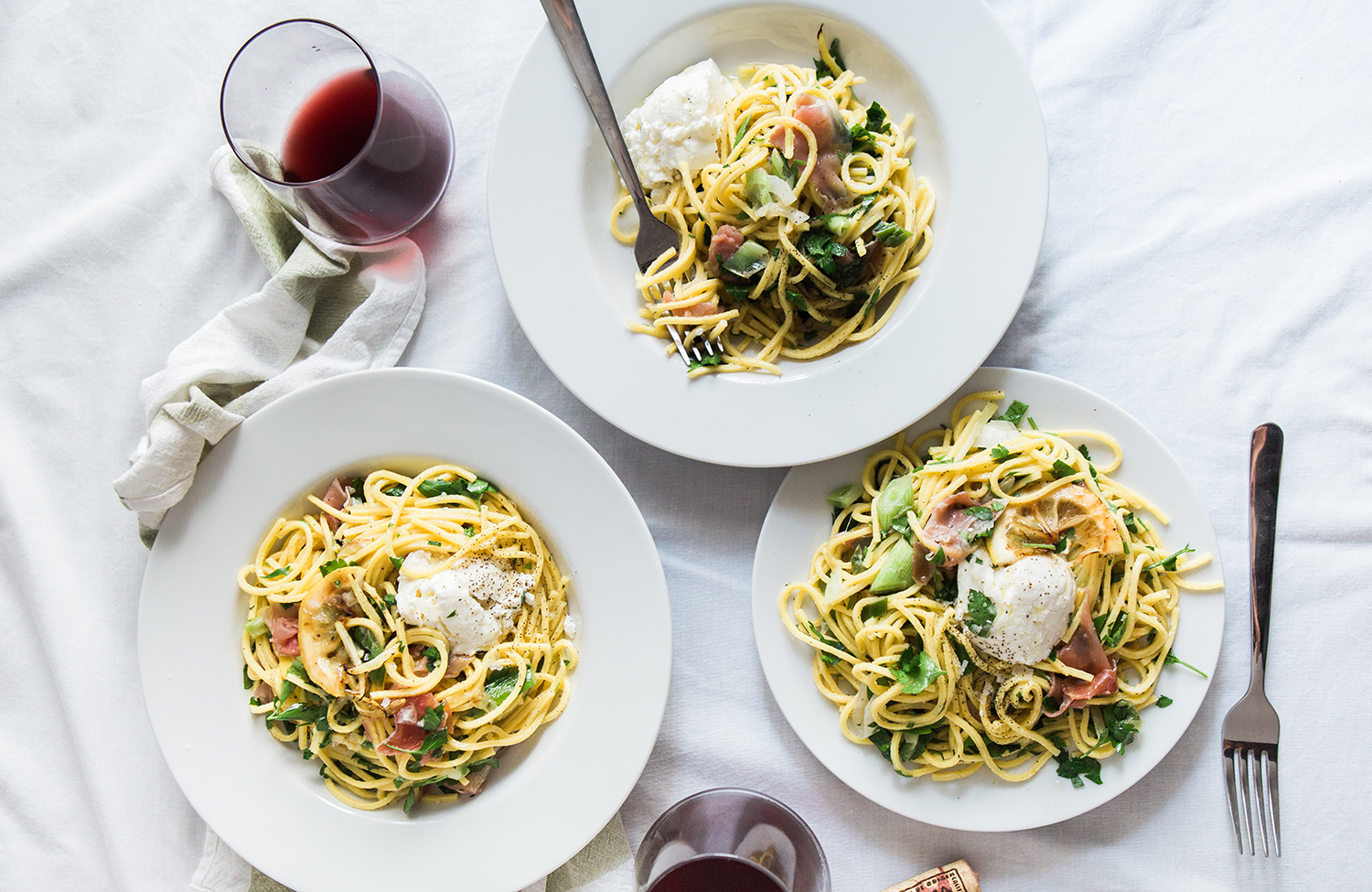 Marinara / Tomato Sauce Pasta
Cabernet Sauvignon, Chianti, Dolcetto, Grenache, Merlot, Nebbiolo, Primitivo, Sangiovese, Tempranillo, Zinfandel
Full of acidity from the tomatoes and complemented by basil, olive oil and garlic, these dishes are often combined with sharp cheese like parmesan or fontina. This pasta will be best with bright fruity wines that are tart enough to stand up to the ingredients, such as a Chianti, Merlot, Grenache or Zinfandel. For spaghetti bolognese, earthier wines with touches of cherry, like Nebbiolo or a Dolcetto are a good choice, or a Tempranillo with notes of raspberry.
The heavier your pasta dish (eg meat, veggies, etc) the more body and strength your wine should have. A Napa Cabernet Sauvignon or spicy Sangiovese will handle meatballs and ground beef better than a light-bodied wine. If your pasta is cooked with spicy sauce, like arrabiata or aglio olio e pepperoncino, try a sharp dry white wine or an Italian red like a Valpolicella Ripasso or a Primitivo.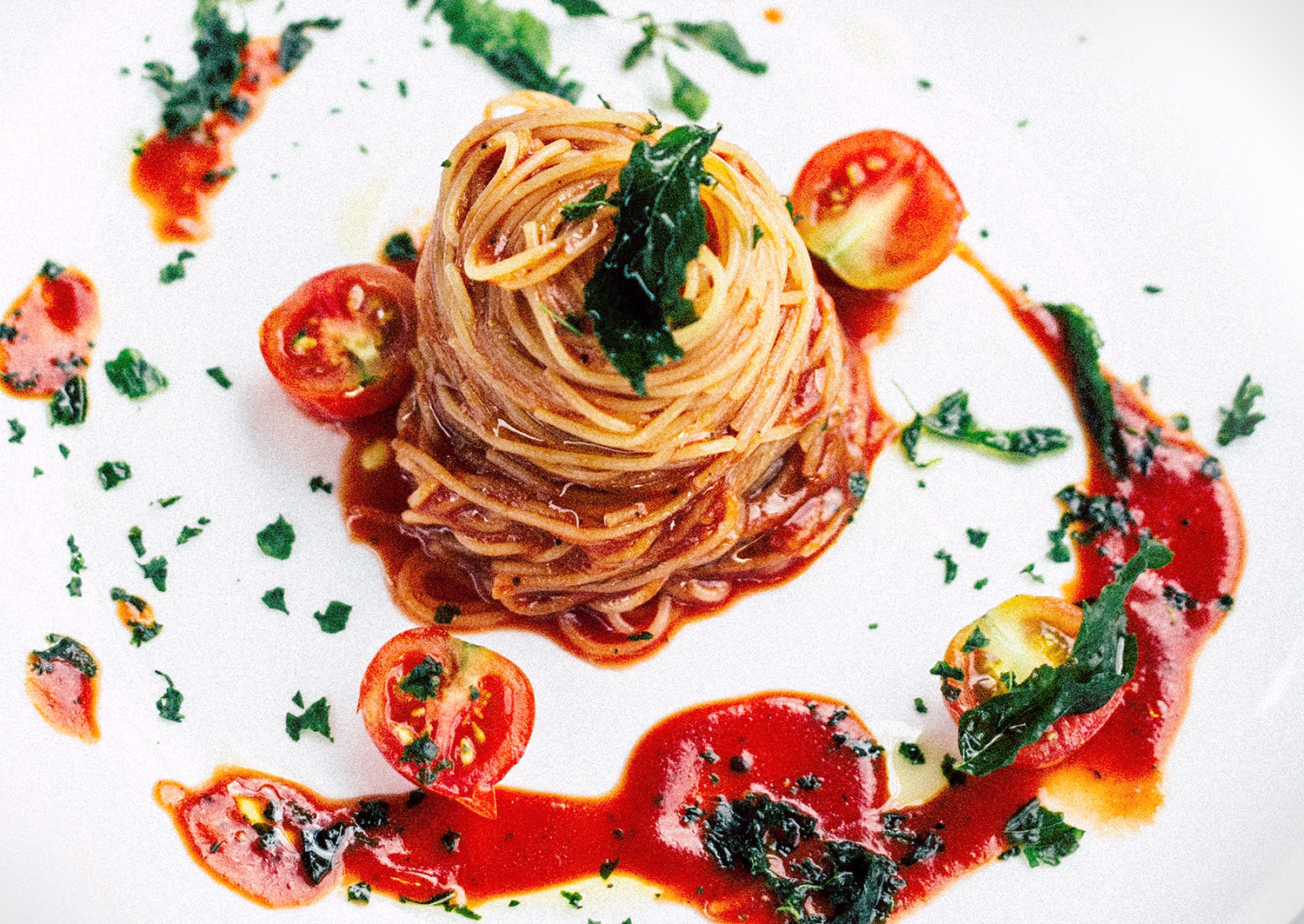 Alfredo / Creamy Sauce Pasta
Arneis, Barbera, Chardonnay, Nerello Mascalese, Pinot Noir, Ribolla Gialla, Riesling, Sauvignon Blanc, Vermentino
Not every wine complements the cheese in your pasta, so focus on the texture and richness of the dish you are working with. A light or full-bodied white wine like Ribolla Gialla, Riesling, or an aged Sicilian Chardonnay will highlight the creamy richness of the sauce. If you find that the pasta is particularly herbal, try a French Sauvignon Blanc from the Loire Valley, or a crisp, fragrant white wine like a Vermentino or Arneis from Italy.
If you prefer red wine, choose a fruit-forward varietal that is soft on the palate, like Barbera or Pinot Noir. A light-bodied Nerello Mascalese from Sicily will bring an explosion of cinnamon spice and almost floral notes.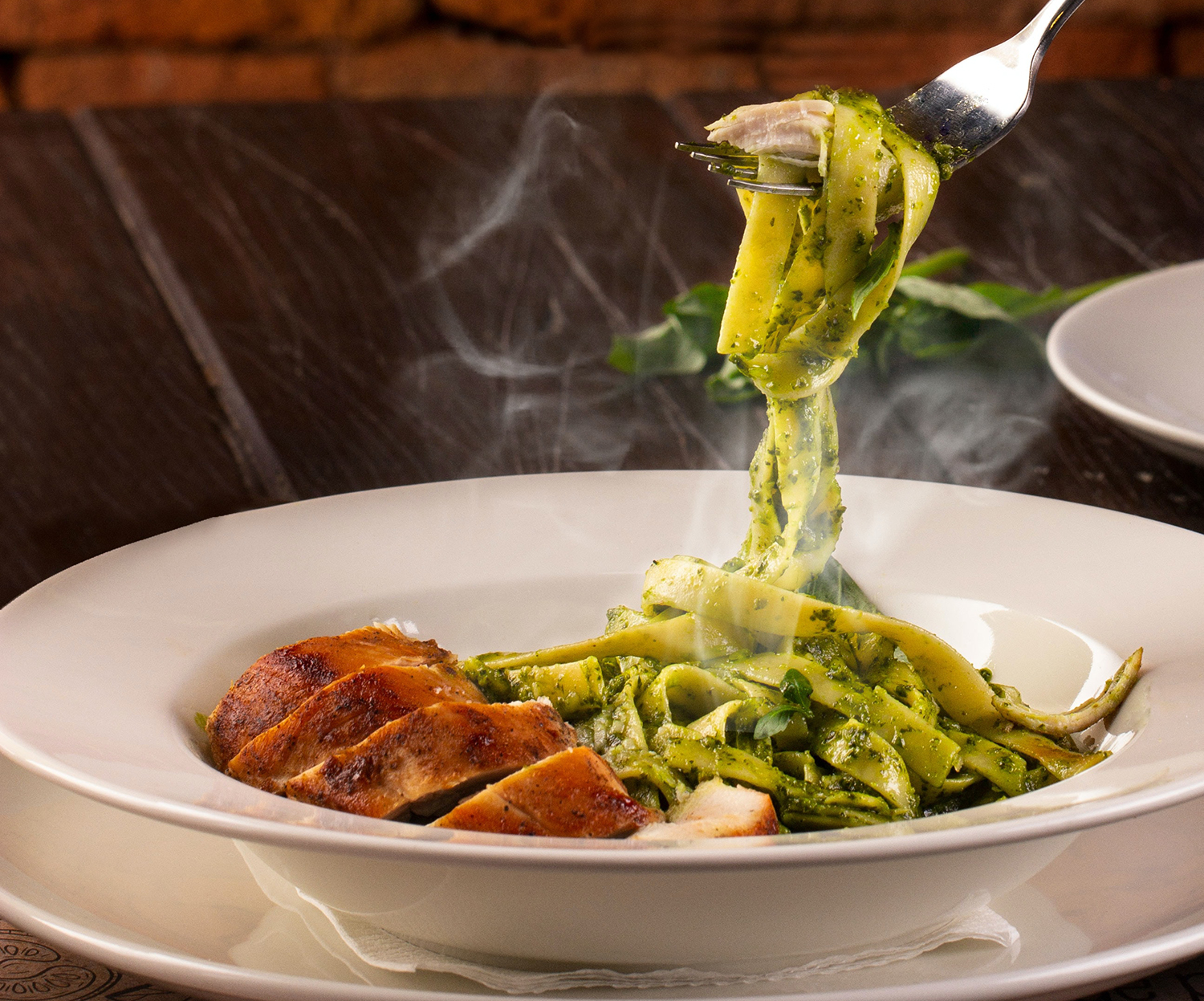 Pesto Sauce Pasta
Barbera, Gavi, Merlot, Montepulciano d'Abruzzo, Rossese Bianco, Sauvignon Blanc, Verdicchio, Vermentino
Green Pesto is a truly delicious sauce, bringing fresh, earthy flavor to the pasta, adorned with a sharp, familiar tang of parmesan. The garlic and basil flavors seamlessly meld with savory note wines like Sauvignon Blanc, Rossese Bianco, Vermentino, Verdicchio or a floral, fruity Gavi.
Red Pesto is made with either sundried tomatoes, grilled red peppers, or pimiento, leading to much stronger flavors. Balance it out with a medium-bodied red wine like a Merlot, an earthy Montepulciano d'Abruzzo or a tart Barbera.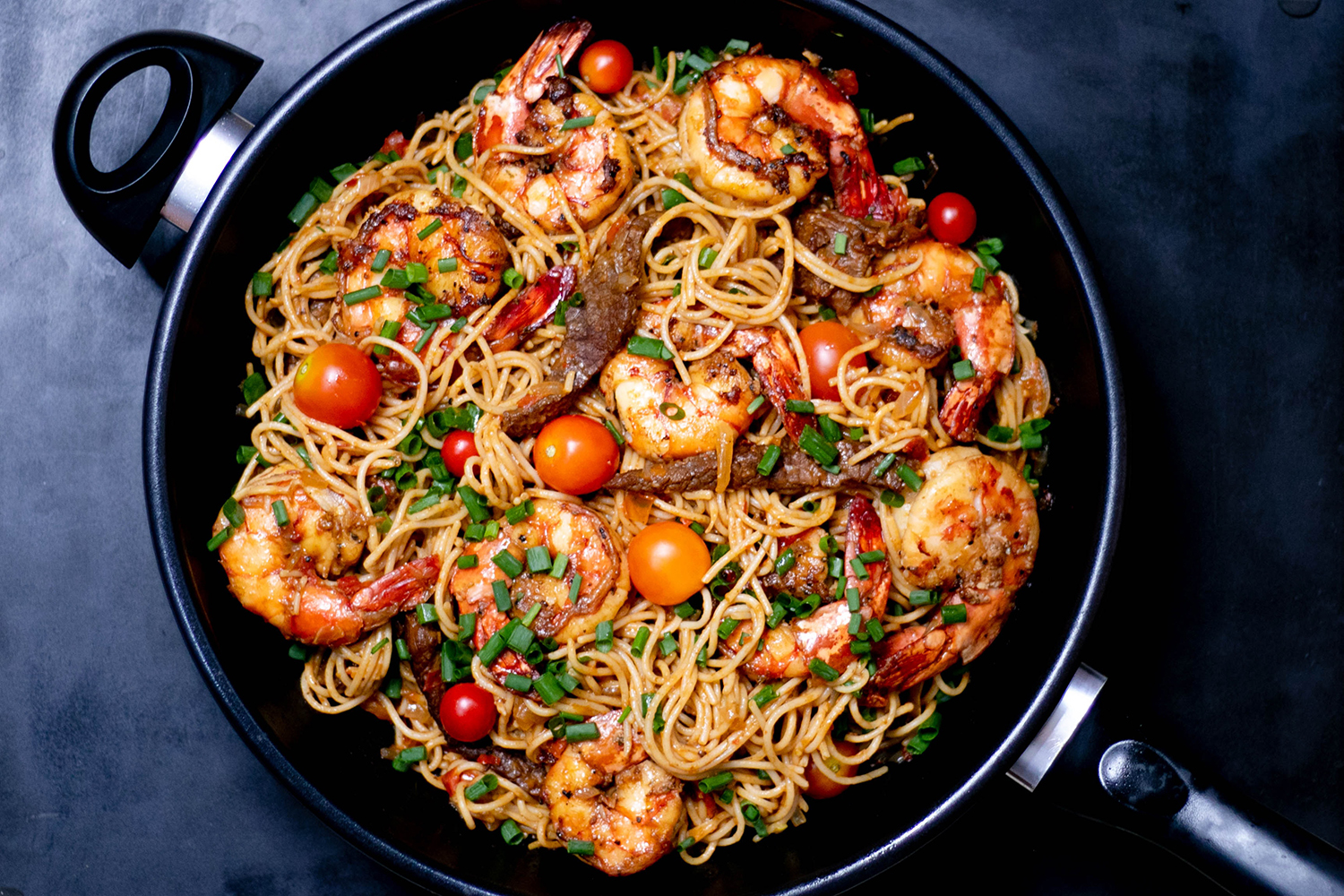 Seafood Pasta
Grenache Blanc, Muscadet, Pinot Grigio, Pinot Noir, Rosé, Verdicchio
Surrounded by Mediterranean bounty, it is no surprise that many beloved Italian dishes incorporate seafood: prawns, mussels, clams, crabs or more. The delightful combination of pasta with seafood is elevated by light-bodied white wines, such as Grenache Blanc, Muscadet, Pinot Grigio or a Verdicchio. For a change of pace, especially during the Summer and hot weather, reach for Rosé instead.
If you're pairing a dish with salmon, I would recommend a fruity, smoky, comforting Pinot Noir.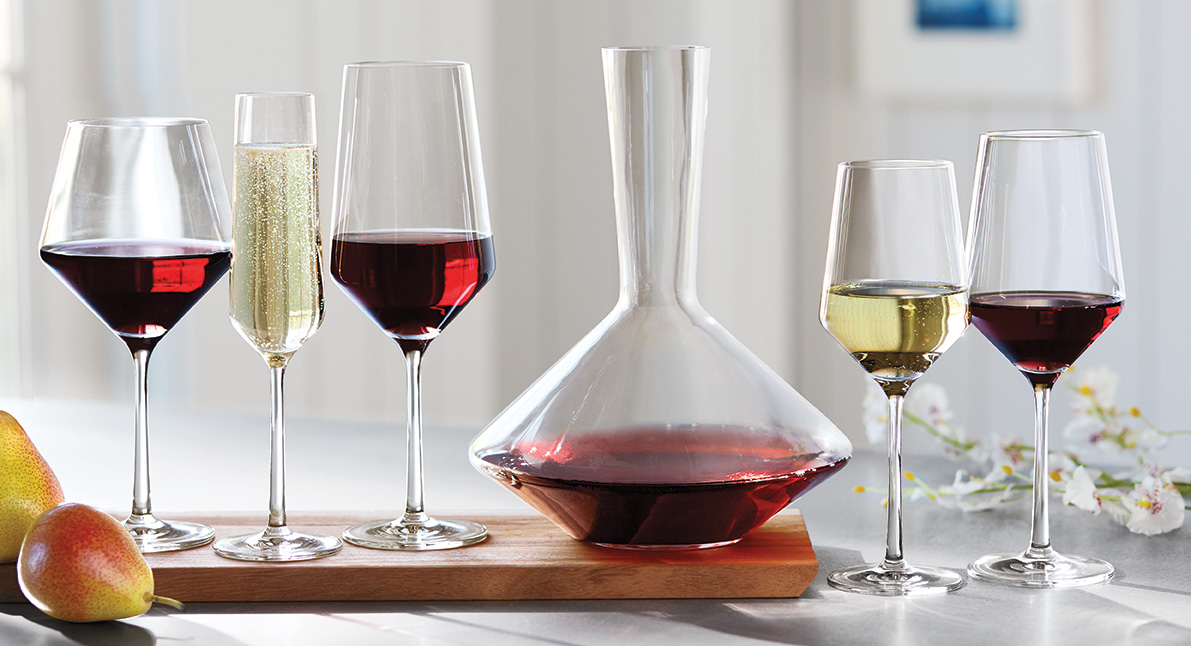 Lasagna Bolognese
Barbera, Chianti, Graciano, Nebbiolo, Nero D'Avola, Primitivo
You cannot go wrong with a medium-bodied Italian red like a tart, cherry Barbera that'll bring your dish to life, or a quintessential earthy Chianti. High in acidity and tannins, this bold wine is a perfect match. Sicilian reds like Primitivo or a Nero D'Avola are an elegant choice. An Italian wine like Nebbiolo will also pair nicely, with its fruit-forward deep flavor profile that's strong enough to stand up to the both the acidity and meaty heaviness of your sauce. A Spanish Graciano is another option, since it balances the rich sauces found in lasagna.
Bon Appetit!
About the Author: Thalia Bell has always had a passion for writing. She recently took a trip to France and visited Bordeaux, where she fell in love with wine, and has been a fan of cheese from a young age; when she put the two together, she felt a sense of satisfaction, and since then, has attended many wine and cheese tastings.