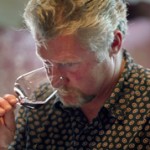 Welcome to Part 4 of our Winemaker Series.  Our goal with this series is to introduce you to our winemakers via video vignettes and blog posts and have them tell you about the scientific art (or is it artistic science?) of making wine as well more personal insights.  You will want to be sure you are signed up to receive automatic updates via email when the posts are published so you can be the first to watch!  To sign up use the enter your email address in the Subscribe box in the upper right portion of the page.
Anthony Austin
Born and raised in Healdsburg, California, this fourth generation Sonoma County native, studied enology at the University of California Davis and continued his studies under the legendary winemaker Andre Tchelistcheff.  IWA is proud to offer the complete lineup of Sonoma Coast Vineyards wines produced by this experienced and esteemed winemaker.
Serving as a consultant to Brooks Firestone on a project in the Santa Ynez Valley, Tchelistcheff suggested the talented young Austin as the winemaker for Firestone's new winery. In 1974, Anthony became the first winemaker at Firestone Vineyards in Santa Barbara. During the ensuing 10 years as winemaker he elevated Firestone Vineyards and Santa Barbara region to new heights.
Longing to focus his talents on Pinot Noir, while still continuing to serve as a consultant to Firestone, Anthony started his own winery, Austin Cellars, which won international acclaim for its wines and remain highly sought-after collectibles. In 2001 Anthony was drawn back to Sonoma County and the cold-climate challenges of the Sonoma Coast. Shortly after his return, Anthony met John and Barbara Drady and joined their efforts in launching the Sonoma Coast Vineyards project.