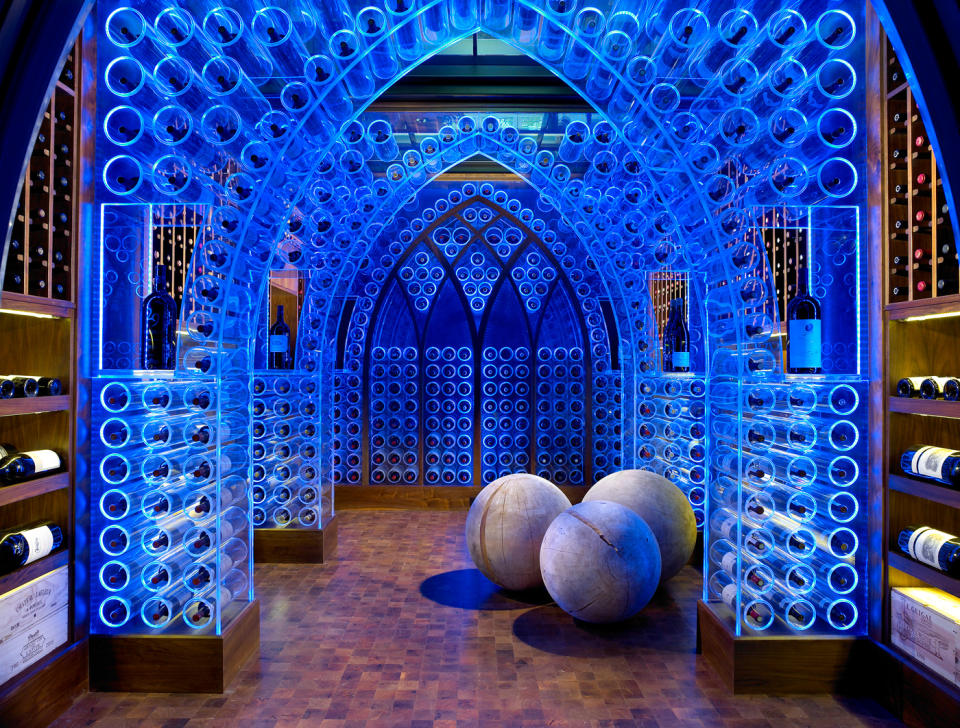 The ideal wine cellar maintains consistent temperature and humidity conditions and is designed to prevent light and vibration from disturbing your collection. But the wine cellar of your dreams is more than just a practical space to properly age your rarest bottles; it's also meant to be a part of your home you can be proud of and show off to guests.
Whether you want to install a custom wine cellar in your home or you've just started making progress on filling out your first wine rack with special occasion bottles, these impressive wine cellar designs will serve as inspiration.
1. Gothic-inspired LED wine cellar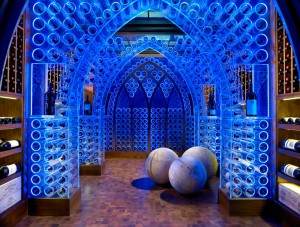 It's no surprise this custom cellar with backlit acrylic wine storage and mosaic flooring is part of a project that took two years to complete. Designer Jamie Beckwith created this space for her own Tennessee home, so she paid attention to every detail to create a magnificent place to entertain her family and friends.
Guests can admire the wine cellar built from LED lights with Gothic-inspired arches not only when standing inside, but also from above in the sitting area. The wine cellar is just one elaborate detail of the $6 million home.
Source: Design Shuffle
2. Mediterranean elegance in the heart of Texas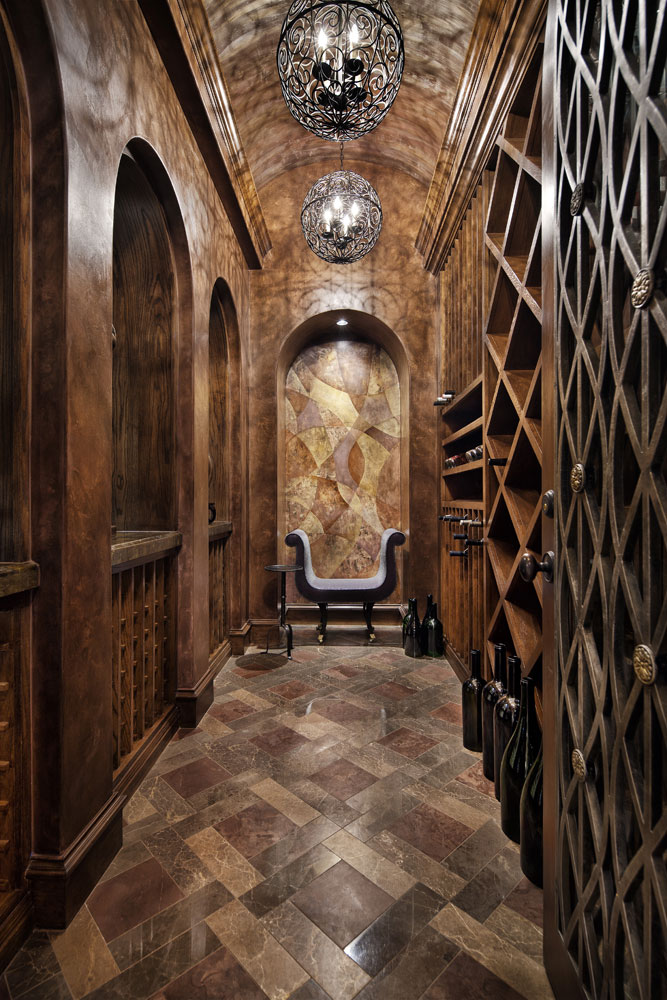 Who says you have to travel to Italy for a taste of the Mediterranean? The owners of this 16,000 square-foot home just outside of Dallas get a taste of Italian elegance every time they grab a bottle of wine. With honed dark emperador and honed light emperador floor tile, magnificent lighting, a venetian plaster ceiling and dark stained wood wine racks, this wine cellar makes rare bottles feel right at home.
The wine cellar and the rest of the made-for-luxury home were designed by Jauregui Architects. More of the home's features include Doric columns in the entryway and an outdoor pool with a waterfall.
Source: Houzz.com
3. Tropical escape hidden in a sunny Hawaiian resort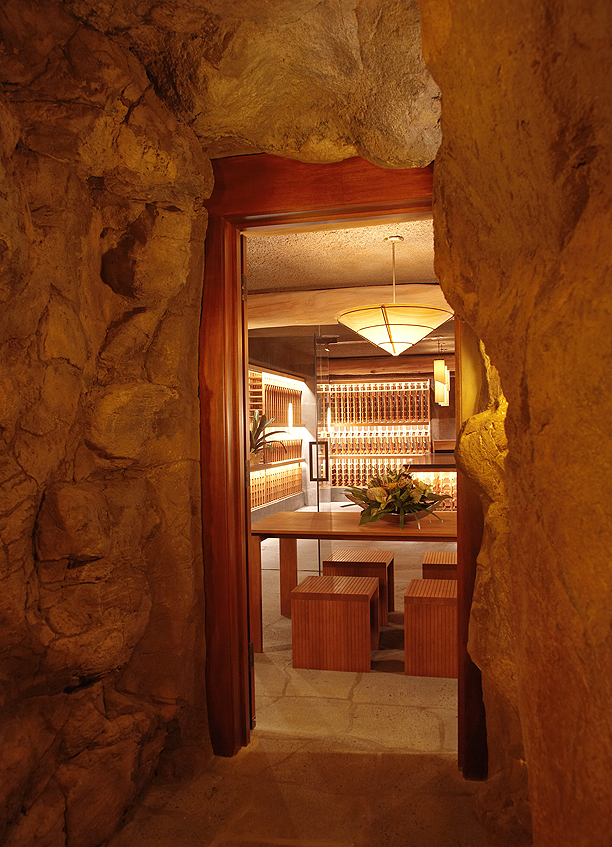 This wine cellar is nestled in a home on the residential Hualalai Resort in Kailua-Kona, Hawaii. Centuries-old lava flows and the island's natural landscapes are a perfect backdrop for this hidden cellar and tasting room.
Although, why stay inside and sip wine when a tropical paradise is waiting outside to keep you company?
Source: Houzz.com
4. European luxury in Connecticut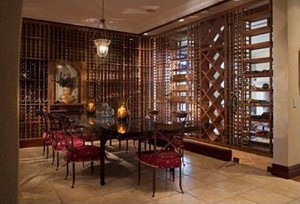 If you're looking for just the right place to store your 3,700 bottles of wine, look no further than Greenwich, Conn. The European-style wine cellar has seating for eight, but feel free to invite over as many guests as you like to your wine tasting; there's likely a spare chair or two in the surrounding 26,000 square-foot home and 21 acre grounds.
Source: Zillow
5. Miss Scarlet in the study with a wine bottle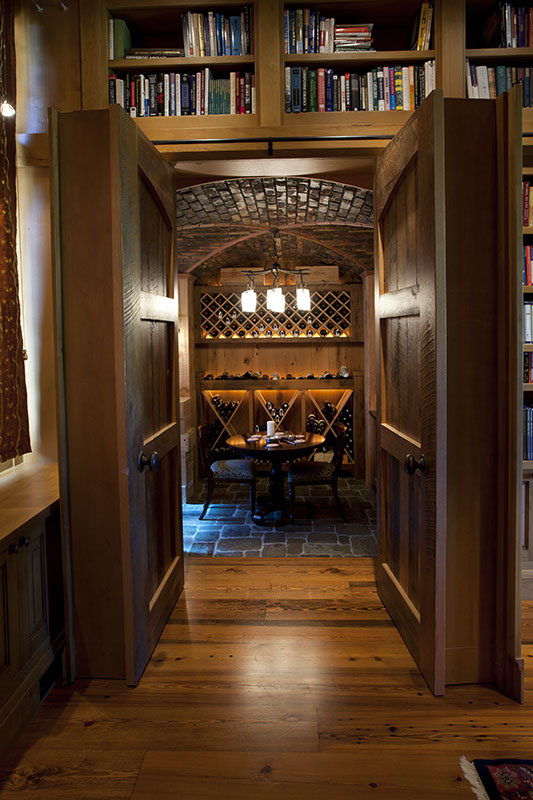 This Bozeman, Mont. home supposedly has a wine cellar, but where? It's hidden behind two bookcases in the library, which swing open into the cellar.
Of course, a proper wine cellar needs a lot more than an impressive set of swinging doors. That's not a problem. The room is humidity- and temperature-controlled to keep thousands of bottles of wine safe. This secret wine cellar also has a seating area to smoke cigars, taste wine and admire the abbey-style ceilings made from reclaimed Chicago brick.
Source: Houzz.com
6. Private access to California's best views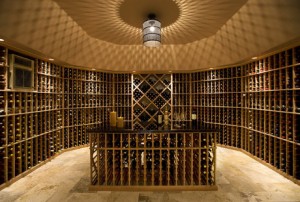 A rare glass of wine is best enjoyed with an uninterrupted view. In Montecito, Calif., that dream is an everyday reality for the owners of this 3,000 bottle capacity cellar. The home is nestled in 20 private acres with both mountain and ocean views, so every single bottle can be savored and enjoyed in peace.
Source: Realtor.com
7. Vintage bottles will feel right at home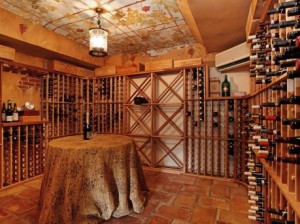 Finding space in Manhattan to store a 1,800-bottle wine collection might be near impossible, but there's plenty of room just 20 minutes away in Bronxville, New York.
This wine cellar is located on a historic Italian Renaissance-style estate. Tucked behind a bank-style vault door, the temperature-controlled cellar ensures that wine bottled even before the house was built in 1911 continues to age well.
Source: Realtor.com
8. Creative construction transforms unused space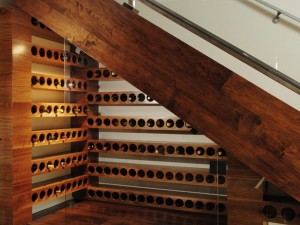 An elegant wine cellar doesn't necessarily need to hold thousands of bottles to wow your guests and keep a precious wine collection temperature controlled. Interior designer Nicole Sassaman creatively transformed an unused portion of this Malibu 1980s-era house. She knocked out the drywall under the stairs and opened the space to make room for a contemporary walnut, glass and steel wine cellar with a $100,000 price tag.
Source: HGTV.com
About the author: Betsy Mikel  is a freelance copywriter who enjoys a strong cup of coffee in the morning and a glass of red wine at night.