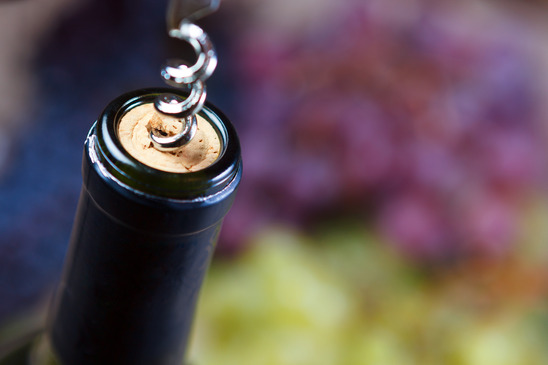 When it comes to replacing your favorite well-worn bottle opener, adding a new corkscrew to your collection, or shopping for a fellow wine lover, you have a few questions to consider. Is an opener worth its price? How easy is it to use? It it suitable for all the bottles in your collection? Learn about the pros and cons of a few of the most popular wine openers on the market, from the simple to the fully loaded.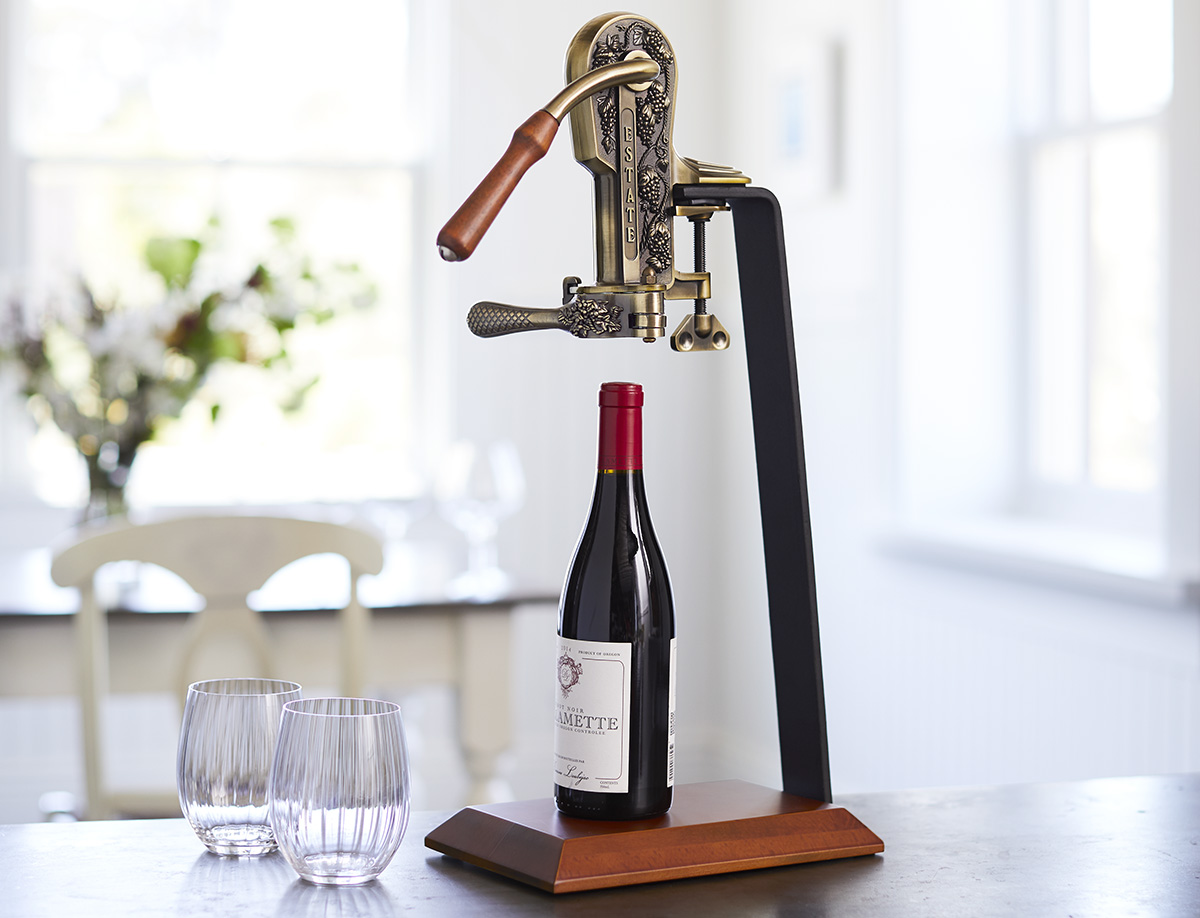 Lever Corkscrews
The lever style, popularized by The Rabbit, is the most popular model on the market. It clamps easily around the neck of the bottle. With a smooth pull and raising of a lever, this opener inserts a spiral and pulls the cork right out. Its ease of use could be a particular asset for older or less-agile wine lovers as it offers extra stability, power and control.
This style of corkscrew makes opening a bottle look effortless. If you're throwing a party and want to dazzle your guests while opening several bottles in a short amount of time, this is the answer.
Pros:
Requires little effort to open a bottle.
Most brands offer replacement spirals as they dull with age.
These corkscrews are aesthetically pleasing, so you can openly display them on the bar.
Cons:
Due to its size, this style isn't easily stored and takes up a lot of space.
The forcefulness of the lever style has its downsides. It sometimes inserts with such force that it can push a cork partway into the bottle. Usually the cork still extracts completely, but it can create a suction and spray wine as it does so.
The force of the lever style is not appropriate for opening aged gems in your cellar, as it can easily destroy an older or more delicate cork.
Best for: Those who like sleek design and love to entertain, less physically agile users who need extra stability, control and leverage. For an easy-to-use and attractive everyday opener, it's a worthy addition to your collection.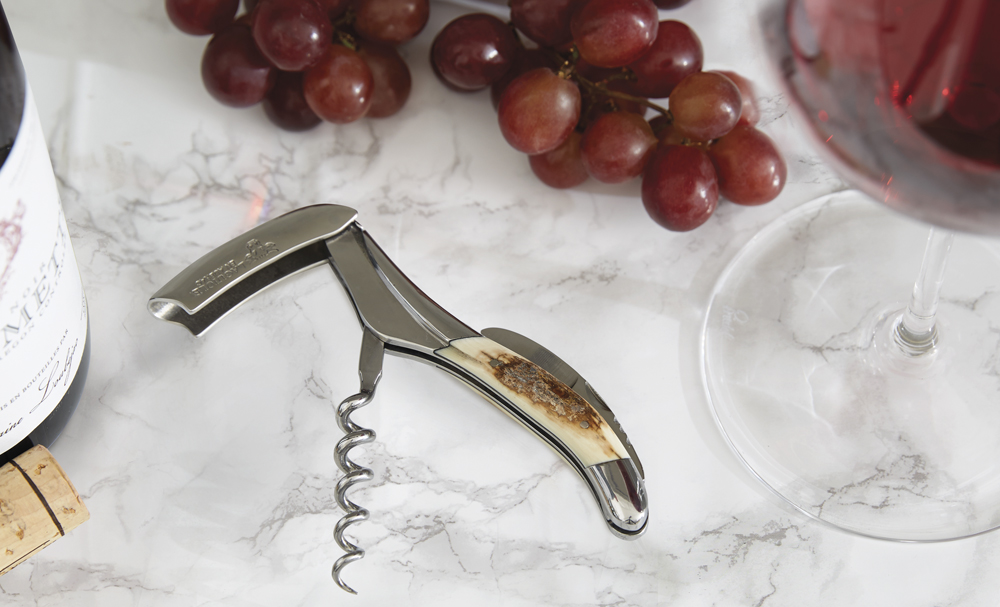 Waiter's Corkscrew
This is a the simplest, most universally effective opener on the market. It is likely your go-to corkscrew, and for good reason! The double-hinged version, in particular, is a favorite among wine connoisseurs and professionals. Often accompanied by a built-in foil cutter, the waiter's style opener is compact, low-tech and easy for a savvy drinker to use.
We recommend Laguiole En Aubrac corkscrews, which are made in France by master craftsmen. They are handcrafted with extra-long, five-turn stainless steel grooved spirals and serrated blade foil cutters, and come with lifetime warranty against any manufacturing defect.
Pros:
This style works well for any type of cork: composite, natural or synthetic.
Because it offers so much user control regarding the force, speed and angle of insertion and extraction, this corkscrew is one of the better options for opening your prized cellar items. Even the best sommeliers sometimes break a dry or aged cork, but with the Laguiole, it is usually salvageable with a light touch.
This compact corkscrew can slip easily into a briefcase, purse or picnic basket for those unexpected or on-the-go pours.
Cons:
The waiters' style corkscrew might be more difficult for older or less agile consumers to maneuver.
If you want only one opener in your collection, this is the most useful and versatile opener on the market. Every wine drinker should have at least one! But beware, not all are created equal, there are many imitation Laguiole corkscrews on the market.
Best for: Connoisseurs, collectors and everyday users who can put their weight into opening a bottle. The next time you're looking for a personal, thoughtful gift, a Laguiole corkscrew fits the bill.
The Ah-So or Butlers Friend style corkscrew
The Butlers Friend style opener is also known as the "Ah-So." As in, "Ah… So that's how you use it!"
Its simple, two-pronged style is best used on older, dry corks where a regular corkscrew would cause too much crumbling. The prongs are slipped in between the cork and neck of the bottle, gently wiggled and twisted, and the cork can be pulled up completely intact. While this openers requires some practice and skill to use, it's the perfect low-tech, yet effective solution for savvy collectors who struggle with crumbling corks.
The Ah-So requires enough special skill to prevent it from being your go-to everyday opener. However, it is certainly worth owning, as it can be used for aged bottles in your collection. With proper technique, it extracts a dry cork with more care than any other corkscrews on the market.
Pros:
Inexpensive
Compact
Won't damage dry, aged corks
Cons:
Requires upper body strength and stability
Not the most versatile opener as it does not work well on slippery synthetic corks
Requires some skill to use
Best for: Collectors who have many aged wines whose corks need extra care.
Cork Pops
The Cork Pops opener is a unique and effective cork extractor that also has a significant "wow factor." It forces carbon dioxide gas into the bottle through a needle inserted into the cork. The gas enters with such high pressure that it pops the cork right out of the bottle! Because it does not have a spiral, it works especially well for fragile corks. This style will open almost any bottle with ease and is an impressive way to entertain guests.
The Cork Pops is a fun, versatile and easy-to-use opener that rounds out any collection. It's impressive design makes it a fun addition to your cellar.
Pros:
Easy to use
Works fast
Good for aged corks
Great for entertaining
Cons:
Additional long-term costs due to replacement cartridges
Doesn't work well on synthetic or particularly long corks
Best for: Those who love to entertain or who want an effortless wine opening experience.
Do you have a favorite wine opener? Let us know in the comments.
About the author: Rebecca Cox is a Chicago-based actress, wine lover and wine shop-girl. Check out her blog Chicago Uncorked to follow her thoughts on wine tasting, enology, viticulture and wine in the Windy City.