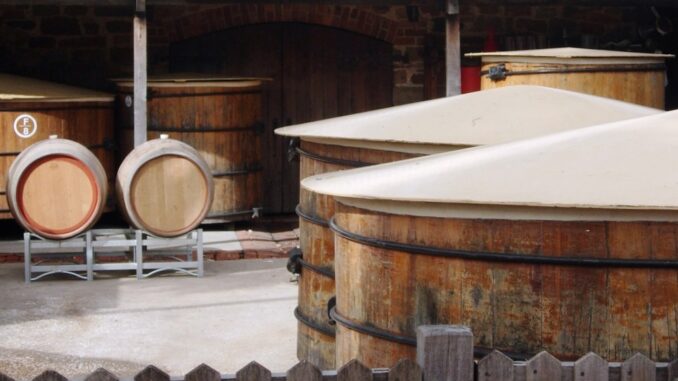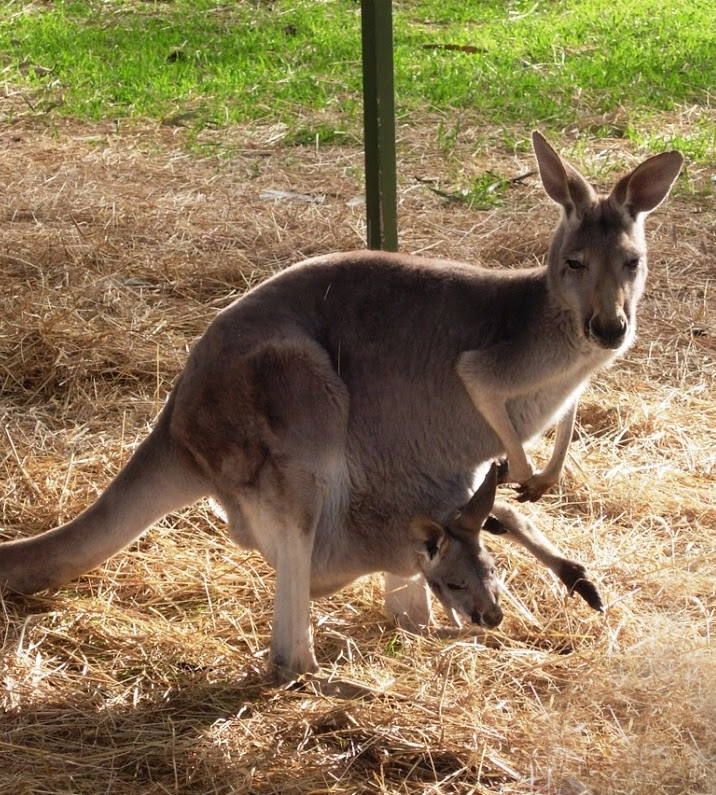 SOUTH AUSTRALIA [SA]: the "big dog" (dingo?) of Australia's wine production. It's a state within Southern Australia, left-most to two other wine-producing states, NEW SOUTH WALES (Sydney) & VICTORIA (Melbourne); and right of WESTERN AUSTRALIA (Perth).
I'm blessed to have had the great fortune to visit SOUTH AUSTRALIA'S seven wine zones, twice:
Padthaway A warmer, "Mini-Me" of Coonawarra. See below.
Riverland Large, high-yield vineyards producing inexpensive wines, i.e. 'bag-in-box' variety.
McLaren Vale Lower elevation; smaller boutique wineries producing all varieties Red & White.
Adelaide Hills Cooler climes; Pinot Noir, Sauvignon Blanc, Chardonnay, Shiraz.
And the more famous siblings…
Coonawarra Many of Oz's best Reds, especially Cabernet Sauvignon; also Rhine Riesling.
Barossa Valley HQ to number of largest and renown producers. Shiraz. Also seek out Eden Valley region's Rhine Riesling & Henschke Shiraz. Other Notables: Grange Shiraz from Penfolds Winery; and for Cabernet: Seppeltsfield or Peter Lehmann.
Clare Valley Shiraz, Cabernet Sauvignon, Chardonnay & Rhine Riesling.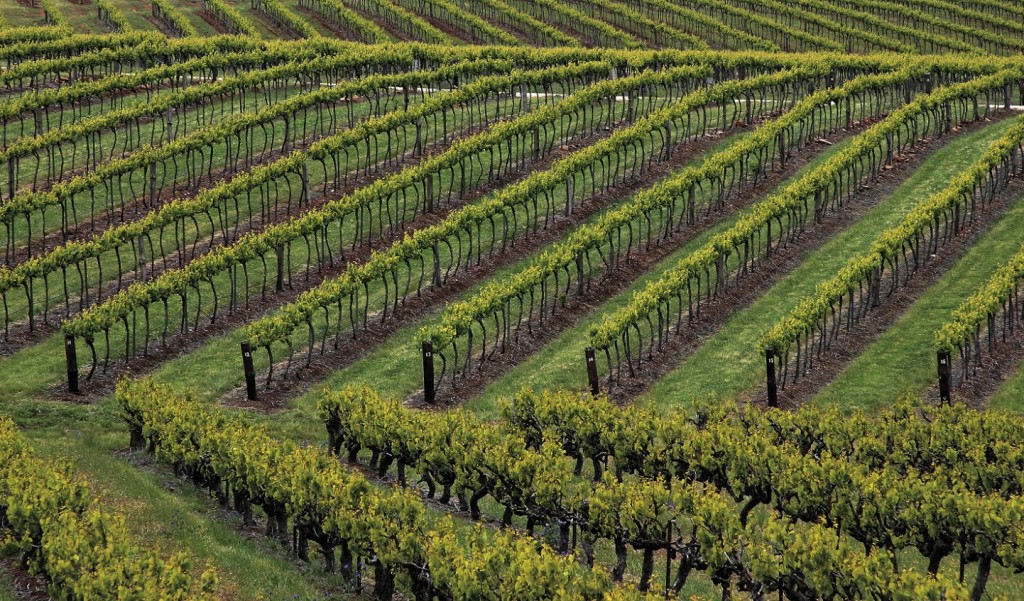 ON A CLARE DAY…
…OK, maybe you can't see "forever", but vistas come close. Landscapes gently morph from bush country to impressive gum-and-eucalyptus-tree-lined roads, interrupted with slices of charming townships and rolling vineyards that magically appear in syncopated rhythm—like a slo-mo Michel Gondry video.
Just 75 miles north of major city, Adelaide (a bustling cosmopolitan foodie town all its own) Clare Valley is an easy getaway. Don't be fooled by its external rustic charm; it is surprisingly progressive—in design, food culture, wine making, and other wine country whimsy.
One thing everyone agrees on: the Riesling Trail is the area's "must-do". On my first visit, the [25 km/ 9 mi] stretch of abandoned railway had been recently converted and anointed as "the" hiking/ biking experience to absorb local and vineyard scenery. It is now considered one of the best established scenic trails in Australia, complete with cellar doors [tasting rooms] to pop into along the way. (Purchases handily delivered to accommodation.)
PLANNING
Here are recos to get you started. Unfortunately, there isn't room to include all of the Clare people, places and wines that impressed or amused. Feel free to add your own in the Comments. (None of these are paid endorsements.):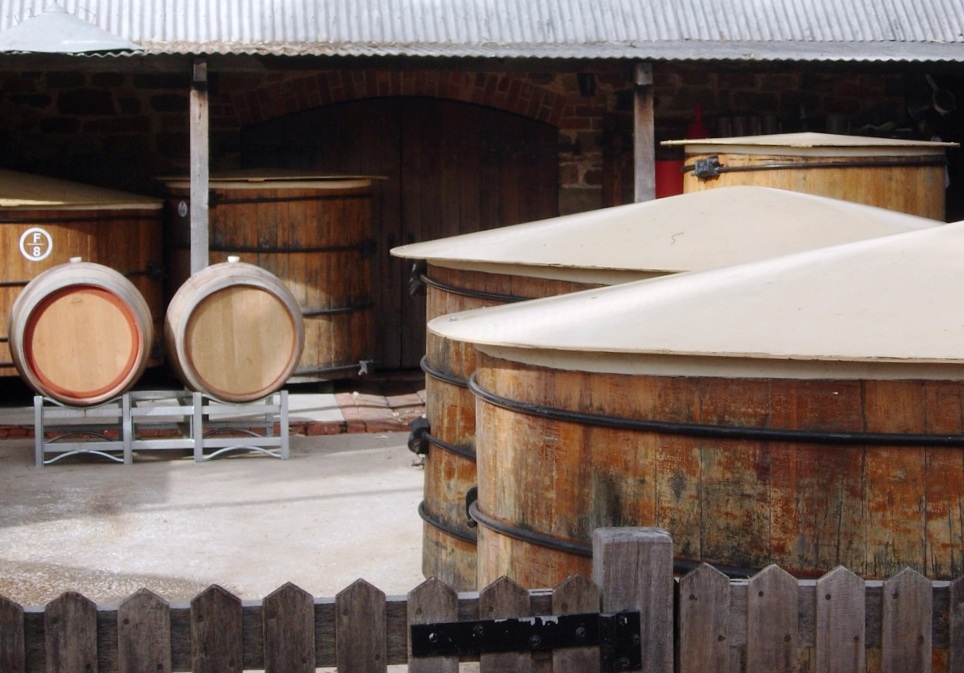 WINERIES
SEVENHILL The premiere historic winery, founded in 1851, Jesuit-owned (and run–until just recently); it's also the largest producer of sacramental wine in Australia. My second Clare visit provided a distinct privilege to dine with award-winning nurse-turned-head-winemaker Liz Heidenreich. (A priest-owned 165 year-old winery and female head winemaker? What's not to love!)
TAYLORS WINES Fossilized seahorses were discovered on-site, which lead to their adoption as the Winery Crest: three seahorses, each representing a generation of family winemakers. Try these exclusives, available on-site only: The Visionary Cabernet Sauvignon 2012; The Pioneer Shiraz 2012; TWP (Taylors Winemaker's Project) Viognier (Cellar Door Exclusive 2014). Or buy in the US: St. Andrews-label Shiraz, Cab or Chard. The reds are excellent with dry aged, slow-cooked shoulder of Aussie lamb!
PAULETT I met owners Neil and Alison on Trip #1, lucky to be the guest of a friend. Neil whipped up a gourmet feast we enjoyed on a veranda taking in the best view of my trip. The Rieslings are absolute standouts. They've just added a café, open 11-4 daily.
TIM ADAMS Consistently impressive wines. Critic favorite.
KNAPPSTEIN Legacy winemaker. Landmark building. And brewery!
Click to see more about Clare Valley region
LODGING + DINING + TASTING COMBO
SKILLOGALEE The George family bought this 1840's-built property in 1969. Traminer, Cabernet Sauvignon, Cabernet Franc & Malbec are sold on-site. Their excellent restaurant offers lunch and prepared picnic lunches. A cozy house and 2 cottages are available to stay on the property.
INTERVIEW WITH A LOCAL:  David Hay, Co-Owner Thorn Park by the Vines
Nestled in a vineyard+bush-land setting with stunning eucalyptus trees and abundant bird life, this rental is designed with the serious foodie in mind. Co-Owner/ Chef Michael Speers writes up nightly menus that double as guest placeholder/ welcome notes for their celebrated wine-paired dinners. My first experience was a 2006 meal hosted on their original property for the Clare's female winemakers. I re-connected with David for a relo/expansion update and his Insider tips to share. (See a sample menu.)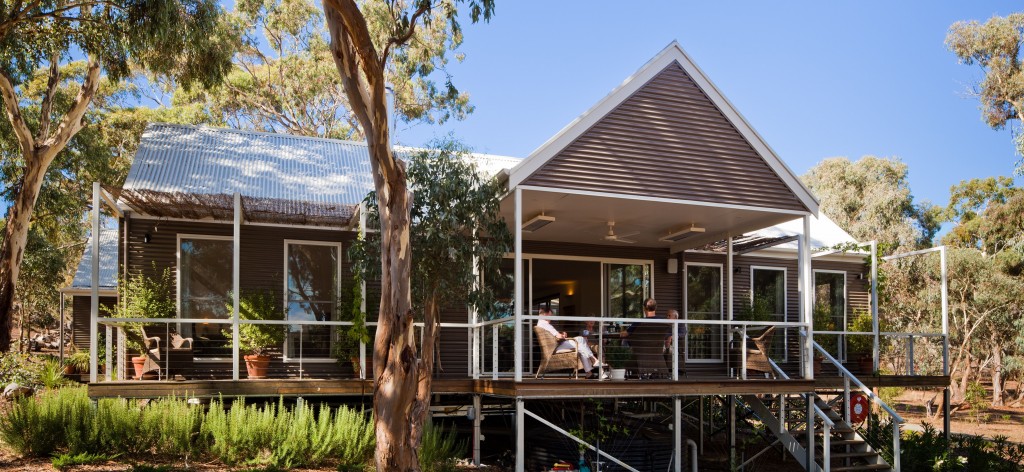 What's something unique for Visitors to enjoy in the Clare Valley?
Wine is the main point of discovery, but we offer great places to dine, plus very talented local artists. As one of the oldest settlements in the state, there are interesting historical buildings and properties, such as Martindale Hall and Bungaree Station, both open to the public.
What Clare Valley wines would you recommend?
[NOTE: Author's decision to categorize David's recos under the labels: 'value', 'spendy', and 'can't find in the US' He is not responsible.]
Good Values
I'm biased, but Sevenhill Cellars represent great values, especially the 'Inigo' label: Shiraz, Grenache, & Riesling.
Spendy
R: Grosset Gaia a mix of Cab Sauv & Cab Franc from one of the highest and most isolated vineyards in the Clare Valley. Jeff Grosset is one of the country's most respected winemakers
W: I love Rieslings in general—they pair so well with food. The fresher, crisp, zesty ones are great with Asian flavors, fish or seafood. Older vintages are great with more complex flavors, like rabbit and rich salmon dishes. Try any 'reserve' Rieslings: Pike's Merle, Skillogalee Trevarrick, Sevenhill St Francis Xavier
Available only in Oz
R: Mount Horrocks Nero d'Avola Sicilian grape of great beauty. 2013 = Vintage #2. (The first, 2012, was a mere 100 cases.)
W: The definitive dessert wine – Mount Horrocks's Cordon Cut Riesling
As our tour winds to its blurry end, Cherry Stowman, Senior Brand Ambassador at Taylor's Wines, sums it up nicely:
"It's been said more than once that the Clare Valley is an enchanting place… World renowned artists, winemakers and food producers proudly call the Clare Valley home, and visitors will find they are spoilt for choice at every turn."
On a Clare day, you'll certainly wish it could last forever. It really is like no other.
Lori Stevens, former wine magazine food editor has worked for wineries and traveled extensively through most of the world's wine, craft beer, cider, and scotch-producing regions. Author of Wine: A No Snob Guide: Drink Outside the Box, Berkeley: Rockridge Press, 2015; she currently lives in Seattle.