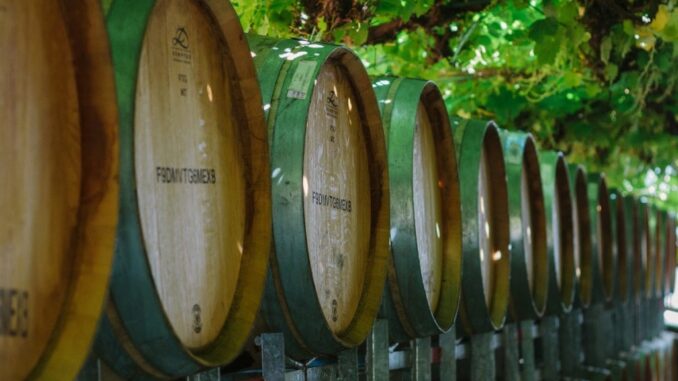 Winter cold got you down? When N.A. & E.U. vineyards are reduced to mere sticks jutting out of snow, consider traveling south of the equator where lush landscapes and leafy vines await: SOUTH AMERICA, SOUTH AFRICA, NEW ZEALAND & today's focus, AUSTRALIA.
I'll live in Oz one day. Not permanently, but at least a stint. After multiple trips, I have yet to find a deal-breaker. Even VICTORIA, the smallest wine region besides TASMANIA and subject of this post, proved very difficult to do justice in 1000> words.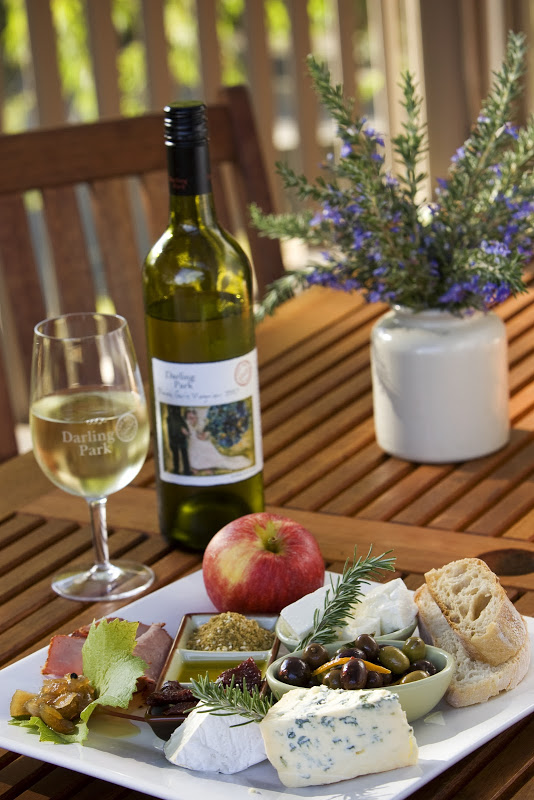 Overall, Oz has a robust wine industry and is seen as a global leader in technological innovation. They spearhead automation in every step of the wine-making process, and practically invented the multi-national wine corporation where holding companies each own dozens of smaller labels. Loose regulation encourages creative blending of different grapes; labels reflecting varietal quantities used in most-to-least order. If a 'place' appears on a label, (called "GI"s), at least 85% of the fruit is from there.  
MELBOURNE: a city I adore. If SYDNEY is Australia's NEW YORK, then MELBOURNE is edgy and fringy, yet sophisticated and multi-cultural… kind of like my 'old' SAN FRANCISCO, pre-2000.
Proximity to many wine country options surround you—even 'day' trips, for the motivated. Typically, anything coast-hugging is cool-climate lovin': whites and Pinot Noir. Sun-worshippers (i.e. Cabernet and Shiraz) are inland. Throw in some fizz and sweeties (Australian for 'sparklings' and 'dessert wines'), and choices run the full gamut. Wineries are called 'cellar doors', and no strangers to swinging open for tastings. But packaging snobs, (you know who you are), be forewarned: bag-in-box, screw caps and synthetic corks were all invented here. Aussies age premium wines with cork, but they don't turn their nose up at any alterna-green experiments, either. Free your mind.
Trip One: I spent six days exploring the Yarra and Mornington. Then I rotated counter-clockwise for ten more days through Macedon, Ballarat, Pyrenees, Grampions & Henty; before driving the amazing Great Ocean Highway along Oz's southern coast back through historic wine-town Geelong.
(Rough rendition, not including Yarra/ Mornington🙂

Besides the British drive-on-the-wrong-side factor, it's easy: like driving in Canada. Big long stretches of road and sky. Volcanic plains. Lush valleys. One-tree hills. Mountain passes, (if venturing, but nothing treacherous.)
AROUND MELBOURNE:
Chardonnay, Riesling, Semillon, Pinot Noir and Shiraz varieties dominate the Yarra, Mornington, Geelong, Sunbury, and Macedon. Same grapes—but unique climates, geography and winemaking personalities lend extreme variations to finished products.
SUNBURY:
Closest to Melbourne. Very small. Historic wineries.  Drink Chardonnay & Shiraz.
YARRA VALLEY: (THE YARRA)
-75 wineries from Healesville to Marysville. Diverse architecture throughout (polished and modern, to rustic.)  French bubbler Moët & Chandon opened an Aussie off-shoot here, if that tells you anything. Drink near coast: Pinot Noir, Chardonnay; but toward hills: Cabernet Sauvignon, Bordeaux blends, Shiraz.
Beaches! Plus 50+ boutiques in surrounding environs. Drink silky Pinot Noir, Chardonnay, Pinot Gris.  Try newer regionals Pinot Grigio, Shiraz.
GEELONG:
Largest grape region in 1800s, before phylloxera hit it. Modern revivalists breathing new life via experimental Bordeaux and Burgundy methods. Toast to the Coast Oct/ Nov. Drink Chardonnay, Pinot Noir and concentrated Reds (Shiraz).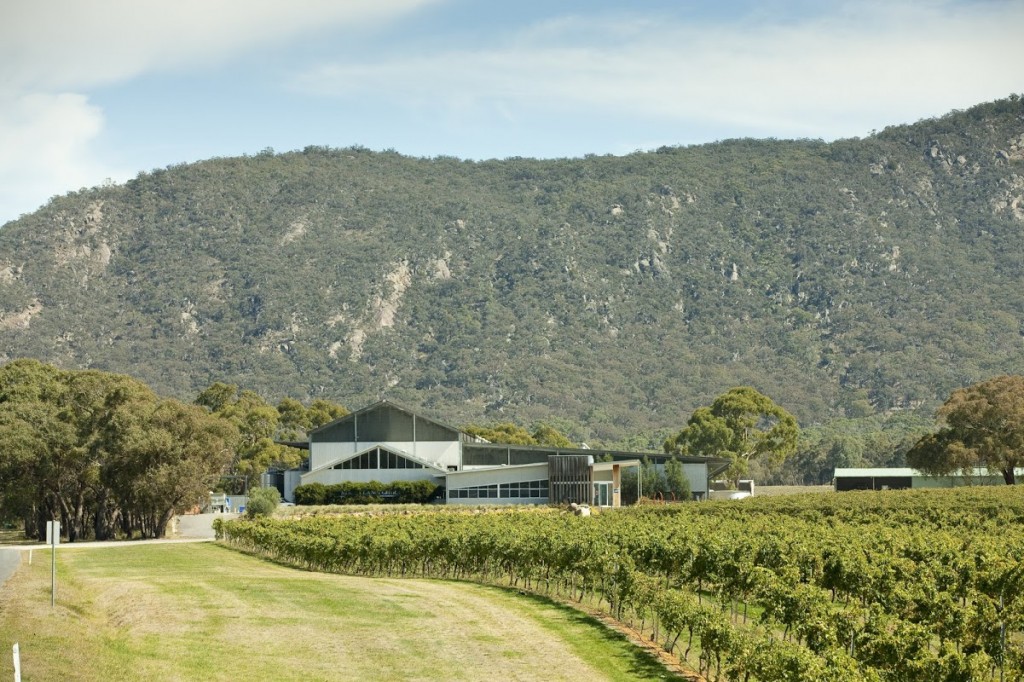 MACEDON:
Small boutique family-owned wineries. Excellent fizz ('Macedon' on the label.) Drink Sparklings, Riesling, Chardonnay, Pinot Noir, Shiraz & Cabernet Sauvignon.
BALLARAT:
…By the Glass Nov. Famous 'misty vineyards'. Drink Pinot Noir, Chardonnay and Fizzies + Riesling.
PYRENEES: (French celeb Remy Martin built a chateau here, near Avoca.)
– 40 vineyards. Chardonnay, Sauvignon Blanc, Fizzies; plus substantial, fleshy Reds like Cabernet.
Exceptional Fizzies + DEE-LISH Sparkling Shiraz + polished Rieslings. Also quality: Chardonnay, Pinot Noir, Pinot Meuniere, Merlot, and Cabernets.
HENTY: (Hopkins River to South Australia border.)
– 12 wineries + many more vineyards. Similar climate to EU's Rhine Valley & Burgundy so, Riesling, Chardonnay, Pinot Noir.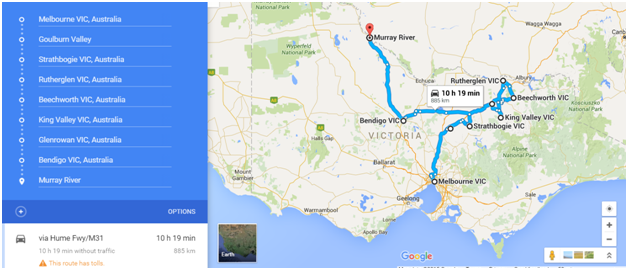 Trip Two: FARTHER OUT: 'HIGH COUNTRY'
UPPER GOULBURN: (Villages: Mansfield, Yea, Alexandra.)
– 30 vineyards. Rich, weighty Chardonnay; crisp Rieslings and Fizz.
GOULBURN: (Seymour to Echuca on Murray River.)
Mild weather, sandy soils. Sub-region Nagambie Lakes produce renown buttery Chardonnays, full Cabs & Shiraz. Farm-fresh produce sold everywhere. Famous Tahbilk Winery, est. 1860, pioneered area's Rhônes: dry Marsanne, Rousanne and of course, Aussie 'Syrah'  (Shiraz, rhymes-with-jazz!)
STRATHBOGIE RANGES: (Hey! It's a Shire!)
Fizzies. Stay in Euroa at comfy Butter Factory. (Not a paid endorsement!)
RUTHERGLEN:
– 20+ wineries. FAMOUS Specialty: "Stickies": Muscats, Tokays. Also, muscular Reds: Shiraz, Durif, Cabernet. Newer: White Rhônes Marsanne, Roussanne & Viognier. Also Reds: Tempranillo, Sangiovese, Zinfandel. NOTE: Cycling enthusiasts – lots of options for you.
BEECHWORTH: (Victorian Alps foothills.)
Prize-winning Chardonnay (look for Giaconda.) Also Pinot Noir.
Unique. Italian families established Italian wines, including Prosecco, Nebbiolo, Sangiovese, Pinot Grigio, Dolcetto, Arneis & Barbera. La Dolce Vita during November; and "Queen's Birthday" weekend Fit For A King in June. Prosecco Road: food & wine trail celebrating Italian fizz and rustic dining across 6 wineries.
ALPINE VALLEYS: (Ovens, Buffalo, Buckland and Kiewa rivers.)
33 different grape varieties.
GLENROWAN:
Two signature, historic wineries: FAMOUS Bailey's stickies & Booth's Taminick. Trails, Tastings & Tales, June + Winemaker's Weekend, October. Fortified Muscats & Tokays = best in country.
BENDIGO
Early gold-mining history. Coming back. Excellent, fearless Shiraz + Cabernet Sauvignon
MURRAY DARLING & SWAN HILL:
Both areas share SOUTH AUSTRALIA across-borders and wine styles. Mostly large winery-holdings, not many boutique cellars.
Click here for a quirky little resource of one-off destinations around VIC.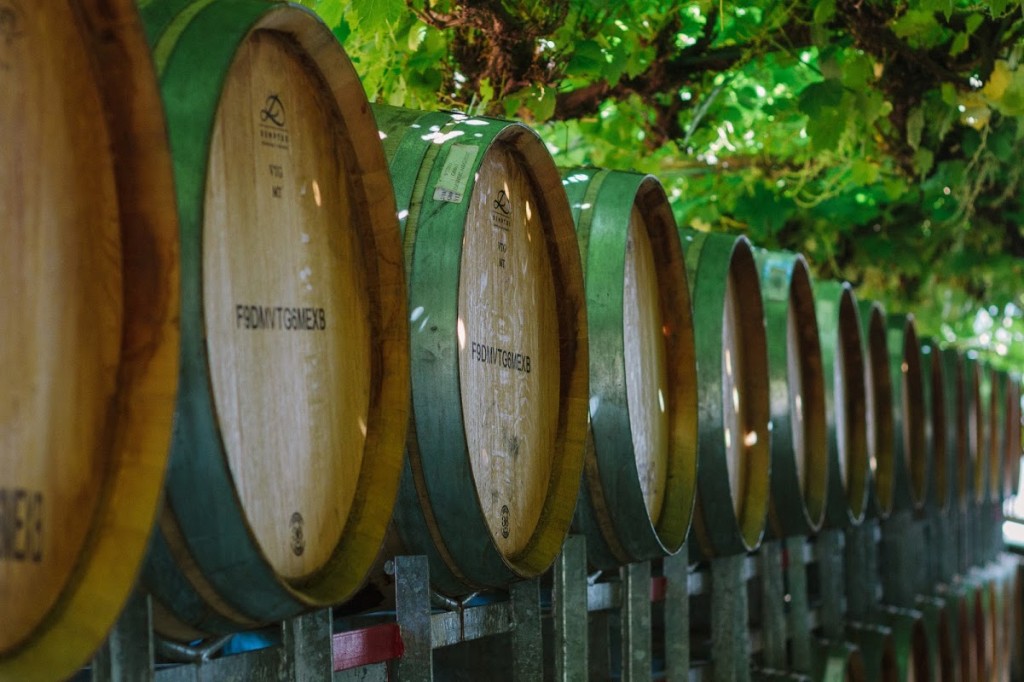 NET-NET
Every type of wine imaginable + vistas of mountains, valleys, rivers and sea + non-stop vineyards + hiking in Nature + exotic birds and animals + foodie-Heaven + surf culture + design-forward, cosmopolitan cities with great shopping and culture… all bundled into one trip?
Yeah – I'll live here one day.
Lori Stevens, former wine magazine food editor has worked for wineries and traveled extensively through most of the world's wine, craft beer, cider, and scotch-producing regions. Author of Wine: A No Snob Guide: Drink Outside the Box, Berkeley: Rockridge Press, 2015; she currently lives in Seattle.