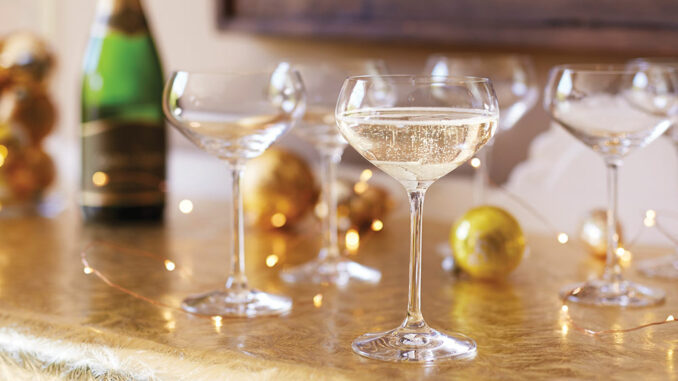 Almost a century has passed since Gatsby's Eggs wandered in lavish gardens "like moths among the whisperings and the champagne and the stars," whether you're hosting Christmas, Hanukkah, Kwanzaa, or just a good old-fashioned winter soirée, let the "Age of Wonderful Nonsense" elevate your celebration! Art deco-inspired décor adds refined, civilized glamour; and a soundtrack of big band and player-piano adds an authentic touch.
Set-up: Pick one favorite holiday hue: red, green, or blue, and tastefully pair with Art Deco compliments of gold, silver, black, or white. Use your mix for all tablecloths, linens, plates, etc. (Twinkle lights and candles add festive holiday spirit wherever people congregate.)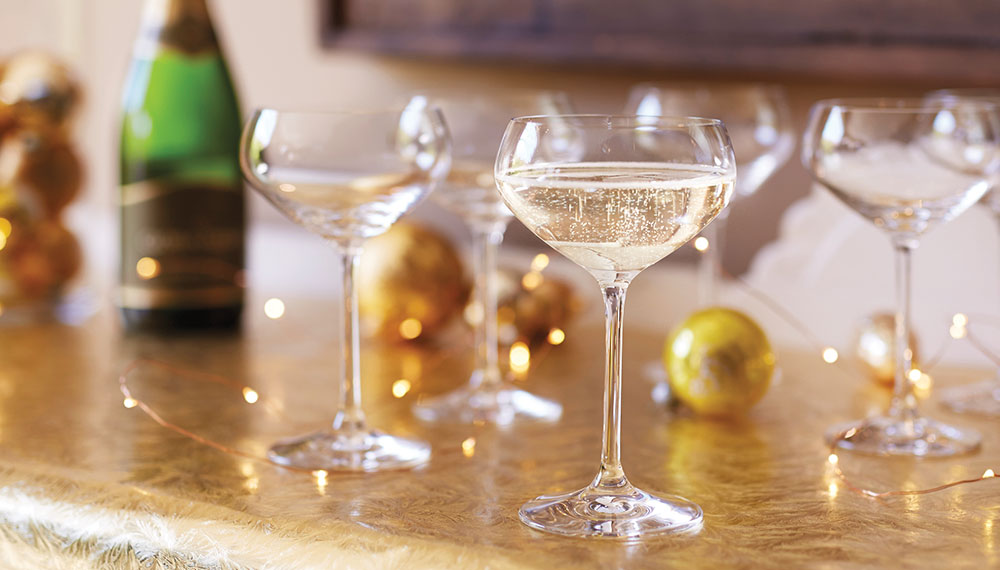 Buffet
Finger-foods were all the rage in the 20s: barkeeps kept crowds imbibing through the wee hours by offering canapés and bites.
Striking multi-layer display: Line newspaper and arrange upside-down pans or heavy-gauge boxes of various height over your buffet surface's entire length. Cover with multiple fabrics and tablecloths matching your color scheme. (Your food displays go atop.)
Clean, polished display: Cover the flat surface with fabric, then a runner. Position linens, chargers, or mats in a straight line or staggered precisely to mark food locations for service.
Place saucers with various tongs and servers in front of each dish's reserved location.
Fill In
Trays and platters command attention and admiration. Keep lines moving and stretch supplies using different eye-catching styles to display pre-cut portions. (Suggestions provided in the table below.)
Non-porous hard surfaces stay cooler and clean up easily. Marble, soapstone, ceramic, glass and slate are best for cured or smoked proteins, soft or creamy cheeses, and anything moist or sticky.
Porous wood is easier on knives, but it absorbs soft or wet foods, rendering it less sanitary. Use for firm cheeses, dried fruits, nuts, breads, crackers, and fully-baked items.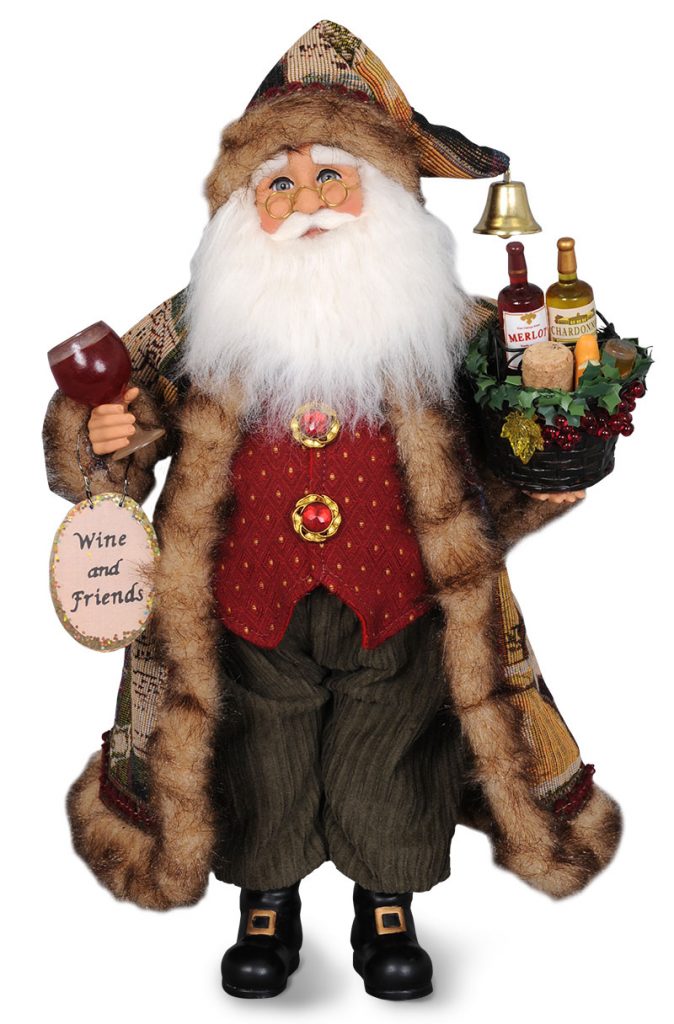 Finishing Touches
Starting End of the Table:
Stack dishes & flatware up front.
Indicate with a seasonal decorative accent, such as a menorah or kinara with candles, or IWA's adorable hand-decorated 10″ 'Tapestry Santa', ready to party with a festive glass of wine and cheese basket already in hand! These Santa Collectibles can be used throughout your home holiday decor.
Finishing End of the Table:
Stack napkins here.
Mark with fresh flowers, or stack color scheme-matching faux-wrapped gifts.
Vino!
Save guests and floors from unintended rounds of 'bumper-guest' by staging beverage areas away from food. Separate wine from cocktail-prep to reduce waits.
Wine stations need a foil cutter, wine opener, and pour spouts or drip rings. Every open bottle should sit on a bottle coaster.
Add this festive holiday wreath cork cage which allows guests to simply drop new corks in and out of the way as bottles are opened.
GLASS ADDS CLASS!
It's no hoax—wines taste better in properly-shaped and constructed glasses: a thin lip aids in directing wine to the tongue instead of dumping it behind teeth!
Maybe breakage has you on edge? Gone are the days of wimpy wine glasses! Now you can fill even your clumsiest chums' wine glasses, confident that modern technology from European makers Ultima and Italesse have resulted in stronger, thinner, practically unbreakable crystal and glass stemware offering exceptional clarity. Some are dishwasher-safe!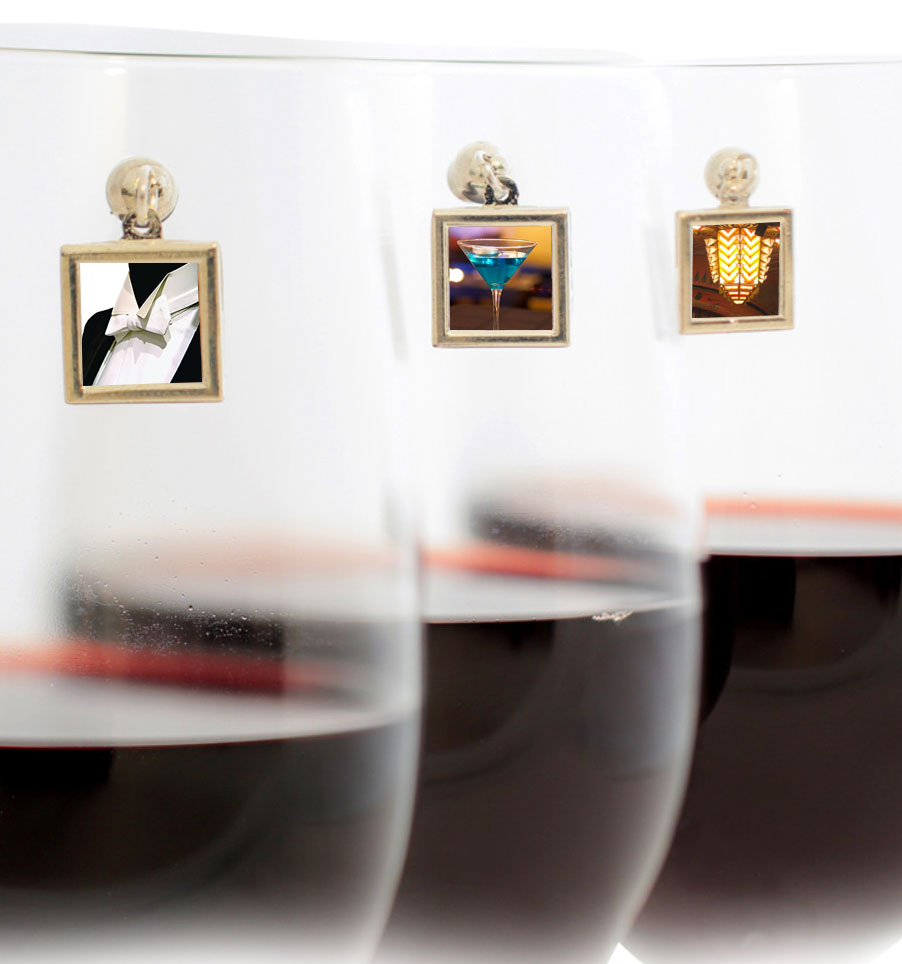 Next, offer magnetic selfie glass markers filled with various Gatsby Roaring 20s images to help guests keep track of glasses.  (Use the easy to follow instructions to print yellow Rolls, the green pier light, booze, bubbly, Gatsby actors, a Daisy, Al Capone, cigars, Mary Pickford, flappers, and any other imaginings.)
Of course, no 20s soiree is complete without bubbles—and the Ol' Boy would have certainly approved of our elegant Triomphe wine cooler made from heavy-gauge stainless steel (matching stand sold separately) as well as these fantastic vintage style Gatsby Coupes—champagne glasses with charm and style!
(Check out last year's IWA Holiday Bubbles Primer for tips on selecting champagne!)
For the finishing touch, we've assembled a party menu complete with recipes perfectly-paired with wines and premium trays and platters conveniently linked to accompanying product descriptions and ordering information:
1920s-Inspired Hors D'oeuvres Spread
Save time! Everything can be made up to 2 days ahead and warmed before service (recipes below).
The 14-piece dessert set is also quite versatile:
Fill bowls and display formally on the glass pedestal tray, or
Serve assorted bites on the stand, while bowls resting in crushed ice house condiments, dips, or caviar.
Please share your 20s-inspired ideas in the Comments section or using the hashtag #IWAwine, and send us creative photos of IWA products used in your celebrations!
The Recipes
Potato & Apple Latkes w/ Smoked Salmon and Fresh Thyme
1 pound peeled russet potatoes (about 5 medium)
1 medium onion
1 peeled Granny Smith apple (or large parsnip)
1 egg, beaten
1 green onion, finely chopped
1 T. chopped fresh thyme
Salt + pepper to taste
¼ cup all-purpose flour
Grapeseed oil for frying
1 cup sour cream
2 T. prepared horseradish
8 oz thinly sliced smoked salmon
Chopped fresh chives
Coarsely grate the potatoes, onion and apple in a food processor. Remove to colander lined with kitchen towel. Squeeze to remove as much liquid as possible. In large bowl, mix well-drained potato mixture, egg, green onion, and thyme. Season with salt and pepper. Add flour and toss to mix. Heat enough oil to generously cover heavy skillet bottom until hot. Drop full tablespoons of mixture into hot oil and flatten slightly with back of spoon. Cook until golden-brown, about 3 minutes. Turn and cook 2-3 more minutes until cooked through. Remove to a cookie sheet lined with paper towels. Wrap all in a single layer tightly in plastic or in an airtight container with wax paper between layers and freeze until ready to use.
Service: Let latkes come to room temperature for an hour. Preheat oven and cookie sheet to 350. Mix sour cream and horseradish, set aside. Place latkes on pre-heated baking sheet. Reheat 10-12 minutes. Cool 10 minutes. Top with small dollop of cream mixture, piece of salmon, and sprinkle with chives. Platter.
Duck in Roasted Mushroom caps with Blackberry Ginger Sauce
Duck:
6 lb. Long Island (Pekin) Duck
2 cups boiling water
2 egg whites
1 lb. rock salt
Put oven rack in middle position and preheat oven to 425°F.
Remove excess fat from duck body and neck. Rinse duck inside and out. Prick skin all over with a sharp fork, careful not to pierce through meat. Fold neck skin under body and put duck, breast side up, on a rack in a 13x9x3" roasting pan. Pour boiling water over duck. Cool duck 30 minutes. Pour out any water from cavity into pan and leave. Pat duck dry inside and out, reserving water in pan. Sprinkle duck inside and out with kosher salt and pepper. Rest. At 15 minutes, whip 2 egg whites. Fold with 1 pound rock salt and 1 T. ground peppercorns (black or green.) Press egg mixture gently into skin, covering completely.
Roast duck, breast side up, 45 minutes, then remove from oven. Carefully turn duck over using 2 wooden spoons or paper towel wads. Roast 45 minutes more. Repeat the 'turn maneuver' one final time, tilting duck to drain cavity liquid into pan. Roast ~40 minutes more. (Total roast time: about 130 minutes.) Tilt duck to drain last liquid from cavity into pan. Transfer duck to a cutting board and let stand 30 minutes before removing salt crust. Discard liquid in roasting pan. When ready, remove and discard crust. Tear or cut meat into similar-size pieces and refrigerate until ready to use, up to 2 days.
Roasted Mushroom Caps
About 40 med-large crimini caps, stems removed – (approx 2 lbs)
2T grapeseed oil
(Freeze and save stems for other application.) Preheat oven to 425. Slice a small X in each cap. Toss with grapeseed oil + teaspoon each: salt & pepper. Place in roasting pan gill side up. Roast 35 minutes stirring once at about 20 minute mark. Remove to paper towels and allow moisture to be absorbed. Store in fridge until ready to stuff, up to one day ahead.
Blackberry/ Ginger Sauce
1 T. unsalted butter
2 T. chopped shallots
1 t. grated fresh ginger
½ t. thyme
¼ t. sea salt
1 cup natural, low-sugar* Oregon blackberry preserves, strained through fine mesh to remove seeds (May also use marionberry or currant.) *Avoid brands with corn syrup, fillers, or preservatives.
1 T. champagne vinegar or dry red wine
Melt butter. Sauté shallots until translucent, about 3 minutes. Add ginger, thyme and salt. Sauté 2 minutes. Add preserves. Stir and cook until boiling. Reduce heat and add (vinegar or wine.) Can be made up to 3 days ahead and reserved in refrigerator.
Assemble Up to one day ahead. Spoon chopped cooked duck into cooked mushroom caps. Spoon 1 t. sauce over each stuffed cap. Reserve any remaining sauce. (You may wrap stuffed caps and store up to one day in fridge at this stage.) Let come to room temp, 30 minutes. Bake at 350 for 10-15 minutes. Arrange on platter. Sprinkle with black or green pepper. Accompany with remaining heated sauce in ramekin for guests to add sauce if desired.
Crab Rangoon
1 package (8 oz) Kraft Philadelphia Regular Cream Cheese, at room temperature!
2 oz. real crab meat, finely diced
1 T. powdered sugar
1 t. sesame oil
Pinch of salt
20 wonton wrappers
Peanut oil or grapeseed for deep frying
Chopped scallions and sesame seeds
Thai chili, or sweet and sour dipping sauces (Optional)
Mix well in a bowl: cream cheese, crab meat, sugar, salt and sesame oil. Place about 1 heaping teaspoon of the cream cheese filling in the middle of a wonton wrapper. Dab water along outer edges of the wonton wrapper and pull all four corners up to meet. Pinch each entire seam together all the way to filling lump, making small parcel shapes. Seal tight up to and against filling to prevent leakage or steam build-up when cooking.)
One day ahead: Heat a pot of oil to 375 and fry the crab rangoon until golden brown. Dish out with a slotted spoon onto a pan lined with paper towels. Wrap air-tight and freeze or refrigerate.
Service: Place at least two inches apart on pre-heated cookie sheet in 350 degree oven. Bake 12-15 minutes. Platter and sprinkle with chopped green scallions and sesame seeds. Serve with dipping sauces.
Lori Stevens is a writer based in Seattle, Washington. Her book Wine: A No-Snob Guide, Drink Outside the Box ©2015 from Rockridge Press, Berkeley, CA is available at your favorite online book retailer. Many of her international wine travel articles are available on this blog.