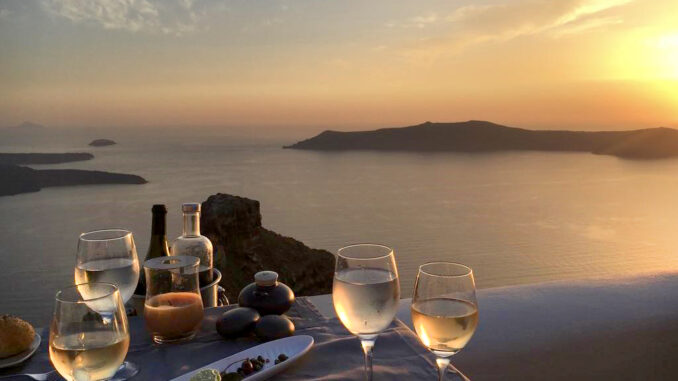 Sparkling blue water, ancient volcanic earth, unique architecture and some of the world's most romantic sunsets—the Greek island of Santorini. As the southernmost island in the Cyclades, this destination's claim to fame is the stunning vistas from its picturesque town of Oia. Blue capped domes atop stark white buildings garnish the caldera and call to tourists from all around the world. Beyond this bustling island oasis, there is nothing but ocean as far as the eye can see.
What about the inland view? Perhaps a lavender field or the ancient ruins of Akrotiri, and some of the most amazing vineyards in Greece.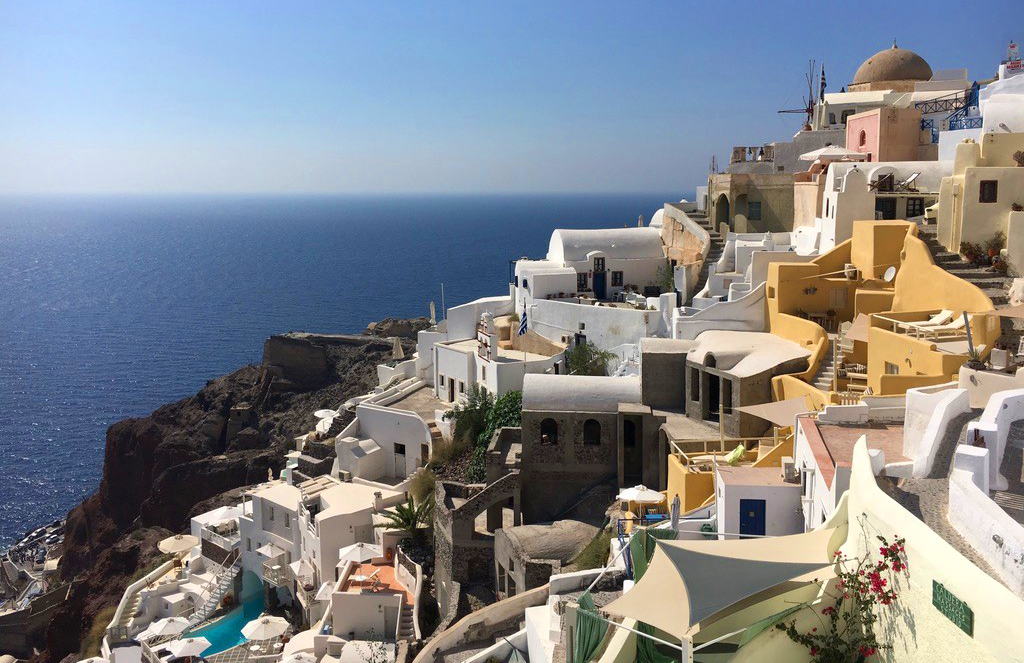 Santorini's vineyards play host to a variety of Greek grapes, five of which are indigenous to the island. While this region's varieties are quickly increasing in popularity around the world, most of them are still under the radar and will not pop up on 'Wines by the Glass' lists at typical restaurants outside of the Mediteranean. After traveling halfway across the world to learn about these wines and taste them at their source, I can say that Santorini's Protected Denomination of Origin is truly unique and worth discovering for yourself.
The Soil
Once an active volcano, this crescent shaped island is covered in porous ashy soil. Not only does the soil aid in the expression of minerality in the wines, but it also protected the vines from the phylloxera epidemic in the 19th century. Lucky for wine lovers past and present, soil lacking in clay does not prove habitable for pesky insects!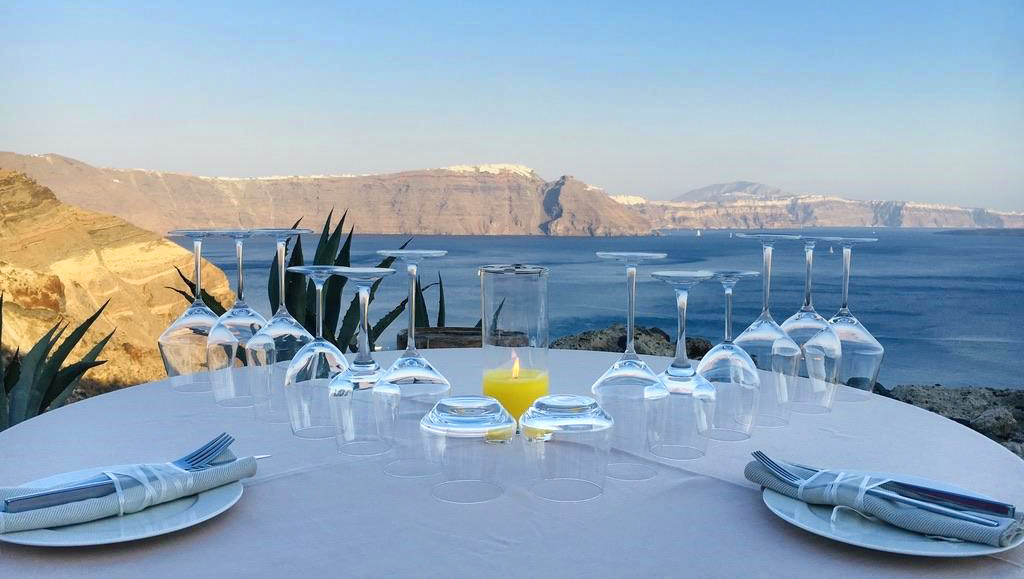 The Vines
During a scenic car ride to visit the first winery on my list, the popular Domaine Sigalas, I watched as we sped by rows of peculiar looking vines. I had never seen this method of growth before and found it intriguing. While tasting at Sigalis, I learned that this type of vine pruning is referred to as "giristi". In that method, vines are woven around one another like baskets in order to better withstand the island's heat and wind.
White Wine Grapes
Assyrtiko:
This is by far the most famous varietal from Santorini, and, as such, is the most frequently planted grape there. Ancient volcanic soil brings together a vivid symphony of minerality, acidity, and light citrus notes in this wine. The high acidity, coupled with high alcohol content, brightens up endless seafood options and pasta dishes. This refreshing yet complex wine is perfect for pairing with freshly caught seafood served up from Dimitris Ammoudi Taverna in Amoudi Bay at sunset. If you make it to Dimitris, do not pass up on the lobster!
Aidani:
Often blended with Assyrtiko, this has a similar flavor profile with more floral notes that round out the blend. While a 100% Aidani can be elusive, one place it can be found is Hatzidakis Winery where all the grapes are grown organically. Pair Aidani with a light sashimi, such as hamachi or local sea bream for a delicious summer appetizer.
Athiri:
Used almost exclusively in blends, Athiri is essential in the production of wine from all three appellations: Santorini, Nykteri and Vinsanto. While Santorini and Nykteri appellations produce dry white blends, Vinsanto is a late harvest wine. It is one of Santorini's world renowned contributions to the wine industry. Do not be surprised if you are offered a glass accompanied by a fresh fruit plate upon arrival at your hotel.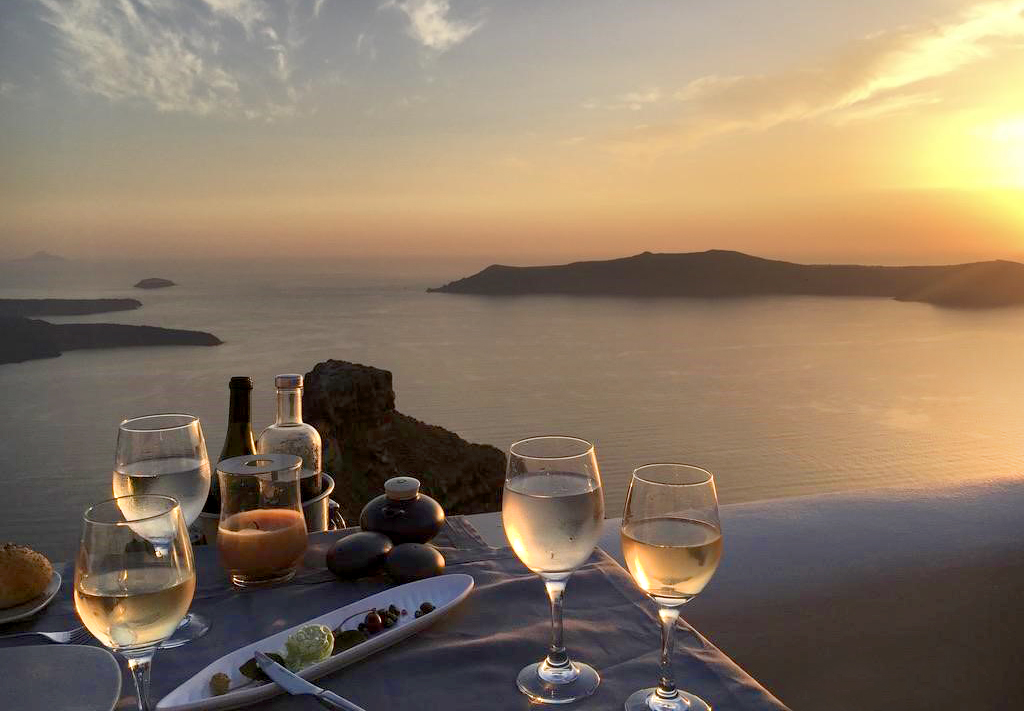 Red Wine Grapes
Mandilaria:
This highly acidic and beautifully pigmented wine is usually blended with Mavrotragano to create a medium to full bodied wine. At Kapari Wine Restaurant in Imerovigli, I had the pleasure of ordering a bottle of local Mandilaria and pairing it with a squid ink risotto. I loved this meal so much that I ordered it two times during my stay on the island.
Mavrotragano:
This wine is less acidic and features strong tannins with a smooth finish. It can hold its own without blending and pairs perfectly with rich lamb dishes. It is also great with a casual lunch of gyros or a souvlaki plate.
The Views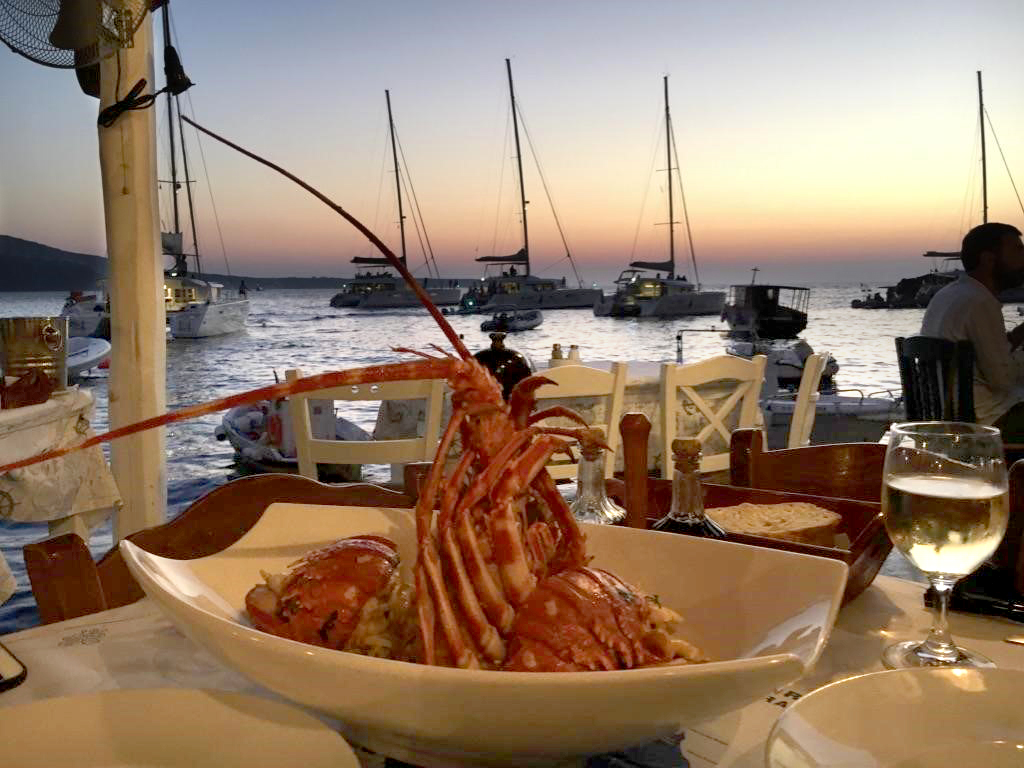 Part of what makes Santorini such an enchanting wine region are the views that unfold as you sip. The sunsets are something out of a dream, and are complimented perfectly by a bottle of wine and dinner prepared with local ingredients. While Oia is the most posh and popular center for travelers, I recommend splitting the trip up in order to enjoy both Imerovigli and Oia.
Imerovigli is much quieter than Oia and does not have a bustling nightlife scene as Fira does, but it makes up for that with the views it provides. To the left of Imerovigli you will see all of the lights in Fira begin to twinkle as the sun goes down. To the right you will see the orange and pink sky collapse into itself behind Oia. Once it sets, the whole town illuminates the hillside.
Santorini is truly the perfect setting for discovering new wines.
About the Author: After taking a viticulture class at the University of California, Davis, Danielle Sharp became enthralled with educating herself about wine. Now a freelance writer, she hopes to inspire others by sharing her knowledge and experiences. All images © 2019-2020 Danielle Sharp. All rights reserved.