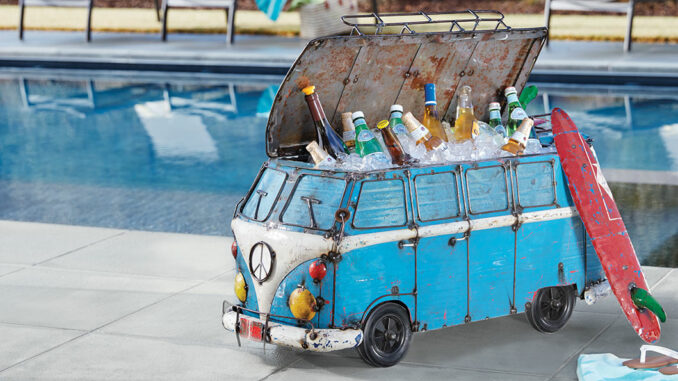 The weather is gathering warmth, your garden is unfolding its blossoms and it feels like time for a celebration. Spring and summer parties filled with light vegetable appetizers like tomato and mozzarella skewers, BBQ glistening on the grill and refreshing gelato can all be served with your favorite summer wines. Whether you prefer a crisp gewürztraminer or festive sangria, IWA has ideas that will liven up your gathering.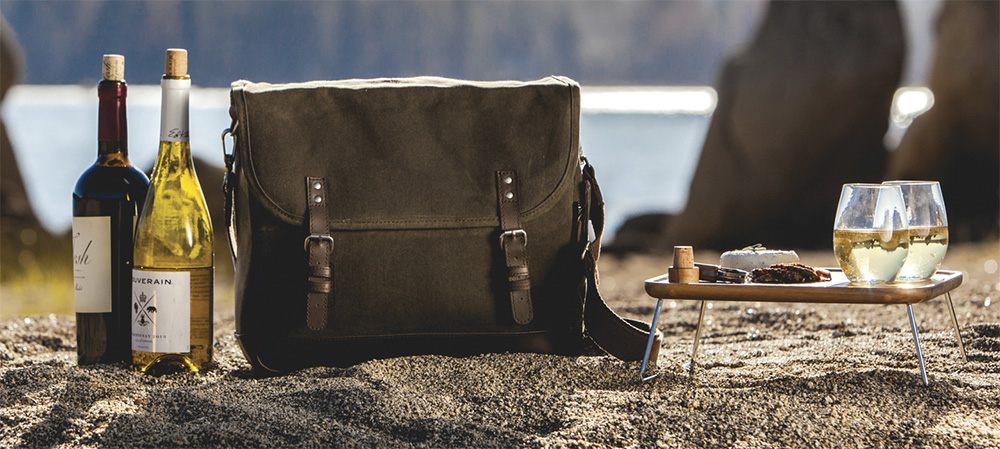 Canvas Wine & Cheese Tote
This all-in-one picnic tote includes a folding Acacia wood table, corkscrew and stemless wine glasses that are break resistant and safe for the beach. It has handy storage compartments for up to two bottles of wine and is insulated to keep beverages chilled. Set off on an adventure with this handy waxed cotton canvas carrier with adjustable shoulder strap.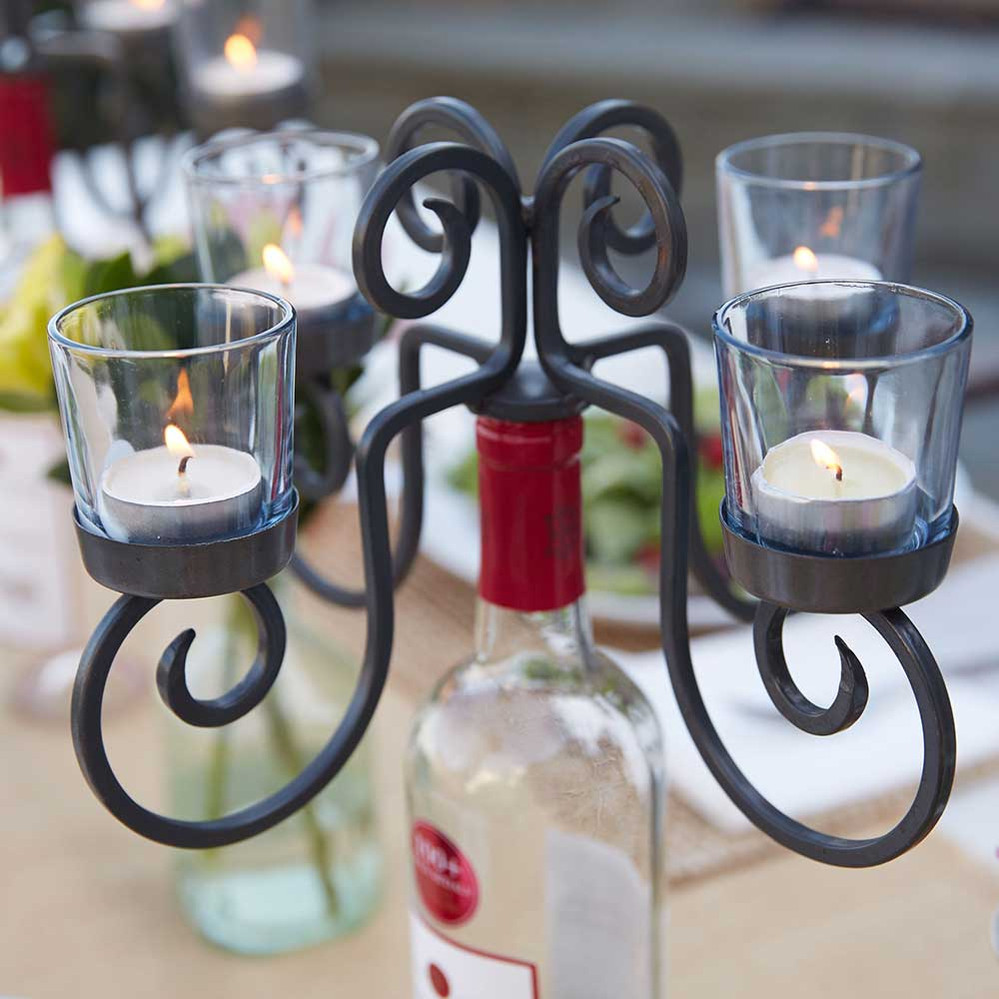 Wine Bottle Votive Candelabra
Set the mood with a rustic candle holder in old world style of iron scrollwork. Place it on an empty wine bottle or center it on your table for atmospheric outdoor dining.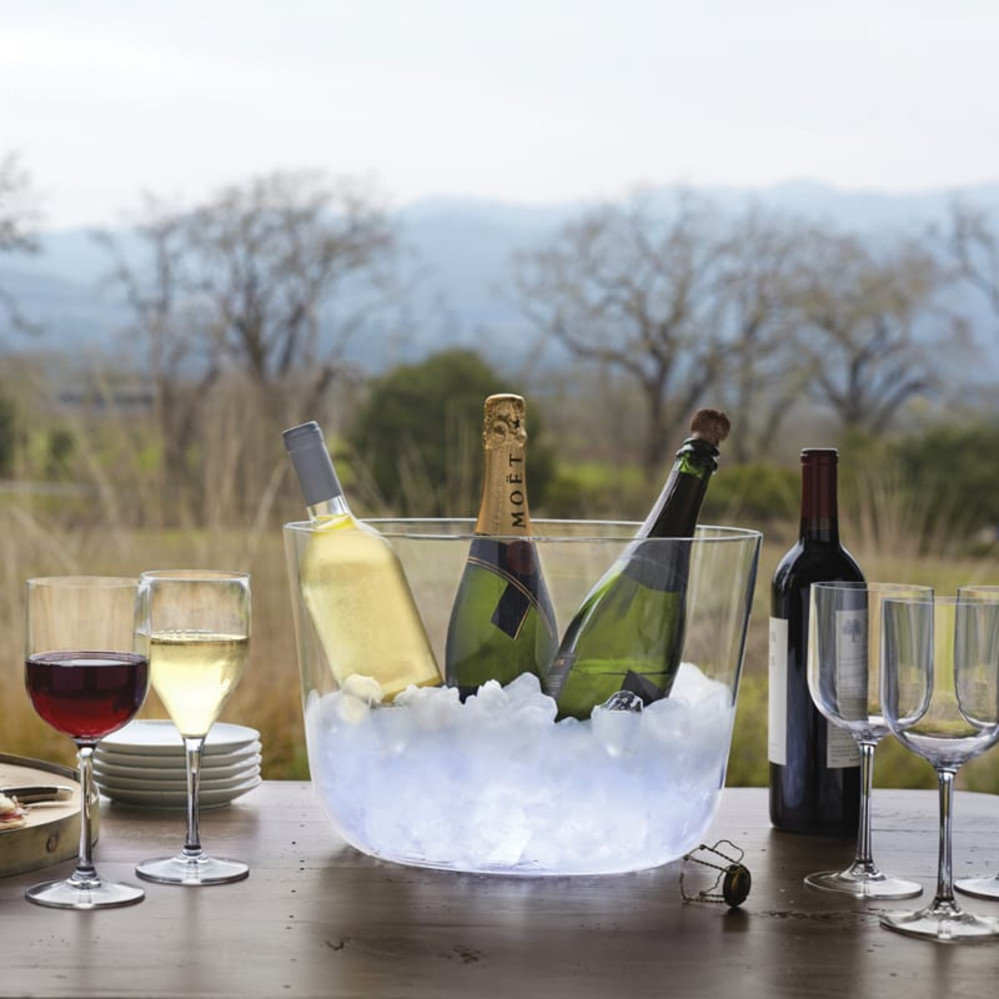 Italesse Polycristal Glasses
Have you ever wished there was an unbreakable wine glass that still looked like proper stemware? These transparent seamless glasses mimic crystalware using a Polycristal composition for breakage resistance. Bring them poolside or out on a picnic, then place them in the dishwasher for quick cleaning.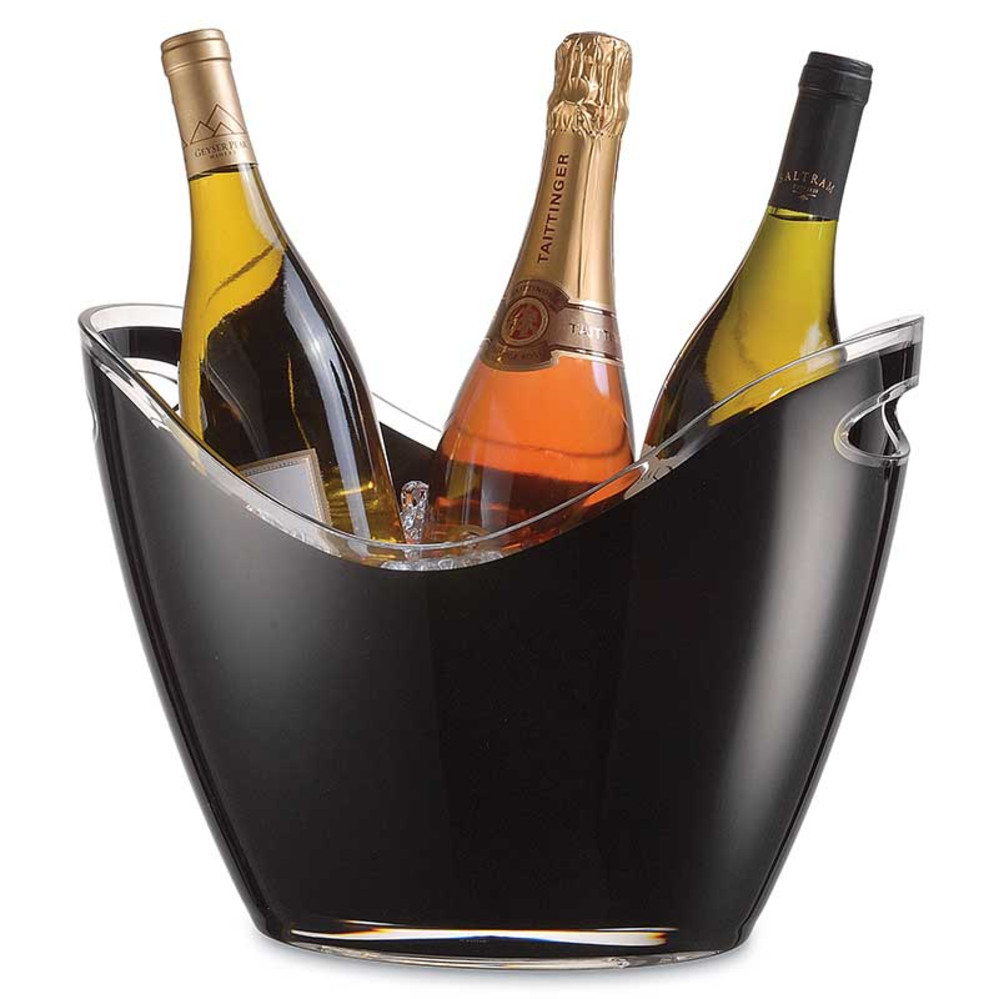 Vino Gondola Wine Cooler
Clear acrylic surrounds this luxurious black champagne bucket that will make an impression at your outdoor parties. It holds up to 3 champagne bottles; fill it with ice and set it out ready to chill!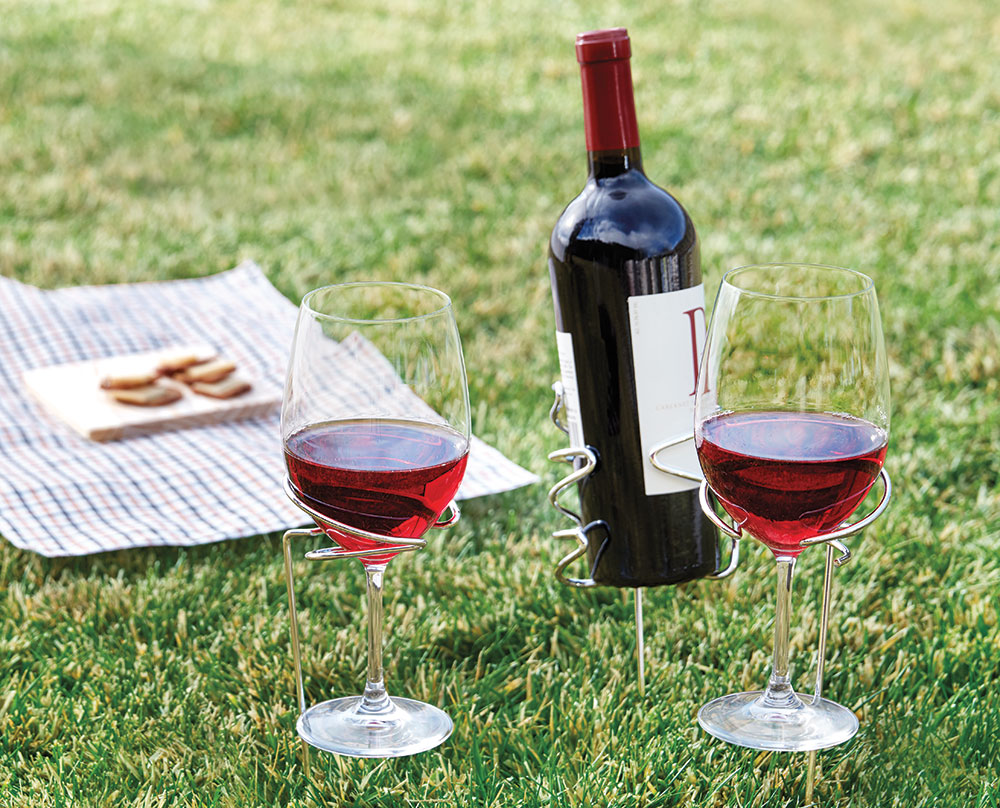 Picnic Stix Holders
Drink wine on a picnic without worrying about spilling your bottle and glasses. Stainless steel spikes are pushed into the ground at drinking level, holding up a standard wine bottle and 2 wine glasses ready to use.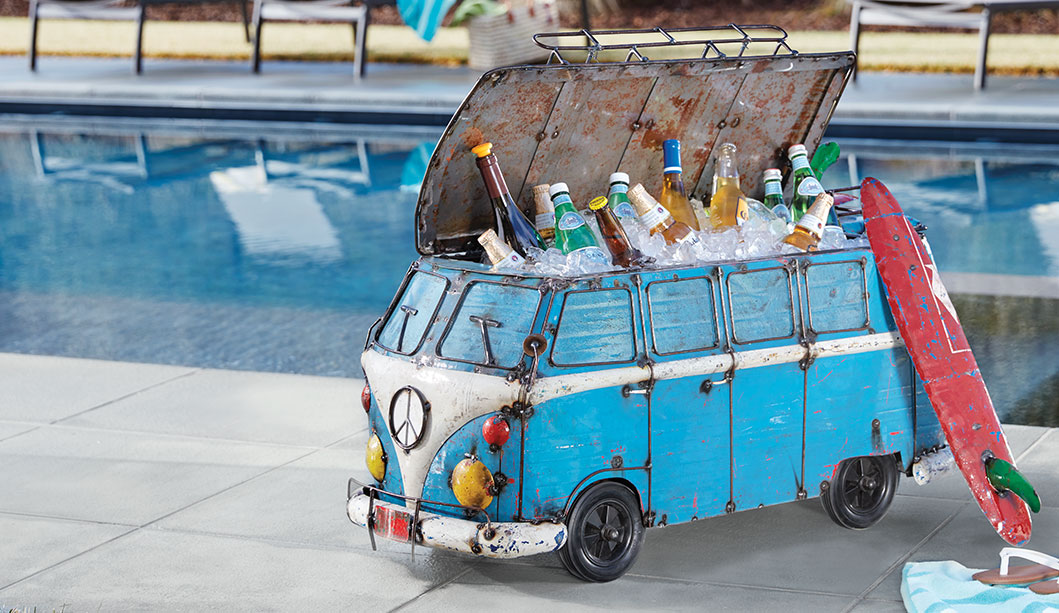 VW Cooler
This impressive rolling cooler will become the talk of your party, with a hinged top, removable surfboards and ample storage inside the insulated tub. Each VW bus is unique, crafted from recycled steel barrels. Capture the spirit of surf and sun at your outdoor gathering.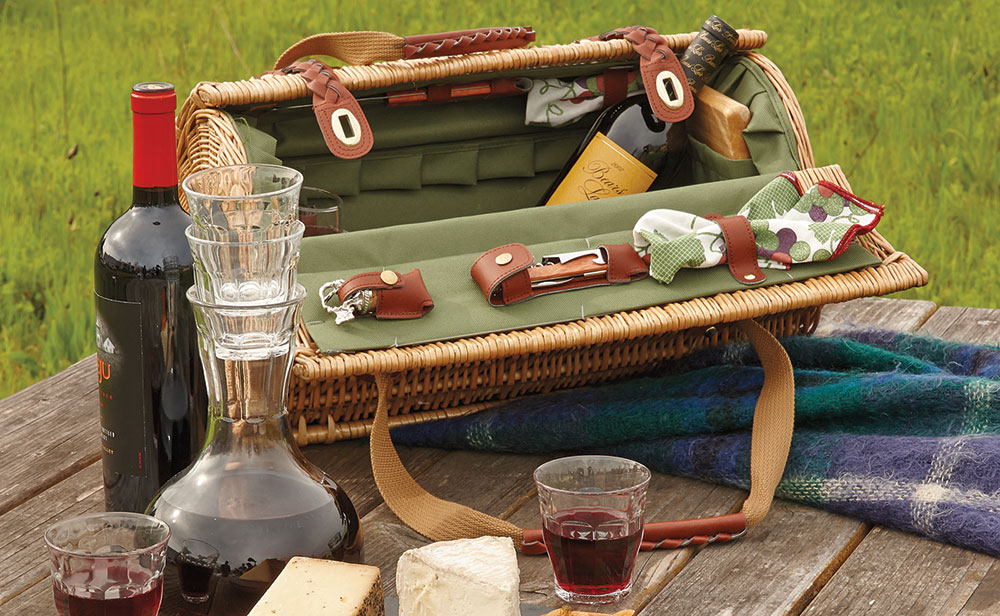 Wine & Cheese Picnic Basket
Set out for the hills and enjoy spring wildflowers or lazy summer afternoons while comfortably toting this sturdy willow picnic basket. It includes two wine glasses, a nickel-plated bottle stopper, waiters corkscrew, cutting board, cheese knife and two cotton napkins.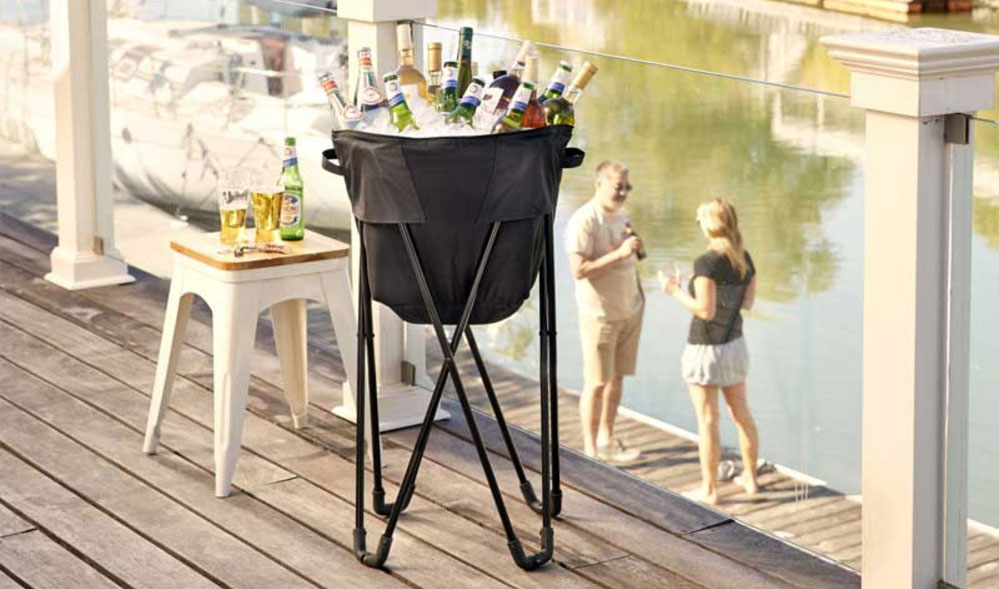 Folding Tub Cooler
Get ready for tailgating, backyard gatherings or spreading out at the beach with this collapsible black cooler. Leak-proof and insulated, it can hold over 72 cans of beverages, and has a drain plug for quick take-down.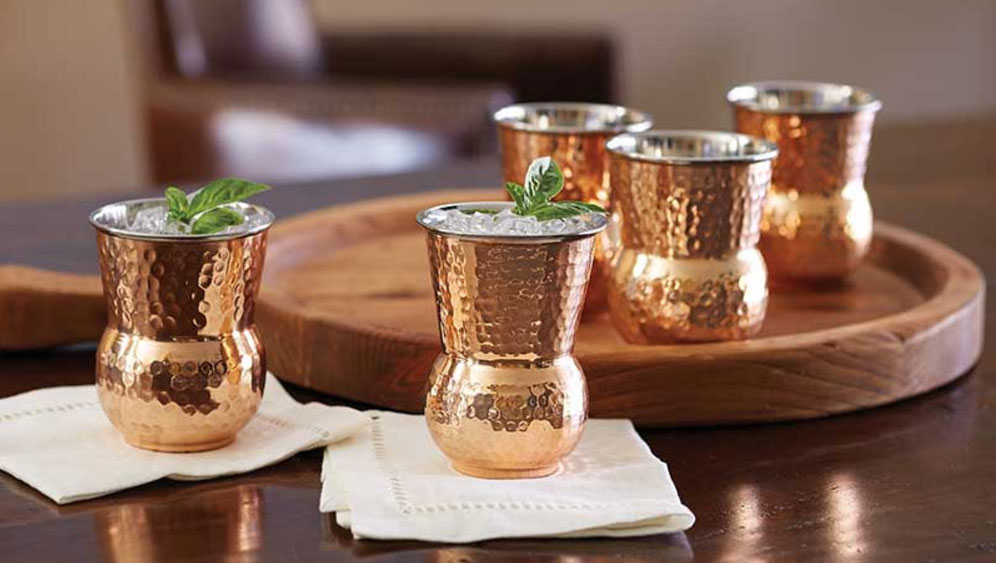 Tuscan Copper Tumblers
Stunning hammered copper tumblers, they are double-walled, durable and specifically designed in an hourglass shape to perfectly fit your hand. They sparkle in the sunlight and keep drinks naturally chilled; serve mixed drinks or water.