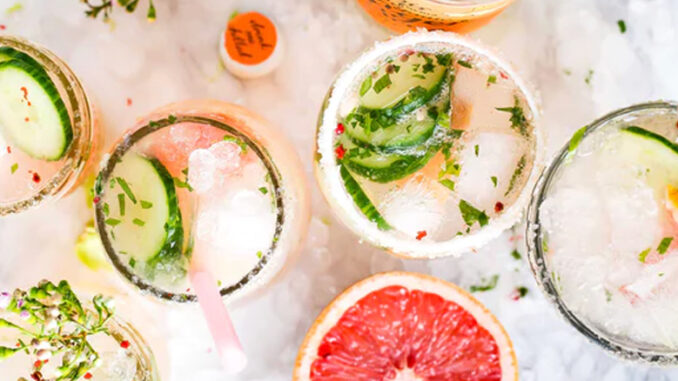 Cocktail hour is about more than mixing the perfect drink; it's the time when you can let go of your worries and unwind. Experiment with flavors and ingredients, then relax with your creation. Instead of reaching for classics like whisky or gin, bring your drink to life with wine as the alcoholic base.
Whether you are looking for a breezy summer cocktail, or a warm mulled brew for winter, wine cocktails offer a fresh way to taste the flavor and appreciate complex aromas from your favorite varietal. Here are seven delicious cocktail recipes to enjoy or simply choose from one of our cocktail infusion kits.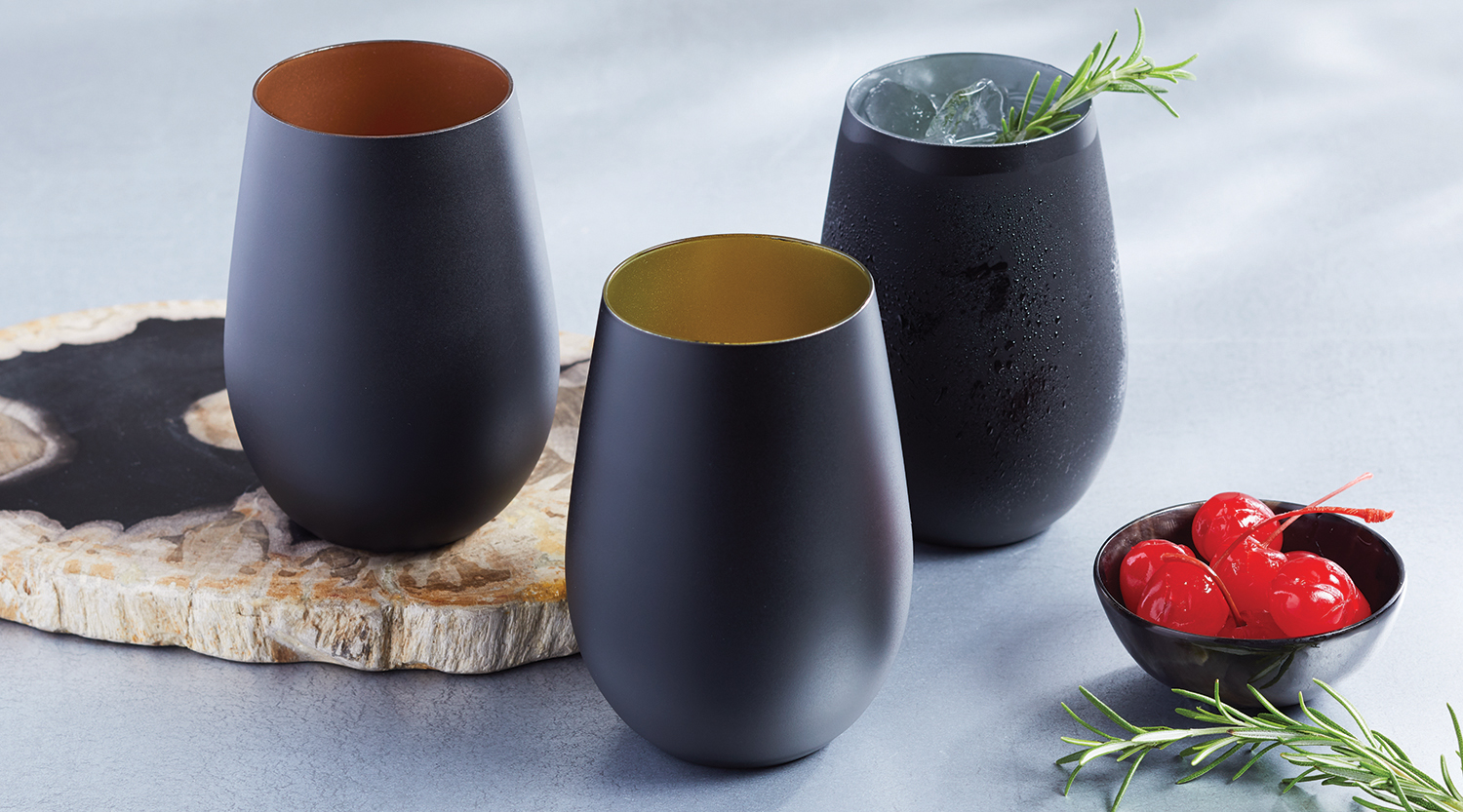 Summer Spice
4 oz red wine (such as Chilean cabernet sauvignon)
1 oz lime juice
1 oz seltzer
1 oz maple syrup
1 slice jalapeno
1 slice watermelon
Combine the wine, lime juice, seltzer and maple syrup in a shaker
Add the jalapeno and watermelon
Muddle the ingredients to blend it thoroughly
Strain the juice into a wine glass (optional: rim with maple sugar)
Add ice and garnish with thin slices of jalapeno
You can freeze this cocktail up to an hour before pouring, to enrich the taste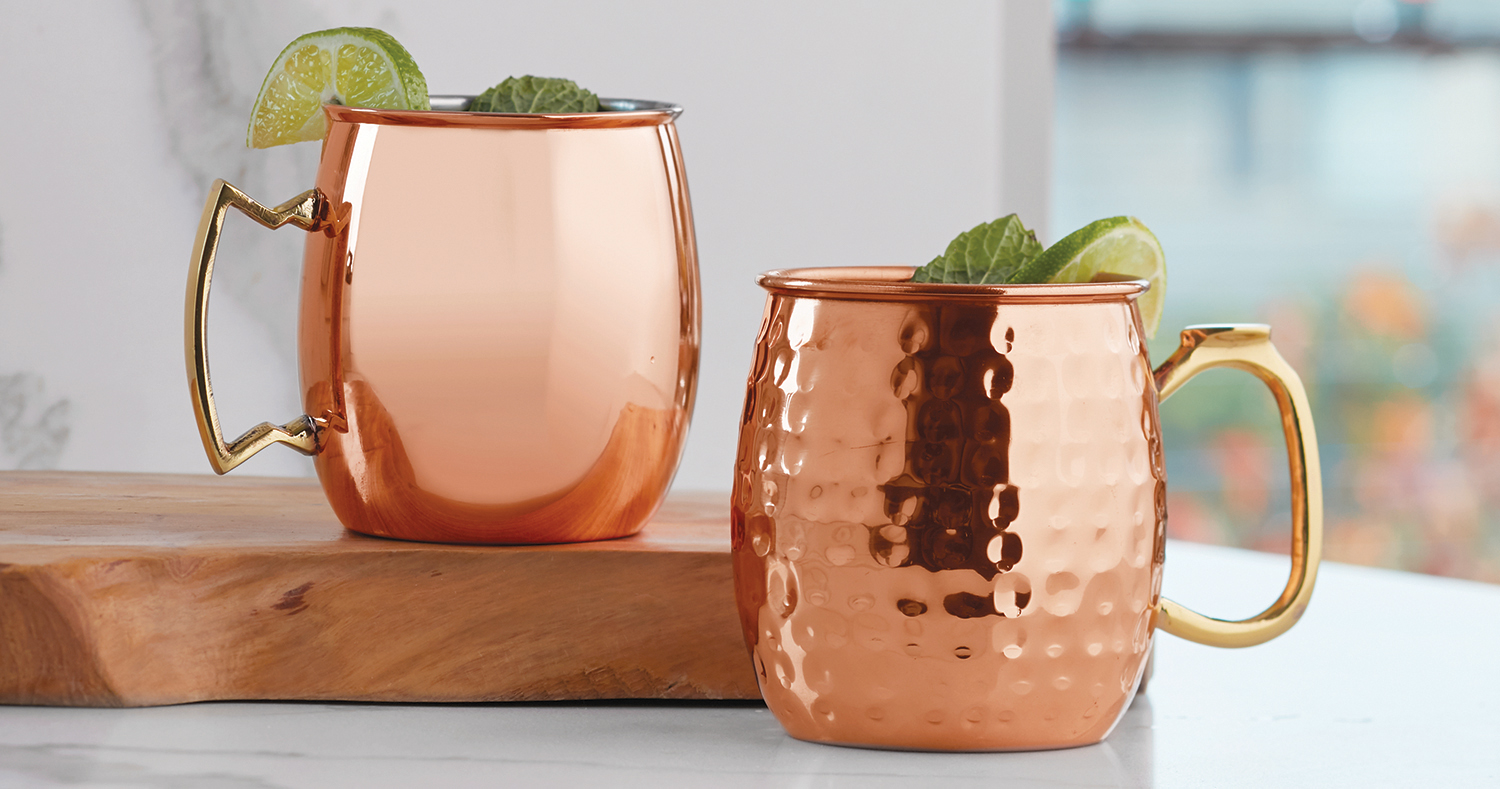 Sizzling Ginger Lime
16 oz white wine or rosé (such as Australian chardonnay)
2 oz lime juice
2 oz simple syrup*
1-inch fresh peeled ginger
Mint leaves (for garnishing)
Add wine, lime juice, simple syrup to a shaker
Add ginger to the shaker and muddle it
Fill the shaker with ice and vigorously shake it
Strain the juice into a large wine glass
Garnish with mint leaves (optional: add additional ice)
Frozen Rose Spritz
12 oz Pinot Noir
1 1/4 oz lime juice
2 oz simple syrup* (more if prefer sweet drinks)
8 strawberry slices
8 rose petals (freeze before using)
Add strawberry slices to the simple syrup and let them infuse for 30 minutes
Add the strawberries, lime juice, syrup and frozen rose petals to a shaker
Briefly muddle the ingredients
Add the wine, some ice cubes, and shake well
Strain into glasses
Garnish with fresh strawberries (optional: add crushed ice)
Mango Blend
1 bottle white wine (such as sauvignon blanc, gewurztraminer or verdicchio)
2 cups of mango (cubed)
2 – 3 cubes of ice
1 tablespoon of maple syrup or honey
Add wine, mango and ice to a blender
You can add more ice to the blender if you want a thicker smoothie
Add syrup according to your taste preferences
Garnish with squeezed mango pulp on the glass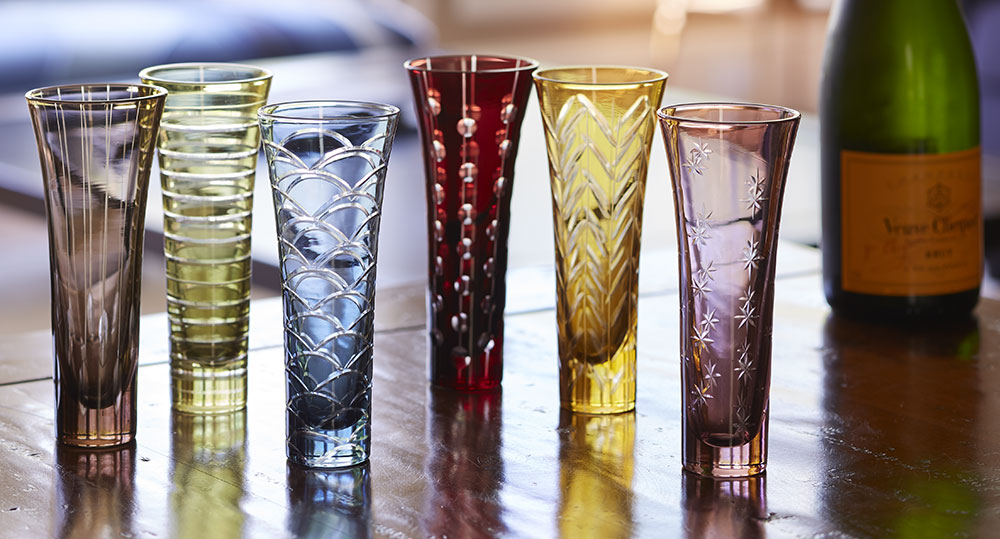 Sparkling Strawberries
1 bottle Prosecco
1 TB simple syrup*
1 1/2 cup chopped or sliced strawberries
3 lemon slices
Ice cubes
Add the strawberries, lemon slices, and simple syrup to shaker
Mash thoroughly with a muddler, then add some ice cubes and shake to unleash flavor
Add 1 oz of the strained shaker mixture to a flute, then fill with Prosecco
Optional: Add lemon zest or strawberry slice for burst of flavor
Best if all ingredients have chilled for an hour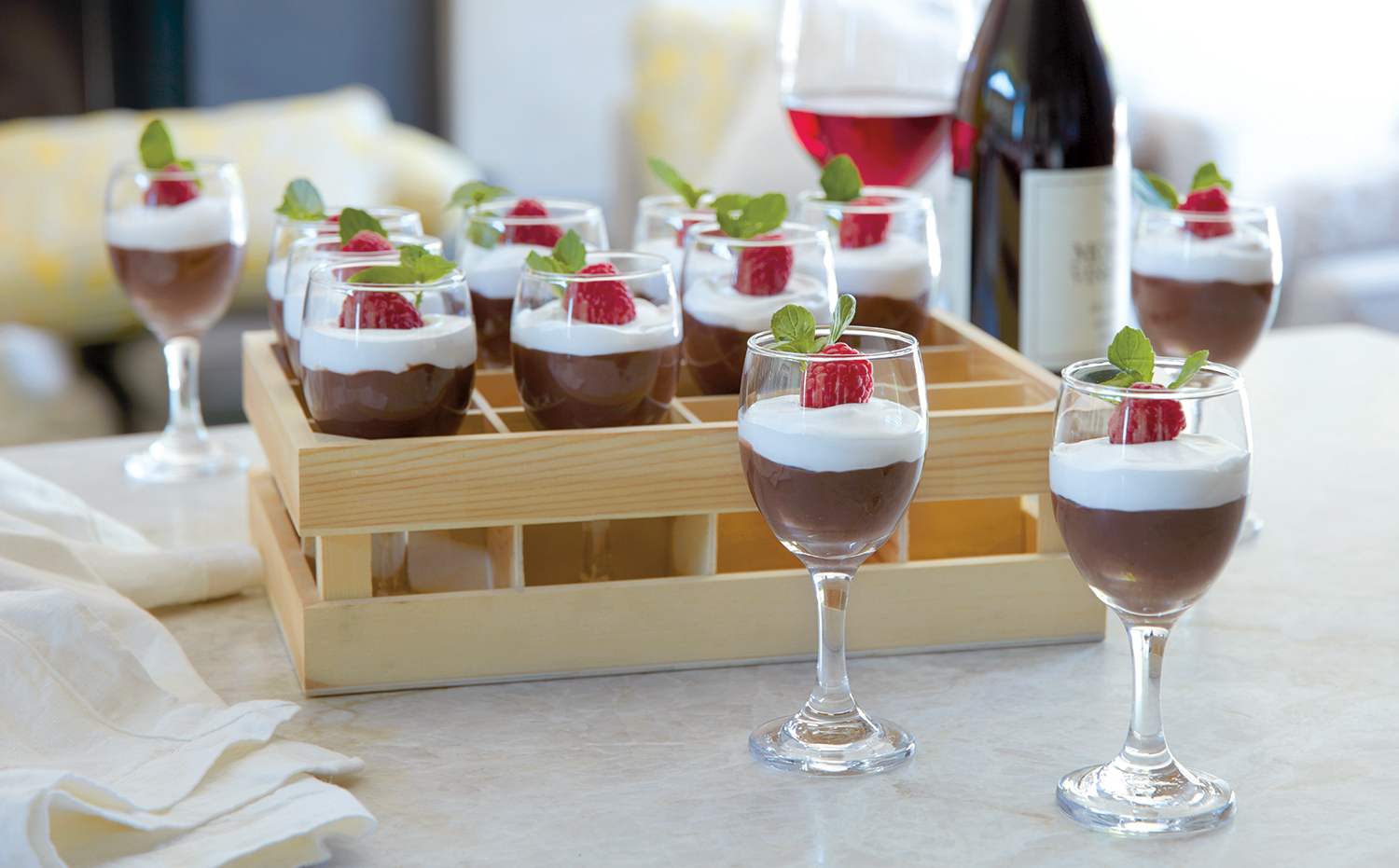 Love of Chocolate
12 oz cabernet sauvignon
1 cup milk
½ cup coconut dark chocolate chunks (approximately 1 bar)
Whipped cream
Add dark chocolate to milk and boil, melting the chocolate
Wait for the mixture to fully cool
Add chocolate syrup and wine to a shaker
Shake the ingredients well until thick and frothy
Pour into glasses and add a dollop of whipped cream to the top
Optional: Garnish with raspberry and mint
Citrus Garden Sangria
1 bottle grenache wine or rosé
2 oz simple syrup*
Small sprigs of: Thyme, mint and rosemary leaves
2 lime slices
2 orange slices
4-star anise pods
In a large pitcher, add the thyme, rosemary, mint, lime slices, orange slices and star anise; then pour in grenache wine
Chill for 4 hours to infuse the wine
Strain through a fine-mesh sieve into a large ice-filled pitcher
Add simple syrup, mix thoroughly
Garnish glasses with mint leaves
Optional: add additional ice to wine glasses
If you are dreaming of a tranquil summer, these cocktails are perfect. If some of your guests prefer more traditional cocktails, try swapping the wine for vodka or Aviation Gin instead. Whether you plan to share a laugh with friends or want to enjoy a quiet afternoon by the pool, these cocktails will make your day extra special.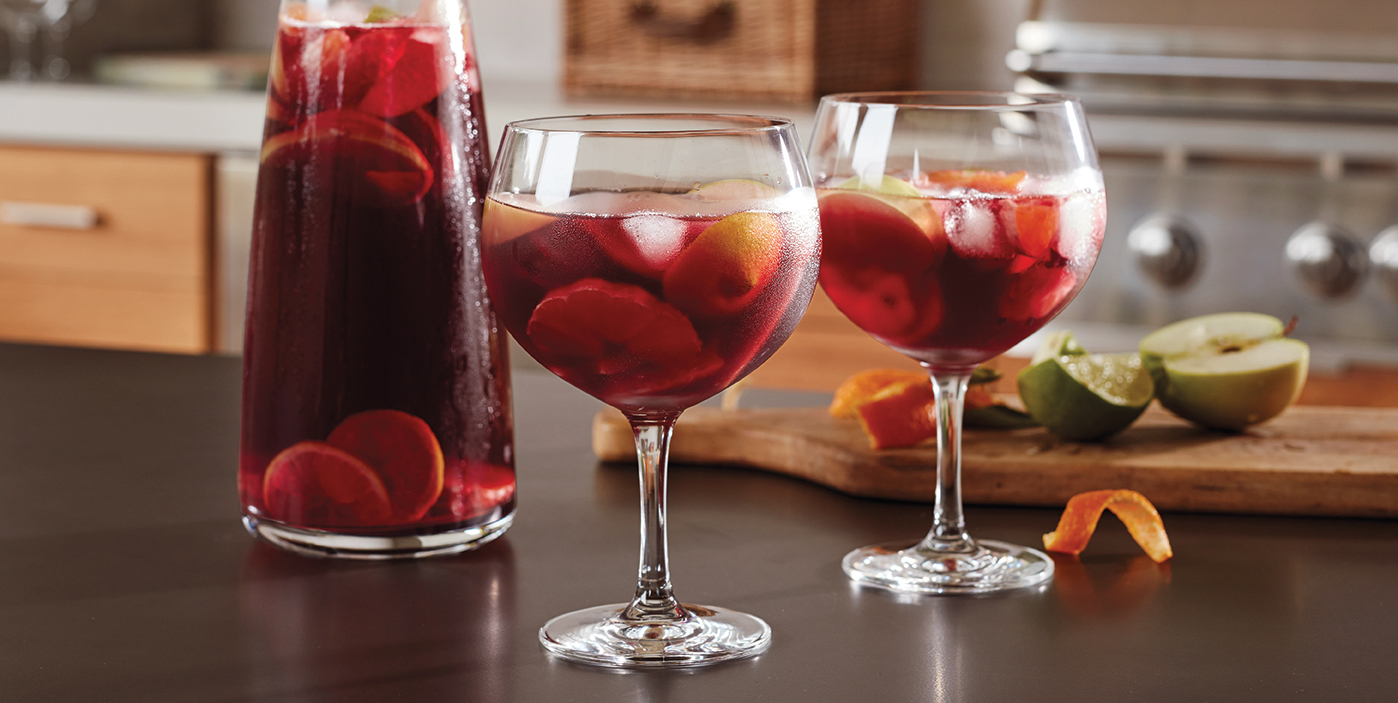 * How to Make Simple Syrup:
Boil equal parts water and sugar in a saucepan (medium-high)
Stir until the sugar dissolves, at least 3 minutes
Remove from heat, and allow it to cool into a syrup
About the Author: Rebecca Siggers has been a wine lover and blogger for the last 5 years. She's been to Napa Valley and is an avid traveler. She loves to try aged wines, dry red wine, and Aviation Gin is one of her favorite drinks. Through her writing she wants to spread love for wine all over the world.