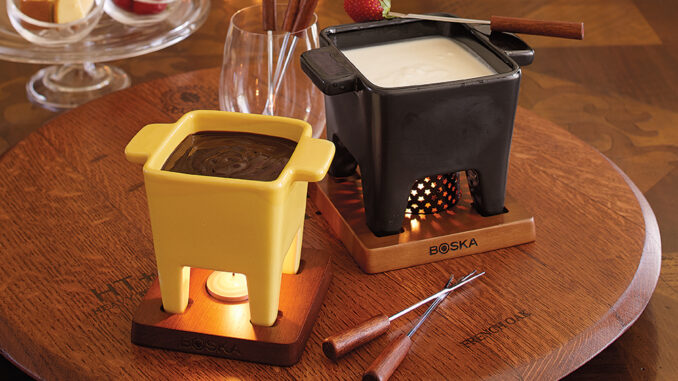 The "I" in our name stands for 'International,' so to celebrate our superior hand-picked products sourced from around the globe (plus our international shipping,) we're bringing a handful of the world's holiday traditions to you! We've got everything you need to pull off the perfect Around the World Holiday Party. Just follow these three easy steps to make mouths merry with cultural mixes of nibbles, nosh and libations sure to un-grump the grumpiest Grinches as they dance from station to station.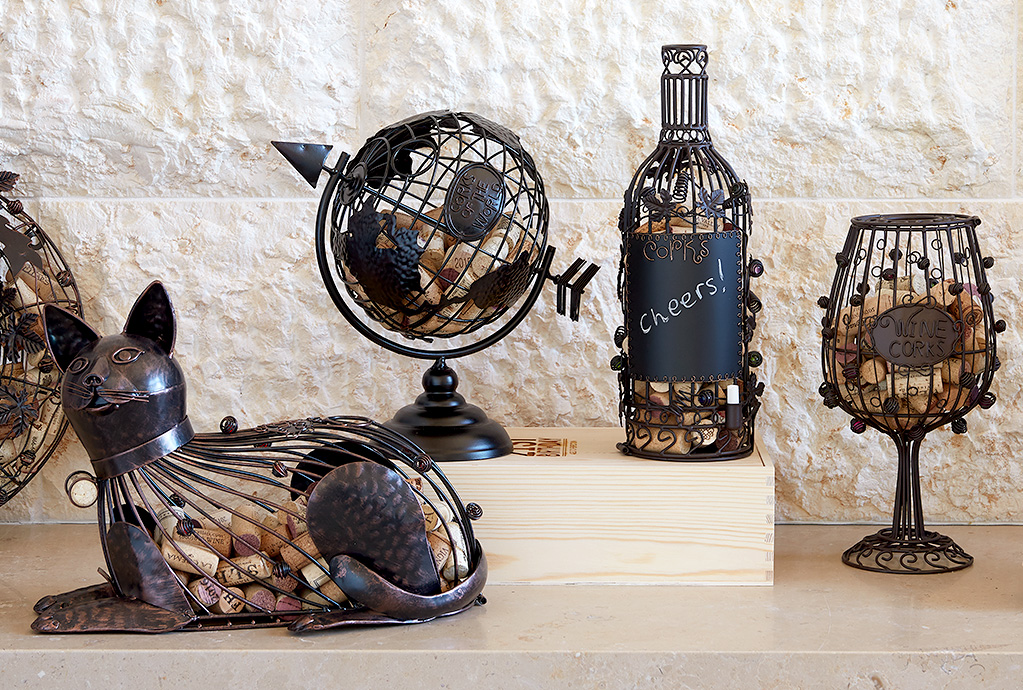 1. GUESTS CHOOSE COUNTRY IN ADVANCE
Feel free to start with our six handy country-helpers below, but customize and add your own favorites! Once your list is final, divvy up one country per guest, couple or group. Each prepares and sets-up their country's Tasting Station at the big event.
2. HOSTS, REMEMBER THE BASICS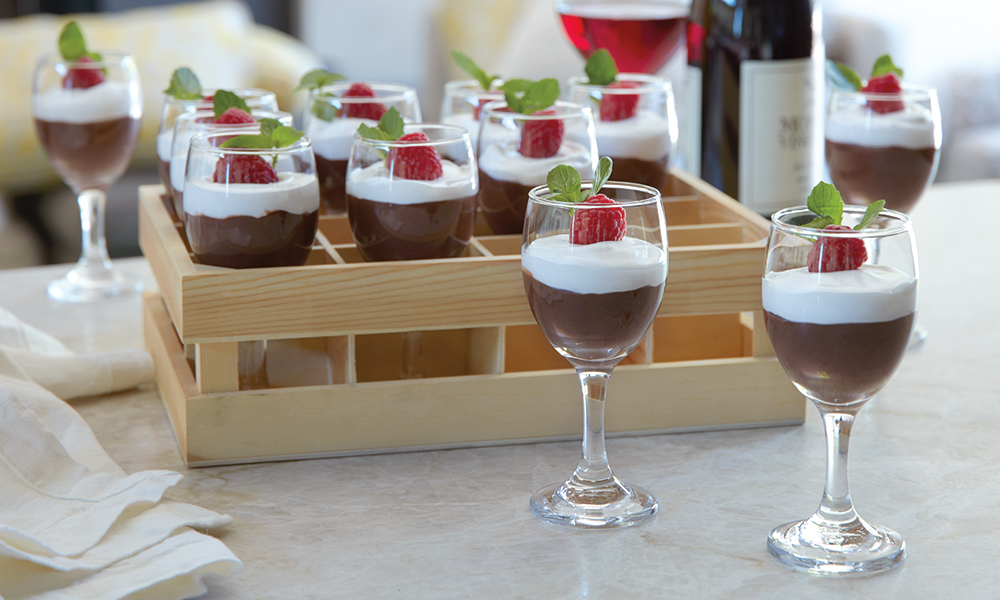 GLASSES & WINE MARKERS
IWA's set of twelve mini wine glasses conveniently packed in slotted wood crates provide the perfect sip-size for country-hopping. To avoid separation anxiety, let guests personalize glasses using handy, washable wine markers.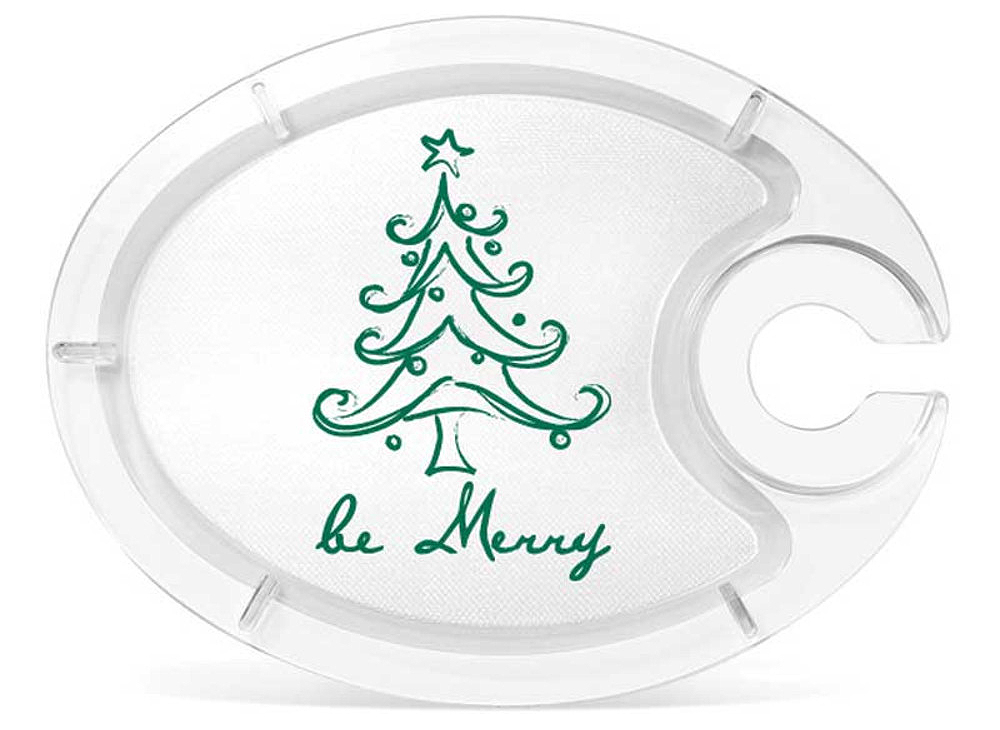 PLATES
Re-usable buffet plates come with a hands-free glass cradle so guests can pop tasty morsels into fun-loving faces without juggling. Choose from 7 styles in two sizes.
3. SET-UP
Arrange tasting stations with each country's bites & bevys around a large table; or in different areas of multiple rooms! Each Tasting Station can be decorated in cultural traditions or feature fun factoids about celebrating the holidays there.
And now, the fun…
ITALY
Countless regional customs occur starting December 8, the Feast of the Immaculate Conception, through January 6, the Epiphany. Deluxe Nativity scenes and unique mercatini di Natale, (holiday markets) are everywhere. A light seafood meal is shared among close family Christmas Eve before the belly-busting gang's-all-here feast on Christmas afternoon, plus another on the Epiphany. To welcome the Big Day, Northern Italians get to choose between contemplative Midnight Mass or adventurous skiing down a mountain bearing torches.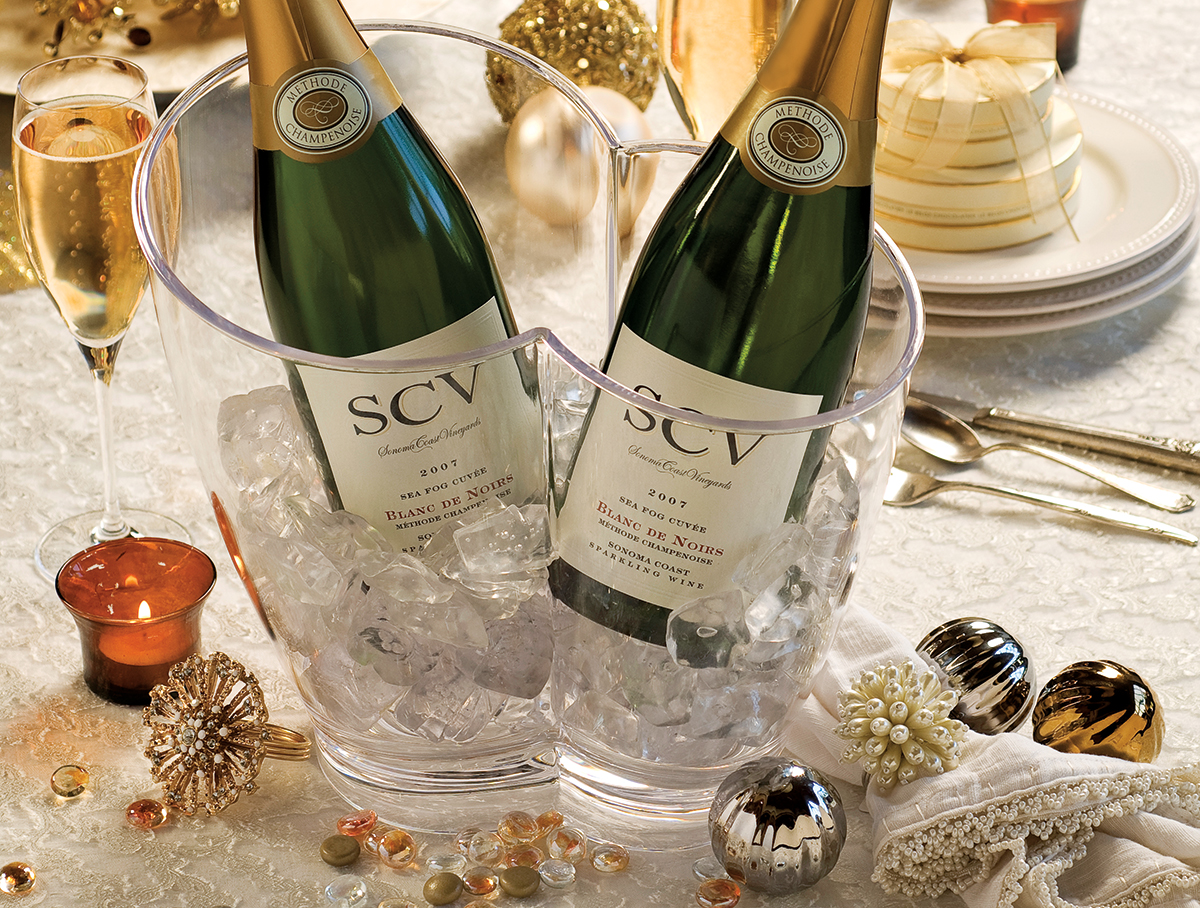 Wine Choices
Arneis from Piedmont: look for labels: Vietti, Ceretto, Bruno Giacoso, or Castello di Nieve.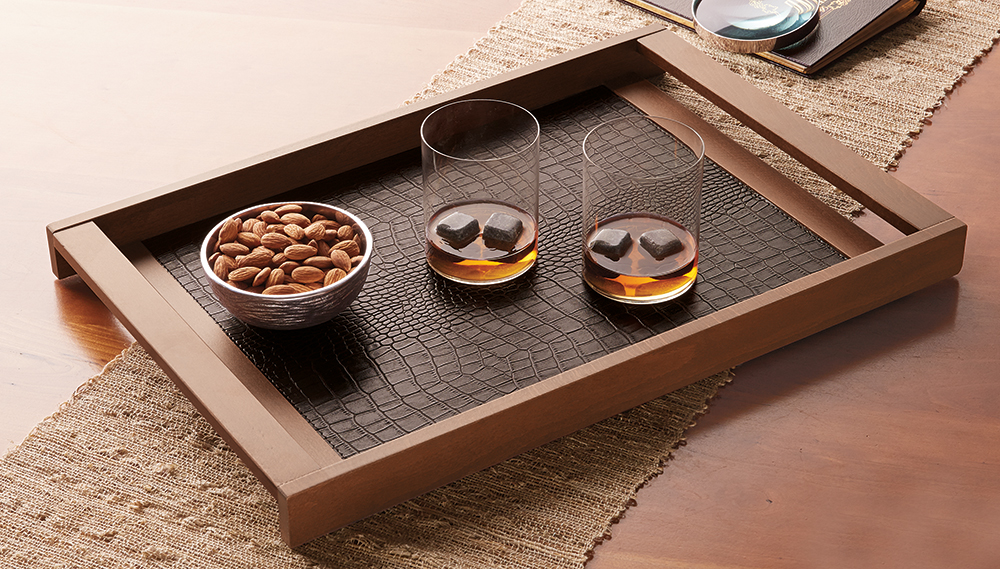 Holiday Food Pairings
Venetian bacaros (wine bars) offer Cichetti (chi-KET-ee): small bites just right for parties.
Slice up loaves of rustic bread. Spoon Artichoke Dip onto half of the slices and arrange for easy-grabbing on our handsome, waterproof, large Milano serving tray of rich wood and faux-crocodile.
Place the remaining slices on the smaller tray with a bowl of Baccala Mantecato (whipped salt cod spread) and a spreader.
View the full recipe.
ARGENTINA
Houses are heavily decorated with lights and wreaths of green, gold, red and white flowers. Red and white garlands are hung around doors. Trees are liberally decorated with cotton balls to simulate snow. On Christmas Eve, adults dance and party with friends at homes or boliches (discos) while children watch multitudes of fireworks. After midnight, the sky fills with floating 'Globos' much like colorful Chinese lanterns.
Wine Choices
Argentina boasts the largest Malbec acreage in the world & Sauvignon Blancs are showing strong, too.
Holiday Food Pairings
A typical Argentine Christmas feast includes a variety of barbecued meats, (Asado or Parrillas.) Country ambassadors can prepare their choice of grilled proteins and pair with another staple, Stuffed Tomatoes. View the full Recipe.
SPAIN
In the land of flamenco guitar, most Spaniards attend Midnight Mass—La Misa Del Gallo, or 'Mass of the Rooster'—an homage to the rooster that crowed when Jesus was born. Meanwhile, every village, town, and city explodes with completely different spins on base holiday traditions. Gifts aren't opened until January 6th, honoring the 2000 year-old visit by the Three Kings with their gifts to the baby Jesus.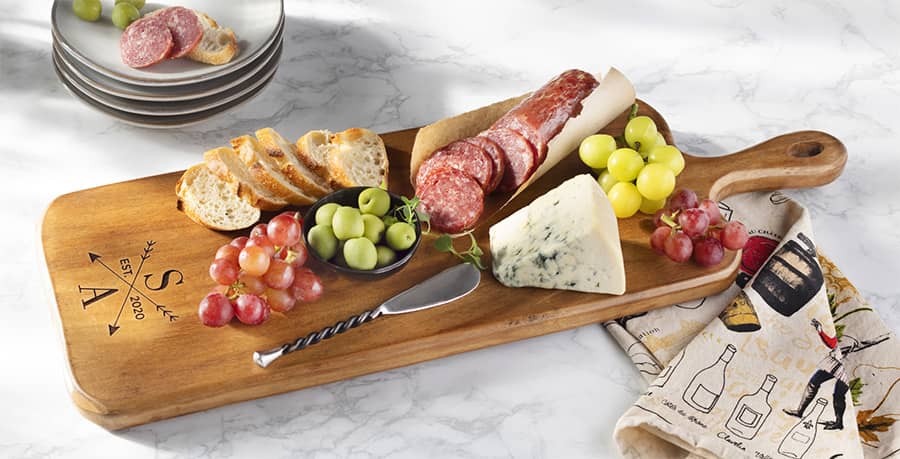 Wine Choices
Garnacha Blancas and red Riojas are excellent options with holiday bites.
Holiday Food Pairings
During the winter, the land of tapas (not pintxos of neighboring Basque,) turns into a dessert-lover's paradise. Here are two wine-friendly ones, along with two of Spain's tastiest wine-friendly cheeses:
NETHERLANDS
The last Saturday in November, Sinterklaas arrives by boat dressed in red bishops' robes, then travels across the country on a white horse called Amerigo. However, Sinterklaas doesn't live at the North Pole; he hails from Spain! Good children leave a shoe out for him to fill December 5th, along with carrots or hay for his horse; and naughty children are left to worry whether they'll have to return with him on his boat back to Spain.
Wine Choices
Delicious traditional Dutch Glühwein is significantly more peppery than other mulled wines:
2 bottles fruity red wine (such as shiraz)
3 cinnamon sticks
½-1 teaspoon each, freshly ground nutmeg & black pepper
1 to 2 cardamom pods or 1-2 aniseed stars
1 teaspoon grated orange rind
2-3 tablespoons brown sugar
1) Heat wine in large pot over very low heat (do not boil) 10 to 30 minutes. Add spices. Gradually add sugar, whisking very gently. During last 3 to 5 minutes of mulling, place orange rind in an herb infuser (or tie in cheesecloth) and add to pot.
2) Cool to a safely warm sipping temp; ladle into glass with thin wedges of orange or an aniseed star.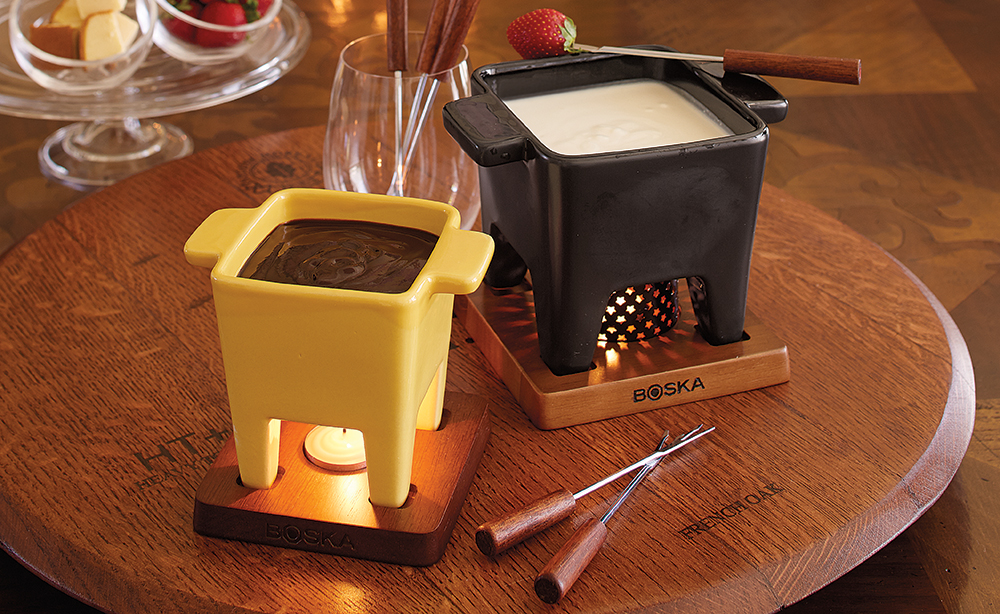 Holiday Food Pairings
Indonesian cuisine is second-nature to the Dutch, and Babi Ketjap delivers for a crowd! Substitute whole mushrooms, tofu or tempeh for a vegetarian option. Babi Ketjap Recipe.
FRANCE
The Franche-Comte region is about twenty minutes from the Swiss border. The city Montbéliard hosts Lumières de Noël, one of the most enchanted and illuminated Christmas markets in all of France, absolutely drenched and dripping with lights. Themes rotate each year and the town really gets into Santa's arrival.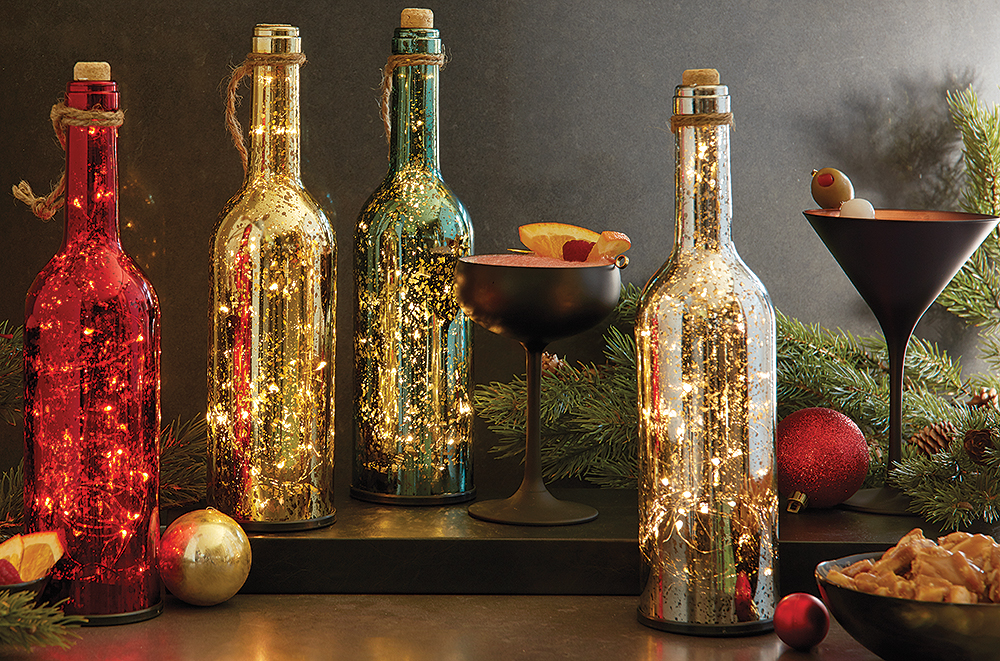 Wine Choices
Try one of Jura's famed "straw wines" (yellow-tinted whites.) Prefer reds instead? If favorite retailers don't carry Franche-Comte options, swap in neighboring Burgundy's pinots. (Franche-Comte is also known for eau de vies, absinthe, and kirsch.)
Holiday Food Pairings
Montbeliard's famous pork sausage is smoked in large pyramids, called tuyés, using different types of fir sawdust from nearby Jura mountains. If you can't procure near you, substitute other heavily-smoked sausages, but at least cook them the French way: first un-pricked in milk with potatoes and thyme or bay leaves, then oven-warmed or grilled. Slice. When looking for delicious comte cheese, look for "AOC" and a bell on the label; it ensures authenticity.
JAPAN
Family gatherings and presents dominate the New Year, a much bigger deal in Japan than Christmas Eve, which is treated more as a friends-and-couples' holiday, (kind of a New Years-meets-Valentine's Day.) With 'lite' gambling now legal, revelers have even more ways to celebrate! That said, Japan loves its December "illuminations"—elaborate public light displays throughout the country's cities. Tokyo's own Christmas Market is so popular, it's actually sponsored by the German Tourism Association and German Embassy!
Wine Choices
Assuming you don't have a secret stash of the latest sommelier phenomena, Koshu wines, premium sake makes an excellent pair for Japan's Christmas bites. As a special occasion, stick with just two premium types: Junmai-shu, which is pure rice sake, or Aru-ten, which adds alcohol during fermentation. Leave the table varieties for less festive gatherings.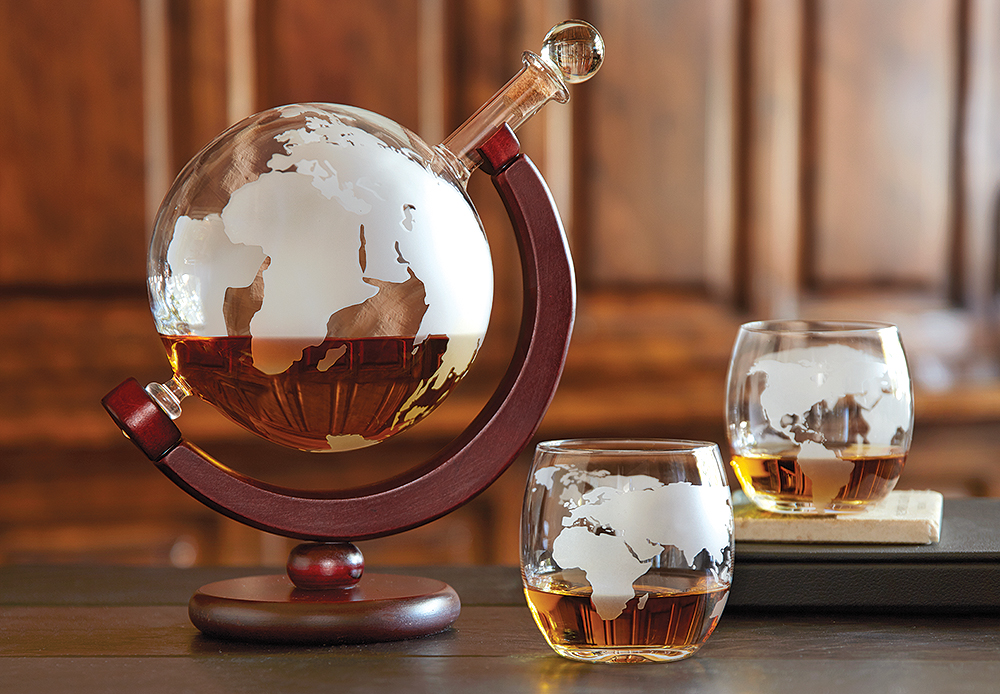 Of course, if you're just not into sake, Japan turns out whiskeys that rival the best whisky in the world! There is nothing like a few sips of special spirits to toast the holidays.
Holiday Food Pairings
Believe it or not, Kentucky Fried Chicken has been a Japanese Christmas tradition since the 1970s! Bring buckets of the Colonel, or better yet, whip up fried chicken bites of your own.
"Kurisumasu keki" is sold as 'Christmas Cake' everywhere in Japan. Essentially, it is strawberry shortcake made with a light vanilla sponge sheet-cake. Just layer real whipped cream and fresh strawberries between two pieces of yellow spongecake cut into finger-friendly squares and top with the same.
There are ten articles' worth of holiday traditions but we have to stop somewhere! Hopefully we've got you thinking about your own Around-the-World Holiday Party and how easy it is to count on IWA to deliver the decor and entertaining accessories you need. We'll close with a few inspirational ideas, but don't be shy – we'd love to hear about your ideas, too!
Christkindlestmarkt, Nuremberg, Germany
Viennese Christmas Markets, Vienna, Austria
Advent Season, Zagreb, Croatia
Portugal's obsession with oranges and desserts, such as Bolo Rei
Hungary's Forralt Bor
Sweden's Glogg
England's Christmas addiction to Port with Stilton & Cheddar cheeses, or Oloroso Sherry paired with Sticky, Treacle, & Figgy Puddings. (In Victorian England, a spot of tea added to a glass of mulled wine was dubbed "Christmas tea.")
Seattle-based writer, Lori Stevens, has traveled the world's wine regions and concludes that Northern Hemisphere wine countries offer unparalleled holiday sights; but the Southern Hemisphere's wine regions offer unmatched holiday weather!