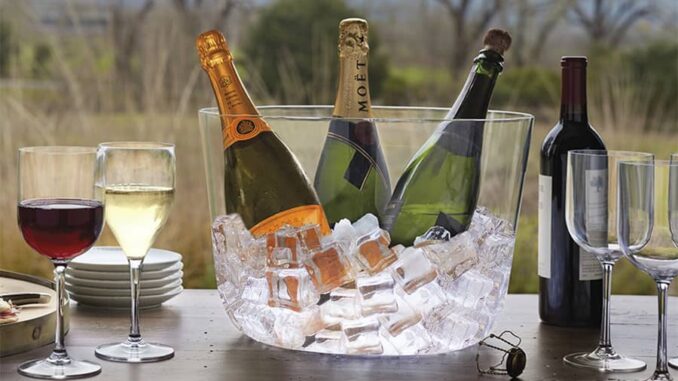 Take entertaining outdoors this spring and summer! Begin with the basics:
Quickly clean the area that you plan to use, removing any dust or pollen.
Rearrange your furniture to optimize a safe, lively gathering.
Consider how guests will flow, from picking up drinks to plating their food and finding a comfortable place to relax.
When decorating, choose a specific color scheme for the event. Is it an Easter brunch? Use pastels like blue, lavender, yellow and green. Is it a 4th of July BBQ? You can't go wrong with red, white and blue.
Consider the time of day that the party will take place. If it is early evening, make sure there are plenty of throw blankets available to keep warm. When gathering on a hot summer day, use wine chillers or ice buckets to keep wine chilled.

Keep up to 4 bottles properly chilled in this break-resistant acrylic tub, and use the removable rechargeable LED light base to brighten your party. Each charge lasts up to 4 hours. Tub is made in Italy.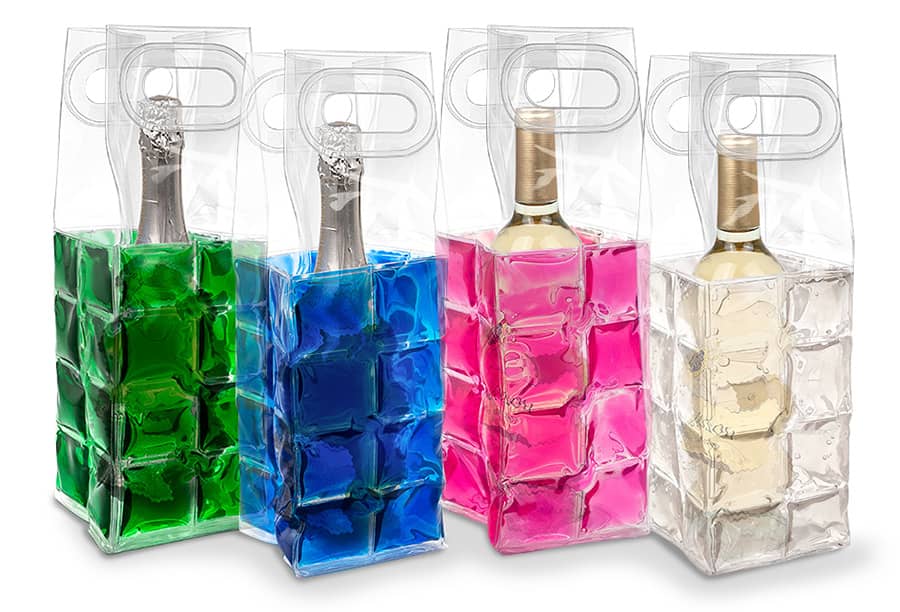 These colorful chillers are made with a special gel material that can be cooled. Just leave them in your refrigerator for 15 minutes and they will be ready to use. If you are planning to transport wine out on a picnic or to a friend's home, this will keep the bottle protected and chilled!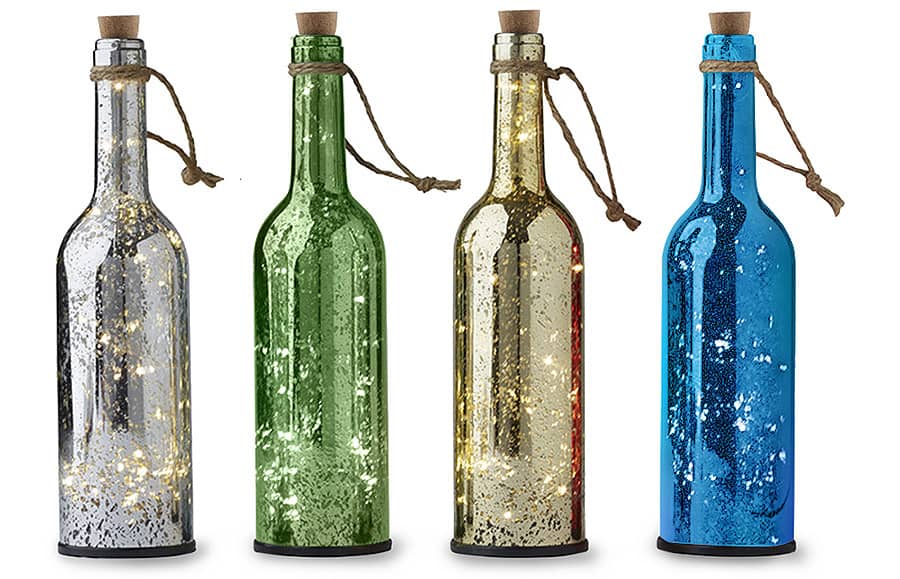 Spring and summer celebrations will sparkle with our set of 4 painted bottles, each brightly lit with a string of LED lights. All sets include 1 bottle each of gold, silver, green and blue. Powered by 2 AA batteries (not included.)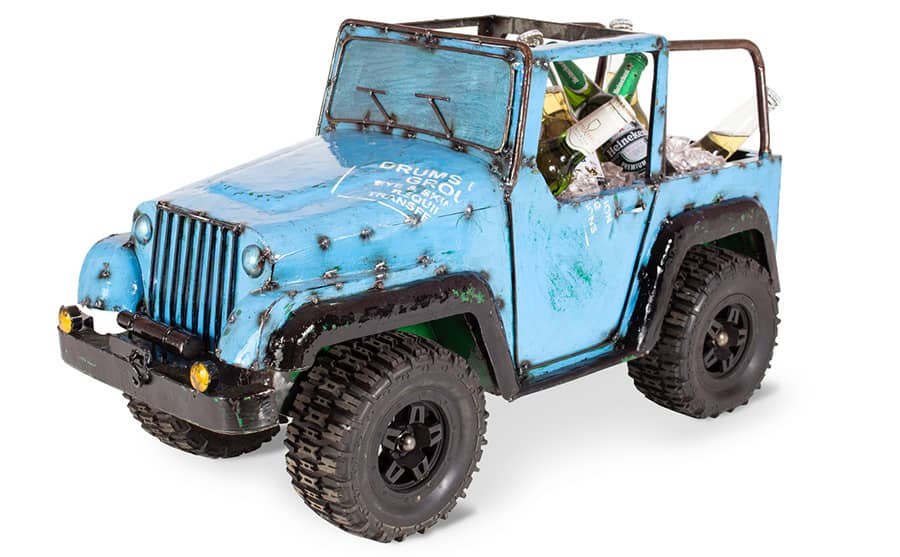 Roll your drinks to the party in these classic truck coolers. Made from 44-gallon recycled steel barrels, each cooler includes an insulated tub and a drain for easy cleanup. Working rubber wheels provide easy movement and mobility, and the cooler top is hinged for open and closed positions. Holds 4 gallons.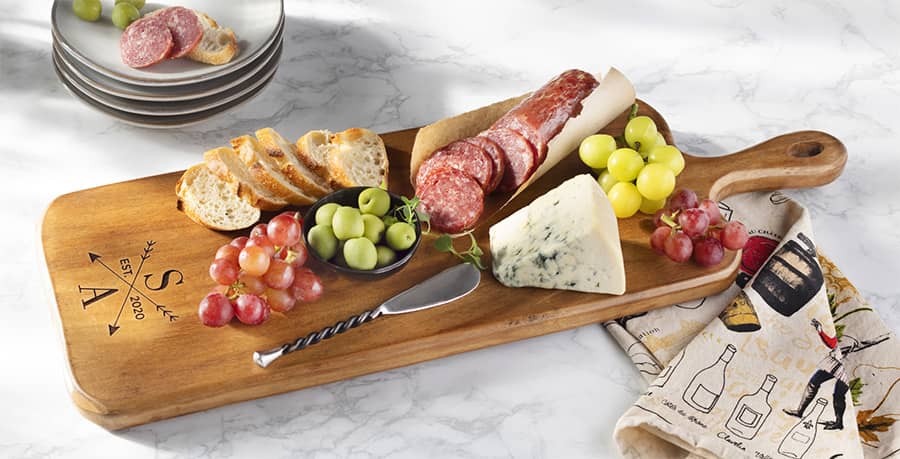 Handmade from natural Acacia wood, our cheese board is thickly cut and shaped like a paddle. Finished with food-safe beeswax and mineral oil. Personalize with your choice of laser etched designs.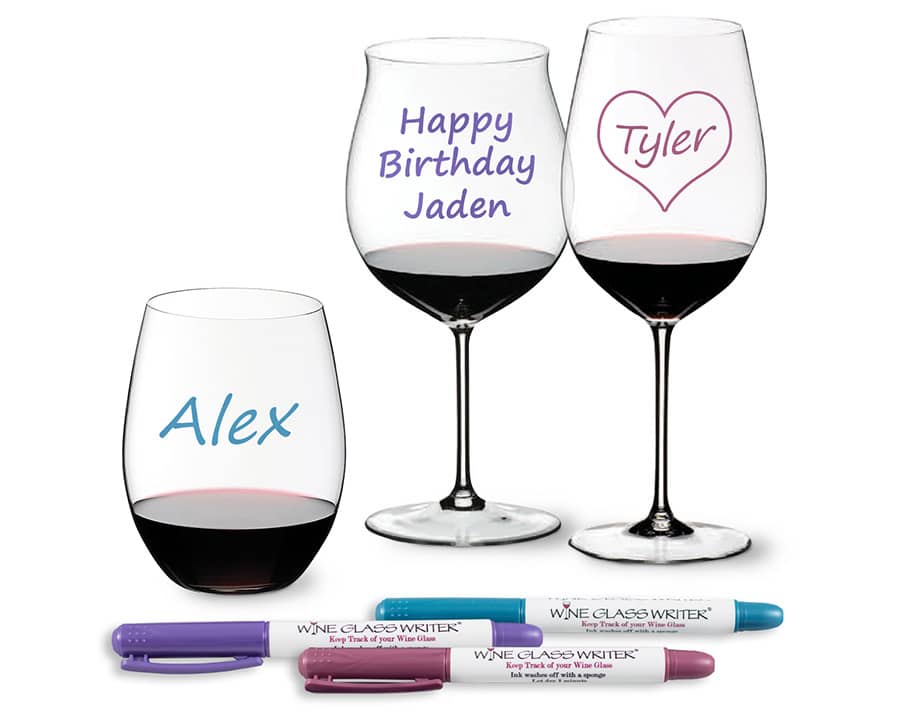 Write a name, draw a picture or send a message on most glass surfaces with our non-toxic pens. Our special ink dries in 2 minutes, won't smudge, and washes off with soap and water. Celebrate spring with this set of purple, blue and pink colored pens.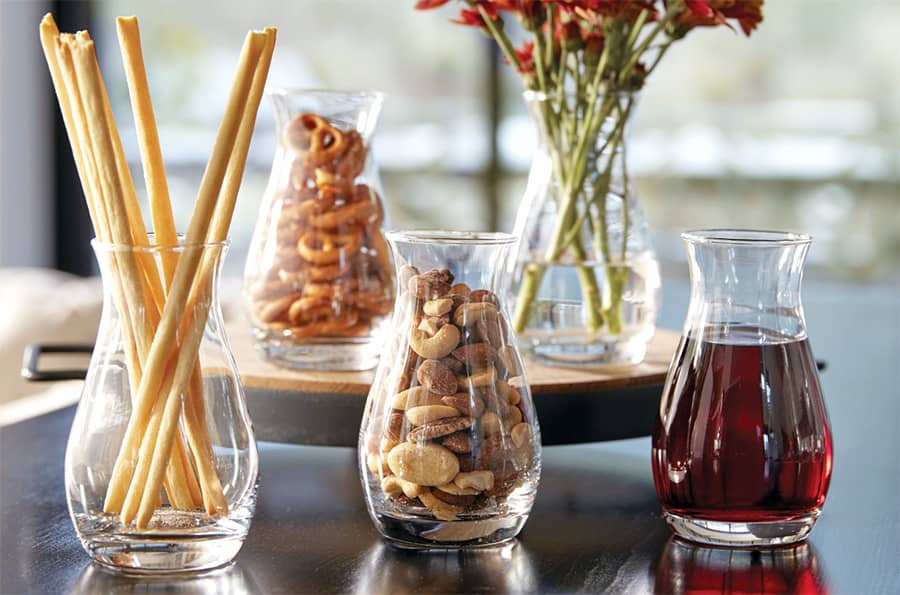 These versatile lead-free mini glass decanters can be used for wine tastings, snack mixes, even as flower vases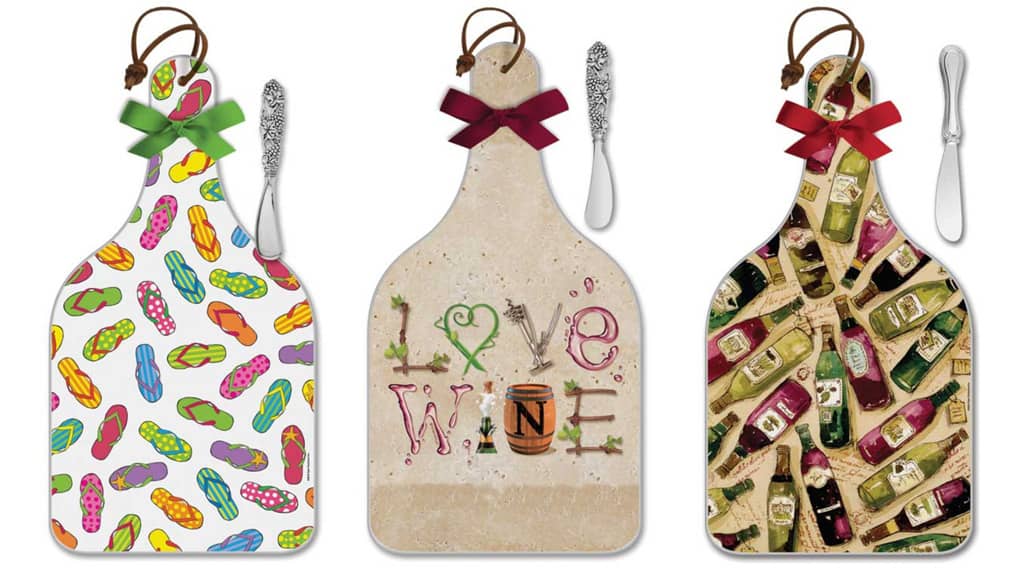 Serve multiple large cheese portions on its roomy cheese board. Set includes glass server and a handsome nickel-plated spreader that won't tarnish. Use for serving or as adorable decor in the kitchen, with a leather hanging loop attached to the server.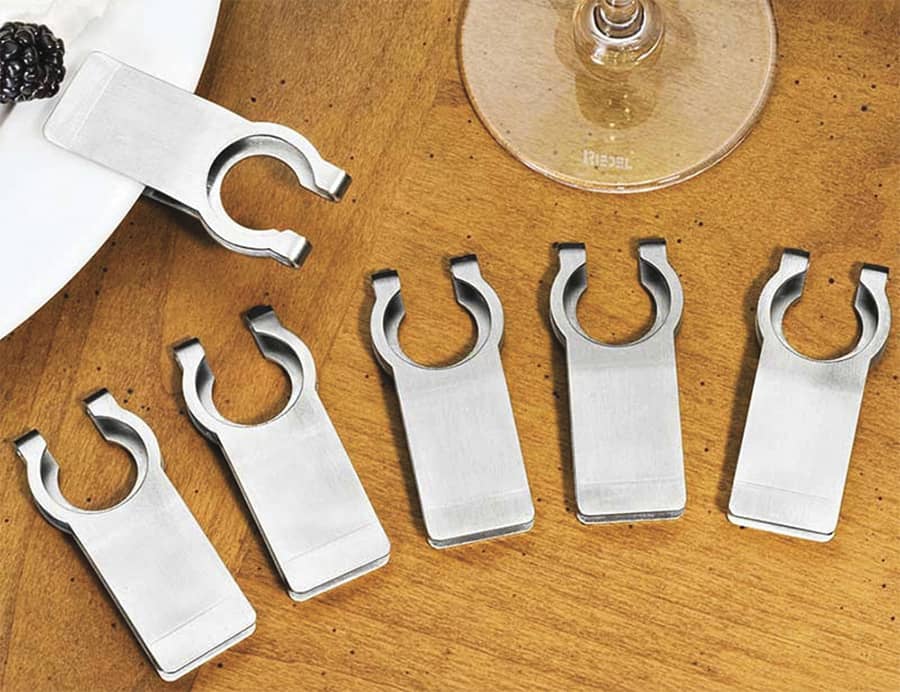 Hold a plate and a wine glass with just one hand using our stemware plate clips. Made from brushed stainless steel with a rubberized inner surface to grip the plate. Set of 6.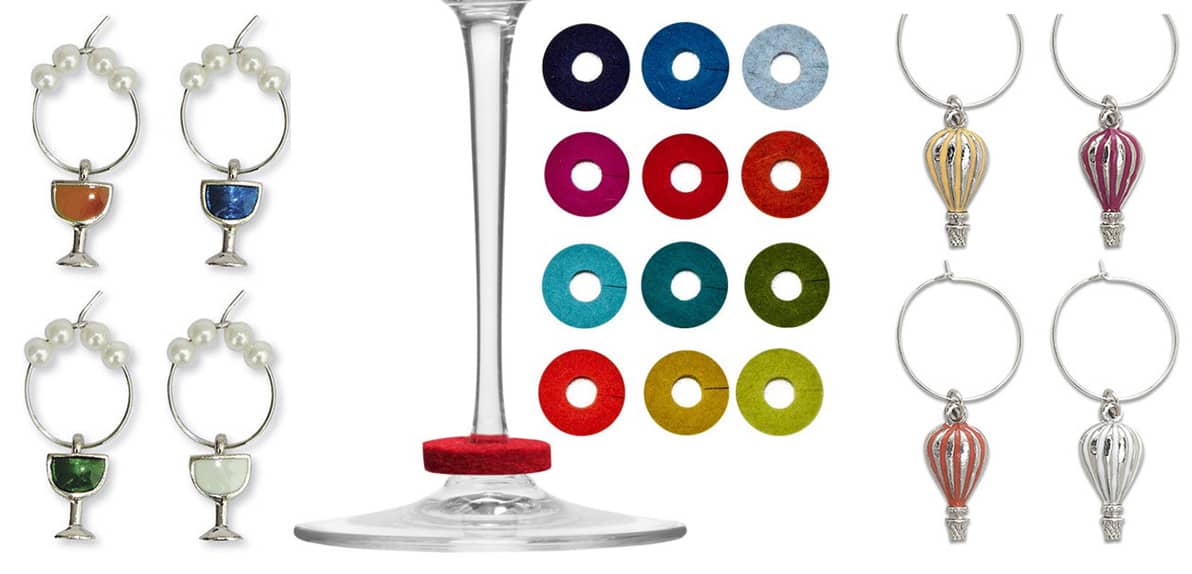 Keep track of each guest's wine glass with our impressive range of wine glass markers. Also called charms, tags or labels, these stylish wine accessories allow you to customize your glasses while making it easy to identify them.

Guests will love these whimsical napkin designs. Each set includes six packs of twenty 3-ply napkins each (120 total), so there will be no shortage to choose from.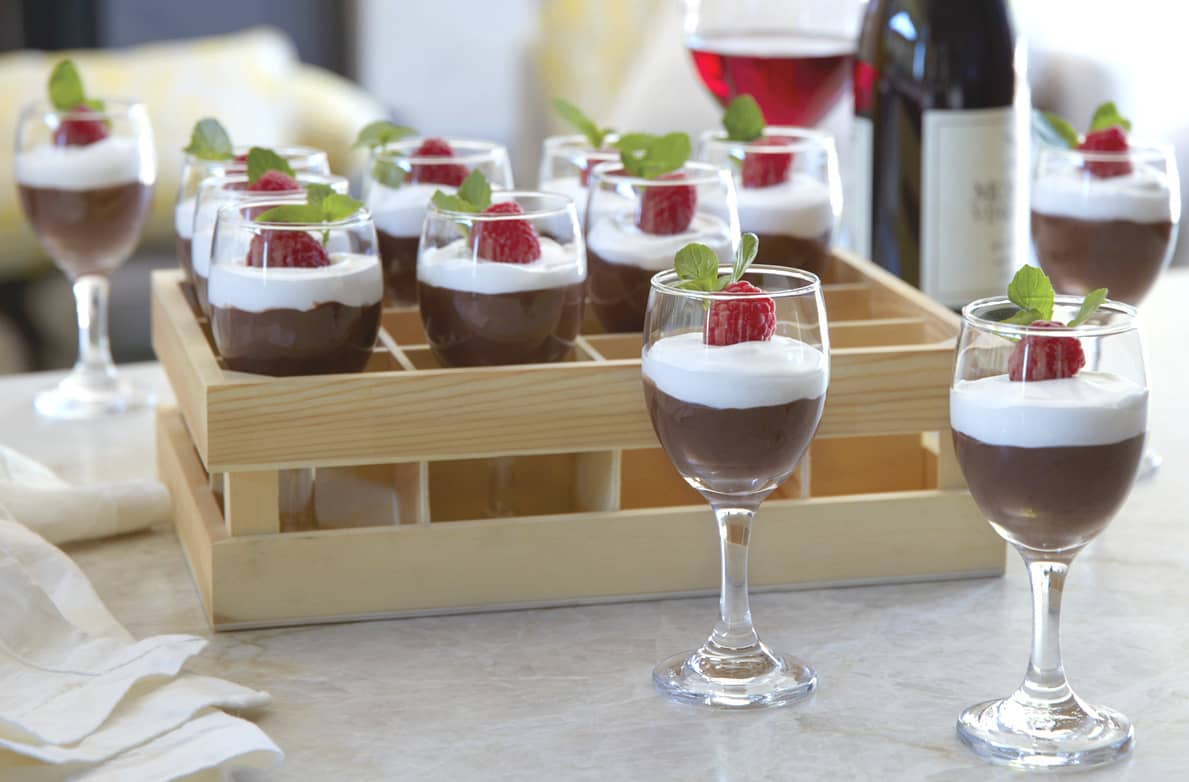 Our mini wine glasses can be used for small pours, for wine tasting events, and to serve snacks and desserts. The set includes 12 glasses and a wood storage crate with individual slots for each glass.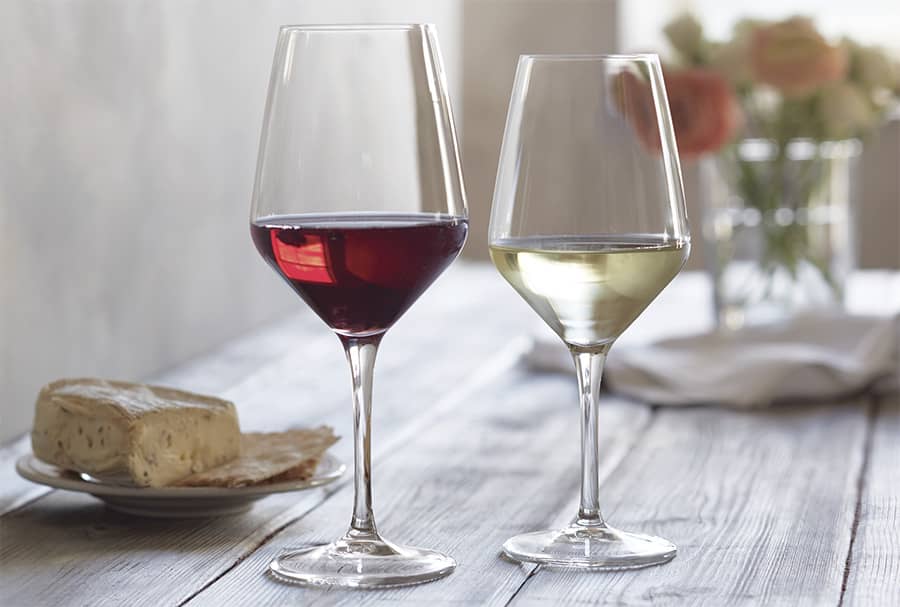 Made in Europe from lead-free crystal, these wine glasses feature laser-cut rims and pulled stems for outstanding performance, beauty and durability. Dishwasher safe. Set of 6.