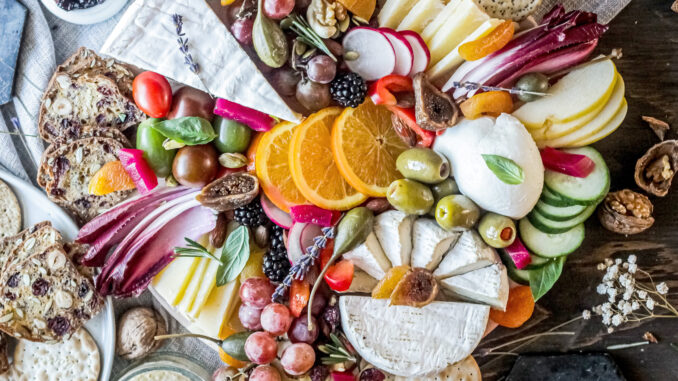 You don't need to hire a catering company to enjoy a delicious charcuterie board! It is simple to make one yourself at home, as a staple for gatherings, special occasions and wine-focused parties. Charcuterie (pronounced Shar-Koo-Tur-Ree), refers to a display of cooked and cured meats, fruits, vegetables, cheeses, crackers, dips, nuts, pickles and other assortments such as deviled eggs or cob loaves.
Perfect For Parties
Guests can create their own plate by choosing from a range of food choices, prepared as a delicious and aesthetically pleasing serving board presentation. The first thing you need to think of when planning a charcuterie board is who will be attending. Check with your guests to ensure that you are not mixing fresh fruit with nuts for someone with a peanut allergy, for example.
Are there gluten-free, vegetarian or vegan friends planning to come? Make sure you eliminate (or serve separately) any choices that may conflict with dietary requirements. Perhaps consider 2-3 smaller, themed charcuterie boards (such as vegetarian) rather than 1 large display.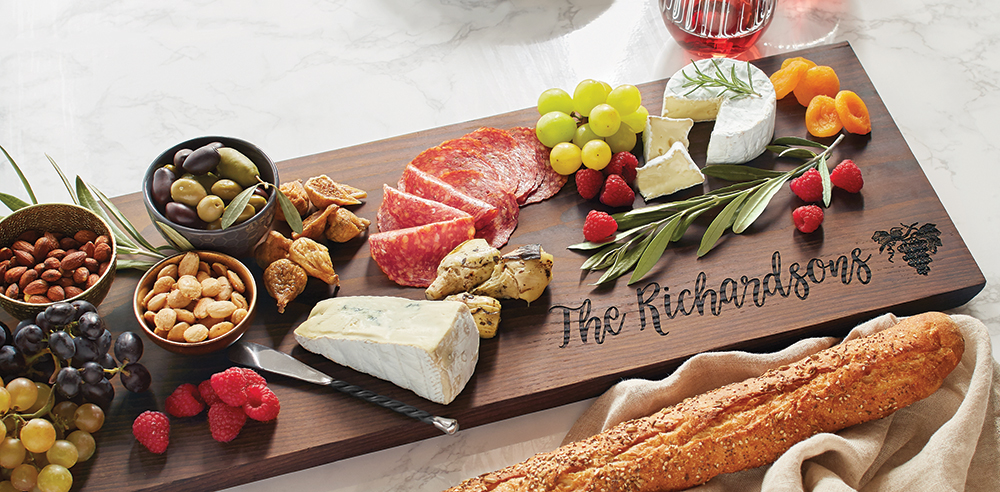 Choose Your Selection
Cooked and Cured Meats:
These should include hard salamis, prosciutto, speck, mortadella, smoked ham and chorizo. You can also add more unusual choices such as shredded chicken, meatballs, oysters or prawns.
Cheeses:
The assortment of cheeses should work well with the other items on your board (as well as wine you plan to pour). Examples include Brie, Camembert and blue cheeses. Include hard cheeses such as cheddar, Gruyère or Gouda. For zesty flair, add Parmigiano-Reggiano and pecorino.
Dips:
Some of the favorites include French onion dip, Mexican bean dips, quince paste, garlic aioli and sriracha mayonnaise.
Fruit and Vegetables:
Look for light and crisp items that are easily eaten with fingers, not making a mess. The most popular include carrots, celery, olives, strawberries, blueberries, kiwi, cherries, oranges, figs and bell peppers. For an especially flavor-packed board, include corn relish dip.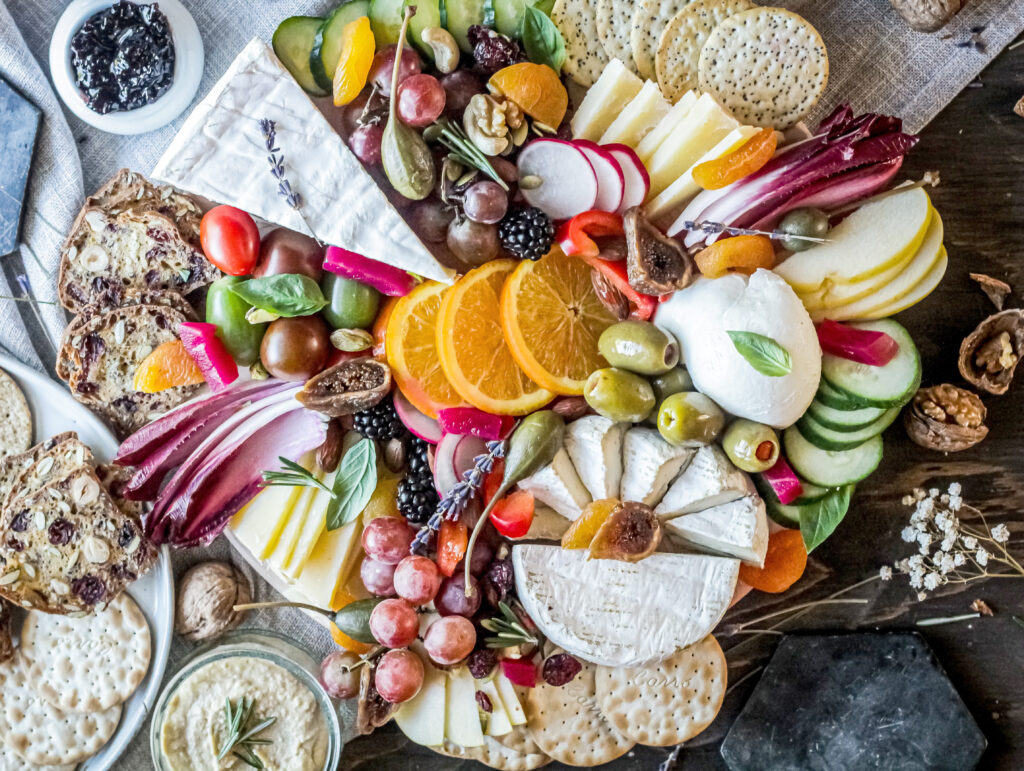 Nuts, Crackers & Bread:
Each charcuterie board should include a plentiful array of options, from grain-filled crackers to sourdough Vienna. Your guests will go through these delectables faster than you would think, especially an assortment of salted nuts!
Extras:
This is where you can add unique flair to your entertaining. The options are endless, as long as it can be classified as finger food. Do your guests have a sweet tooth? Add chocolates, muffins or tiny cupcakes. Do you have a game day party coming up? Nestle in traditional appetizers like Deviled Eggs, bacon and spicy chicken wings.
Planning Your Design
Arranging your presentation is half the work, but also half the fun! The objective is to create an aesthetically pleasing smorgasbord, clustering complimentary items (don't place kiwis next to crackers, where the juices will be absorbed). Think about what guests will likely be eating together, such as hard cheese with preserves or dried fruit. It needs planning!
The best way to structure your board is by placing the cheeses down first, roughly placed around the board, and working the other food selections in around them, leaving some space. If you are using wheels or large blocks of cheese, ensure that a few slices have been pre-cut alongside a specific cheese knife to prompt guests to cut their own cheese. These wedged pieces will also add to the depth and texture of the finished board.
Once you have your cheeses arranged, it's time to add the condiment and dip bowls. Place them around the board, with plenty of room left over, to ensure that the meats, fruits, vegetables, crackers and bread can be placed comfortably, next to the dips that compliment them. Guests should not need to hunt for the condiment that matches their selection.
Thinly sliced meats such as salami, Chorizo and Prosciutto should be grouped together in areas across the board, you can fold salami slices in half and cut the Chorizo diagonally for a more interesting appeal. Arrange the rest in a collage of delicious options, mixing colors across the board. For larger extras, such as the cob loaf, arrange it at the end or on a corner.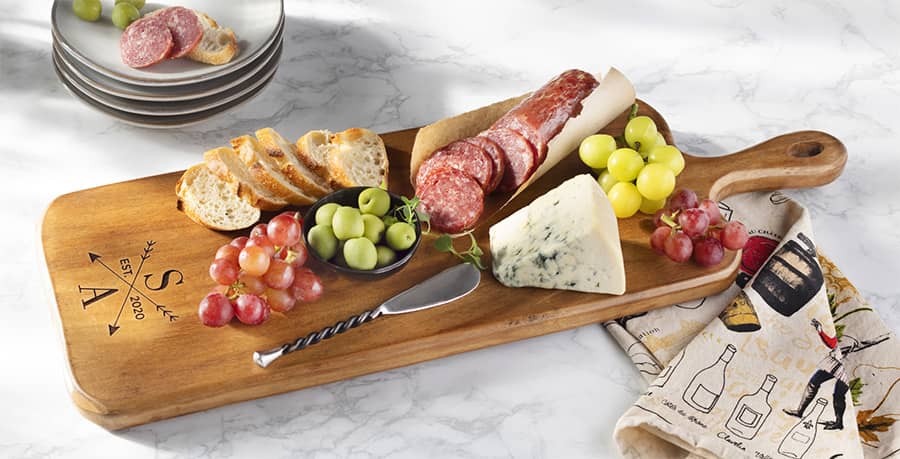 A Dish to Dazzle Diners
Serve your charcuterie board almost immediately after crafting, to ensure everything stays fresh. Offer toothpicks, napkins and an assortment of cheese knives and serving cutlery alongside it. This not only assists in keeping the food sanitary, it also helps when transporting items across the board, so everyone gets the most out of the experience.
Do you need more themed charcuterie ideas? Check out our Beautiful Boards Hardcover book.
Thrill your friends and family with this delicious, party-friendly option bursting with versatility and flavor that will have your guests talking for months!
About The Author: Leah Frazier is a passionate author who lives on a farm in the heart of the Hunter Valley, Australia's iconic wine-growing regionin New South Wales, with her husband and five children. Leah enjoys reading a good book with a glass of Shiraz and a cheese platter close by!