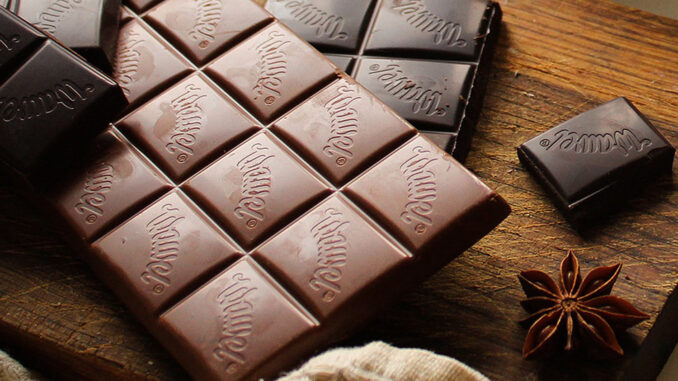 Chocolate punctuates many major holidays, like Valentine's Day, Easter and Christmas, so it is a good idea to know how it pairs well with wine. Finding the right varietal for the right type of chocolate is key, and it is important to make sure that your flavors compliment, rather than overwhelm each other.
There are some main guidelines to keep in mind when choosing the perfect wine for your chocolate, starting with identifying the texture, the heaviness, the percentage of cocoa (the sweetness), and the other ingredients in your chocolate. Keeping that in mind, let's get started!
When you have a slab of chocolate with a smooth, creamy texture, pair it with a wine that has softer tones, rather than a bold, high tannin wine.
Pair light, elegant chocolate with light red wines, and heavier chocolates with full-bodied wines. The heavier the chocolate, the more body your wine should have. For instance, a piece of hard, bittersweet chocolate would pair well with the punchy, acidic, fruity flavors of Cabernet Sauvignon.
An important tip when pairing wine with chocolate is to start off with a wine that is slightly sweeter than the chocolate itself. Try to find a wine with high sugar content or a fruit-forward flavor, to ensure the perfect balance. If the chocolate is much sweeter than the wine, it will result in a dry mouth feel. Fortified wines like Madeira, Marsala, Port and Sherry tend to work well.
Dark Chocolate
Dark chocolate evokes rich, deep flavors, and needs a full-bodied wine that can match its character, preferably with hints of darker fruit such as blueberry, cranberry and blackberry in the wine. You can't go wrong with the wonderful fortified French Wine Banyuls, which blends seamlessly with the flavors in dark chocolate.
Semi-sweet Dark Chocolate
A Syrah or Muscat works well, drawing out the complex fruit notes in your chocolate, creating a fantastic blend.
Bittersweet Dark Chocolate
Look for an intense wine like Barbera, or a warm climate Merlot, that will compliment the slightly dry tones. Zinfandel Port-style wine is also a great choice, with its robust spicy taste, or a Malbec. If you prefer heavier wine, try an original Portuguese Port, whose cinnamon flavors will bring out the best in your chocolate. To highlight nutty or coffee flavors, try pairing it with a PX Sherry.
While all these pairings are delicious, Italian dessert wines are my go-to when it comes to dark chocolate, like a good Vin Santo del Chianti, which brings out lovely hints of nuts, cherries and cinnamon.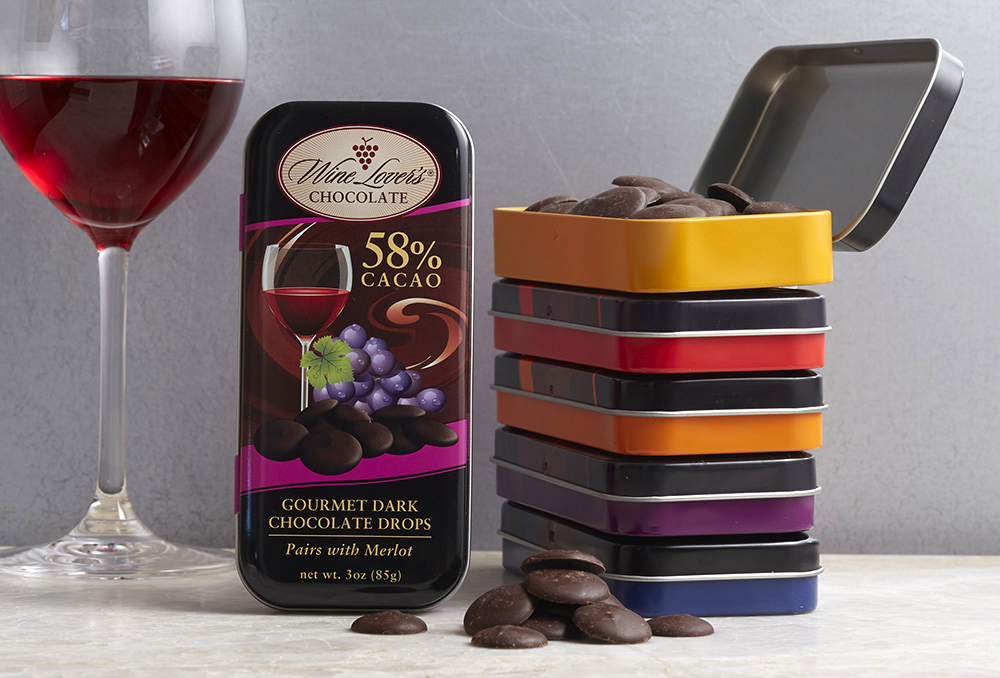 Milk Chocolate
This is one of the easiest chocolates to pair with wine, as a result of its creamy texture and gentle sweetness. A number of dessert wines go well with milk chocolate, like Riesling, Muscat, or a PX Sherry which will stand up to the distinct milk chocolate flavors. Make sure that the wine is sweeter than the milk chocolate; otherwise, you might end up with some unpleasant bitterness.
Late-harvest wines, when paired with milk chocolate, bring out wonderful flavors. You can also use a light-bodied Pinot Noir or Cabernet Sauvignon. A Ruby Port's spicy, berry flavors will be enhanced when paired with milk chocolate. For delicate hints of peach and strawberry, try pairing with the sparkling Lambrusco di Sorbara or Brachetto d'Acqui.
I'm quite a fan of milk chocolate myself, and one of my favorite pairings is an earthy Maury, especially with treasured milk chocolate truffles. They complement each other wonderfully.
White Chocolate
Since white chocolate is made with cocoa fat, as opposed to actual cocoa, it tends to have a buttery texture and pairs best with extremely sweet wine that allows its mild flavors to shine through. Popular wine pairings with white chocolate include Sherry, Orange Muscat or Moscato D'Asti, which will bring hints of orange, while accenting the creaminess of the chocolate. You would also do well to try white chocolate with Champagne, preferably one that isn't too dry. One of my go to pairings with milk chocolate is ice wine. When you pair a Vidal Blanc, or a Riesling, with white chocolate, you get some fantastic bright citrus tones.
If you are feeling adventurous, experiment with contrasting chocolate and wine. Try pairing a mild white chocolate with a spicy Zinfandel, which might not be for everyone but makes an exciting combination. Light reds like Beaujolais, Petite Sirah and Pinot Noir are excellent contrasting wines.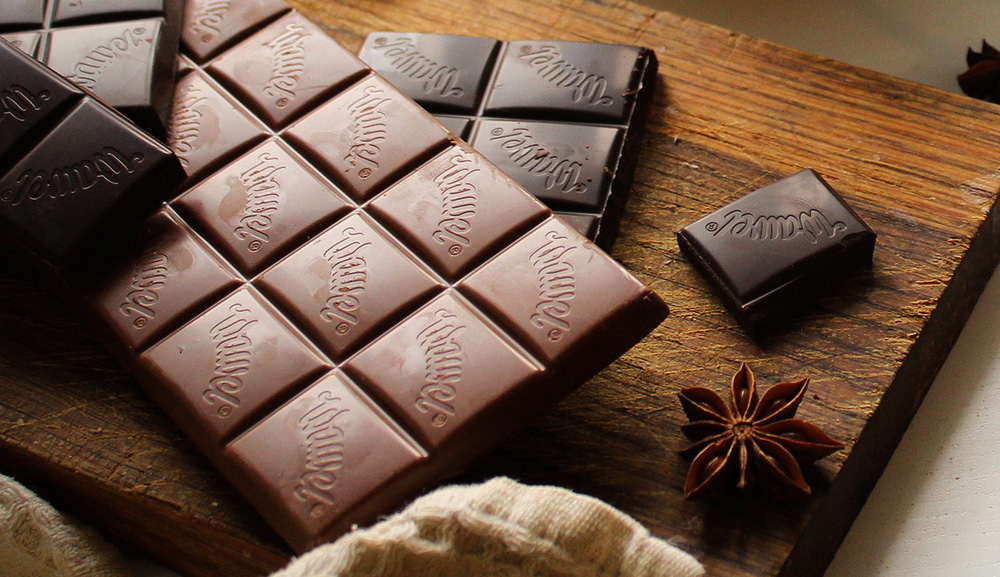 Flavored Chocolates
Chocolate comes in all sorts of flavors and fillings. Here's a little cheat sheet to help you pair chocolates with additional ingredients:
Caramel Chocolate: Pinot Noir, Cabernet Sauvignon, Vin Santo, Sherry, Madeira, and aged wines like Tawny Port and Moscatel de Setubel.
Mint Chocolate: Petite Syrah Port, or a Touriga Nacional.
Orange Chocolate: Pinot Gris, Madeira.
Peanut Chocolate: Oloroso Sherry, Amontillado Sherry, Madeira, or oaked Chardonnay.
Fruit & Coconut Chocolate: Pinot Grigio, Viognier, Chardonnay.
There is so much more to know about pairing wine and chocolate, but I hope this comprehensive guide will help you dip your toe into this whole new world. It is important to keep exploring when it comes to tasting and pairing; finding a sweet spot can be a beautiful thing, but you will never know unless you give it a try.
About the Author: Thalia Bell has always had a passion for writing. She recently took a trip to France and visited Bordeaux, where she fell in love with wine, and has been a fan of cheese from a young age; when she put the two together, she felt a sense of satisfaction, and since then, has attended many wine and cheese tastings.